If you follow my Ask the iTunes Guy column, you know that I answer lots of questions about problems with iTunes. Sometimes, I offer solutions to common conundrums, or workarounds when there's no easy way to do something, but sometimes I have no answer; there are simply things that are broken. And that's what I want to talk about this week: Something broken in iTunes that only Apple can fix. Occasionally, you play tracks using iCloud Music Library, and what you hear is not what you selected.
This generally happens for two reasons. The first is when you have a live album in your iTunes library, and you play it on your iPhone, and you hear a series of studio versions of the same tracks instead of the concert you were looking forward to. The second is when you have music with "explicit" lyrics, and you end up hearing the "clean" versions.
The first happens a lot, and Macworld editor Susie Ochs had this happen last year with a live Phish album that was in her library. It happened to former Macworld editor Jason Snell just last week, though not with a Phish track, and the other way around: a live version of a U2 song played instead of the studio cut. I'm not a Phish fan, nor a big fan of U2, but I'm a Deadhead (a fan of the Grateful Dead), and when that happens to me, I'm more than irked. (Especially because I have so many live recordings of the Grateful Dead, and they are all different. Really. They are. Trust me.)
A friend told me recently about trying to listen to an Amy Winehouse album, and getting the "clean" version. As he said, "Amy Winehouse without explicit lyrics is not Amy Winehouse."
When this happens, users have no recourse. You can't flag a track as being the wrong version, and if you remove the originals from your iTunes library, and then re-add them, they'll get matched to the same incorrect versions.
This happens if you use iCloud Music Library, but not iTunes Match. The former matches tracks just by their metadata (the name of the track, its album, and its artist), whereas iTunes Match uses acoustic fingerprinting to get the correct version of a track.
With Apple Maps, you can indicate if a business or landmark has the wrong name, or if it's in an incorrect location. Near where I live, Apple Maps is full of mistakes; I've submitted at least a dozen corrections, and, to be fair to Apple, they get corrected in a couple of days each time. (I get a notification each time a correction has been made.)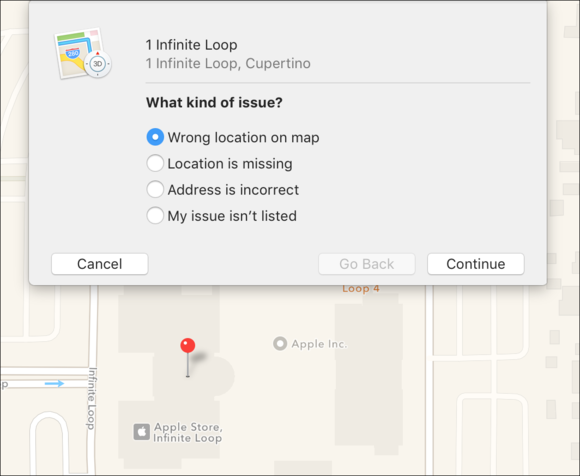 But with iTunes—specifically iCloud Music Library—there's no way you can do this. iTunes just looks at you and shrugs, oblivious to your pain. I mean, come on; the studio version of Eyes of the World is okay, but it's nothing like the many live versions the Dead played over the years.
Apple needs to include a way to flag incorrect tracks. Because this is more than just annoying; it's unfair. You may really want to hear that live album, or you may not like live albums at all. And if you bought a song with explicit lyrics, you don't want to hear the bowdlerized version. You have the right to hear what you want.
It wouldn't be hard to implement; Apple already has this in Apple Maps. Let users choose something from the Account menu, or the File > Library menu, such as Report an Issue. Instead of selecting Wrong Location on Map, or Location Is Missing, the dialog could read Incorrect Song Version. It would require that humans—not algorithms—check each submission, but it would remove a lot of frustration for those using iCloud Music Library.