The iPhone's Live Photos bring a magical sense of motion to your images. With just a press on the screen the photo comes to life, with children running and cats leaping through the air.
But the frustration with the feature is difficult it is to share them. You have to go for a third-party app if you want to share all your cool creations outside of Apple's ecosystem.
And unless you're a surgeon, there's a good chance your brief videos are fraught with shakiness. It's no fun for your viewers to get motion sick looking at your creations.
Google took it upon itself to solve these issues with a new app called Motion Stills. It lets you tap into Google's video stabilization technology to freeze the background, so the main subject stands and is the focus of the GIF.
Going stable
As an example, the following was originally a Live Photo that was a little shaky in the background thanks to the photographer (me).
Comparatively, the following GIF was created with Google's app without the stabilization magic. Notice that the GIF is much shakier, particularly if you look at the plants and pool fence in the background.
Google's technology makes the GIF a vast improvement. It'll ensure that no one mistakes your magical photos for a clip from The Blair Witch Project.
If you want to dazzle your friends and family, here are some details about what you can do with Google's new app in order to make your own cute GIFs and movies.
Gettin' GIF-y with it
Once you launch Motion Stills, you'll jump right into a vertical filmstrip of images that are culled from your Live Photos. Tap one that you want to work with, and then you'll notice a semi-split circle icon on the bottom left (it's the same as the logo on the app's icon). Touch that to see the GIF without the motion stabilization, and you'll probably notice quite the difference.
You can also kill off the audio by touching the volume icon.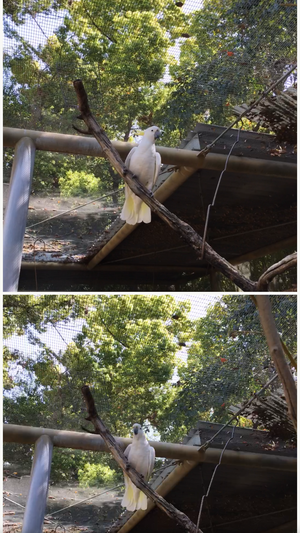 After choosing whether to go with a silent and/or stabilized GIF, touch the sharing button (as we've seen before, Google has eschewed Apple's design by going with its own icon) to share the image as a GIF or MOV video clip.
This launches the standard iOS share sheet, so you can use AirDrop to send it to another device, or post it right to Facebook, iMessage, iCloud Photo Sharing, or your favorite cloud service. Yes, Google has essentially created the best method to share a GIF from your own Live Photo collection.
Snap together your own movies
You can also use the Live Photos in your gallery to quickly throw together a brief movie. To do this, just swipe right on an image and it will be added to a small film strip at the bottom of the screen.
Once you've collected enough of these, then press the Play button to see your cinematic feature. If you like what you've created, you can share through the normal channel or (of course) send it to Google's YouTube service.
The movie feature is only useful if you have a lot of images that you took in succession and would benefit from being strung together into a larger narrative. For example, if you went crazy with the shutter while your darling was kicking the winning goal or hitting the game-winning home run at Little League, you may have the ultimate digital memory of the experience.
Google has crafted an excellent solution to unshackling Live Photos—this app shows what Apple needs to do to take the feature up a notch. And it can't be a coincidence that Google chose to release this new app just days before Apple reveals its own plans for iOS 10 at the WWDC keynote on June 13. Your move, Apple.