These days, keeping up with games can be a full-time job. So how do you separate the signal from the noise, the wheat from the chaff, the Temple Runs from the Temple Jumps? Allow us to help by regularly selecting a game You Should Play.
As a culture, we can't help but love the 1980s. Blame it on the kids of that era growing up and creating so much of today's entertainment, or maybe we just have a sudden appreciation for garish colors and synth-pop, but the influence of that decade's entertainment just isn't fading. And Neon Drive might be its biggest fan, at least when it comes to iPhone games.
It's a game inspired by the aesthetic of the '80s through and through, both broadly in look and sound and even specifically with pop culture references. As the title suggests, Neon Drive is absolutely drenched in glowing lights and vivid colors that pair well with the synthesizers, and it recalls everything from Tron to Blade Runner along the way.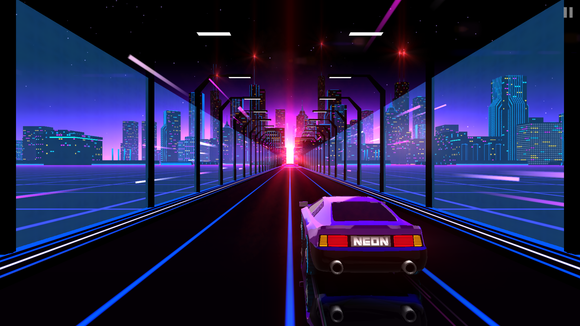 But the appreciation for the era comes off as completely genuine, and the game beneath is captivating regardless of style. Neon Drive isn't a racing game but rather an intensely difficult rhythm experience, challenging you to shift lanes to overcome obstacles on the road—and occasionally transform into a flying car or jet fighter along the way.
Geared up for a totally radical experience? Here are three reasons why Neon Drive, much like the iconic look of the 1980s, makes such a strong impression:
It's intensely tough: For some, mobile games offer a breezy diversion for killing time during the day. For others, they provide a tense test of reflexes, brain power, and will. If you fall firmly into the latter camp, then Neon Drive might be for you—because it can be incredibly difficult.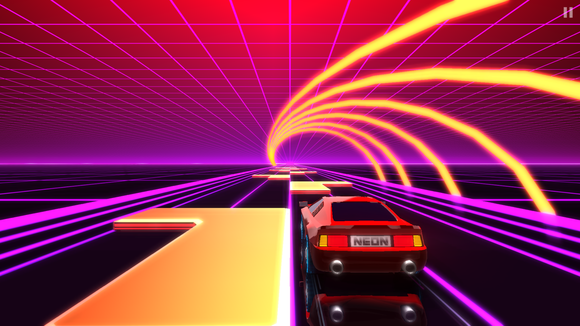 Each level challenges you to guide the car from the start to finish by dodging the roadblocks and other hazards on the road, and you'll do so with simple left and right taps. While the inputs might be straightforward, the actual action is far from it, thanks to elaborate hazard patterns designed to trip you up and send your car speeding to an early demise.
Luckily, it's the endearing kind of challenge that motivates you to keep pushing ahead and learning from your mistakes. And thanks to an update that just went live today, the checkpoints are a little more common on the Normal difficulty, plus you get a single continue if you crash. That makes the game a lot more approachable on the default settings, although you can crank it up to Hard or Insane or do an Endurance run once you've mastered the initial trials.
Seven games in one: Each of the seven levels in the iOS version (including a brand new one added in today's update) is presented as an arcade cabinet on the main menu, and the comparison is apt: In many ways, each level feels like a totally fresh game. Each has its own unique visual style and background music to set a new tone, and while the initial driving gameplay works from the same playbook across most of the levels, there are different patterns to contend with.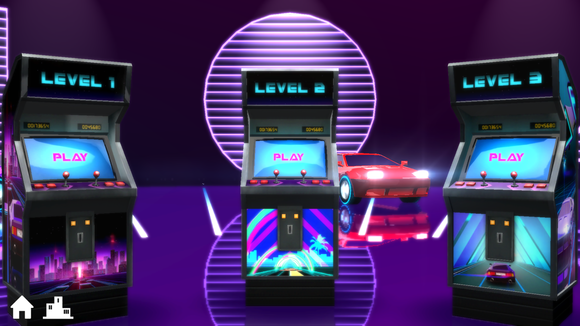 And then each level shape-shifts into something different: One bumps the camera overhead and turns into a traffic avoidance game, while another turns your classic ride into a flying car and sends you zipping through a sci-fi future. Elsewhere, you'll drive on platforms suspended over water as a guitar solo shreds through the speakers or even command a spaceship in an old-school arcade shooter tribute. Whatever the case, Neon Drive always keeps you on your toes.
It's absolutely dazzling: All the while, Neon Drive looks and sounds utterly marvelous. We've probably all suffered through cheesy, corny '80s homages over the years on TV and in movies, but Neon Drive isn't hokey or mocking: It's a fan of the era and builds a pristine tribute as such. The visuals are appropriately glossy and the music is totally on point—put together, it all just works so well.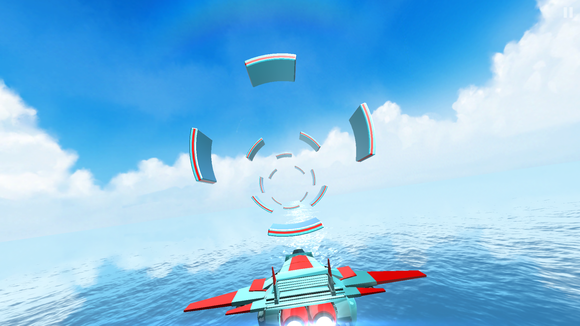 If you can't stomach frustrating games or don't have the tenacity to power through difficult segments with dozens of attempts, the Neon Drive may not be for you. That said, the new update does ease things up a bit, but it's still plenty tough throughout. If you've got the thumbs and rhythm to take on a musical challenge with some super pretty sights to match, then Neon Drive is a delight.