You don't necessarily need a 360-degree camera to share a 360-degree photo on Facebook.
On Thursday, Facebook launched "360 photos," a new supported format for uploading smartphone panoramas and images taken with certain 360-degree cameras and photo apps. Facebook will automatically convert these flat photos into interactive images that you'll be able to view in fullscreen by tilting your smartphone using the Facebook apps for iOS and Android.
You can spot these immersive 360 photos in your News Feed by looking for a compass icon on the right-hand side of the photo. On the web, you will be able to click-and-drag on a photo to "explore" all around. And in addition, 360 photos can also be viewed using an Oculus Rift or Samsung Gear VR headset.
From now on, Facebook will convert all the following images into 360 photos: panoramas taken with an iOS device or a Samsung Galaxy phone; photospheres taken with the Google Camera, Street View, and Google Cardboard apps; and 360-degree camera images taken with the Samsung Gear 360, Ricoh Theta S, 360Fly, Giroptic 360 Cam, and the ALLie Camera.
According to Facebook, this new 360-degree feature will not work retroactively, meaning that previously uploaded panoramas or photospheres will not be automatically converted.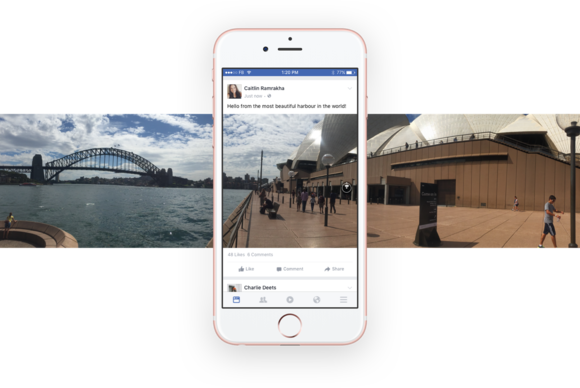 Why this matters: Back in September, Facebook introduced 360-degree videos from select partners like GoPro, Lucasfilm, and National Geographic. The company even created its own state-of-the-art 360-degree video camera, Surround 360, which debuted at the F8 Developer Conference in April. But 360 photos is Facebook's biggest push yet into democratizing the creation of 360-degree content.
"The big difference with 360 photos is you can take them with your phone," Facebook CEO Mark Zuckerberg wrote on his Facebook page. "Just take a panorama or use a 360 camera app, then post it to Facebook and we'll take care of the rest."
Zuckerberg has a lot to gain from encouraging the mass creation of immersive content. Users spend (even) more time on Facebook tilting photos back-and-forth. Advertisers give Facebook (even) more money to hijack these new "high-impact" experiences. And it sets the foundation for the (even) more immersive Oculus ecosystem.