Bruce Martens asks a reasonable question about Photos for OS X and Smart Albums:
I have created a date range Smart Album and there are specific pictures I want to remove from the album. However, when I try, it only gives me the option to delete the photo from my computer altogether. Is there a way to remove from the album but not delete the photo entirely?
My immediate thought was: No. Smart Albums match a set of criteria as opposed to regular albums, which you assemble intentionally. Deleting an item from a Smart Album de facto can't work, because that photo only appears because it matches one or more conditions!
But with a moment's reflection, I realized there's a perfectly straightforward way you can simulate the effect of customizing a Smart Album: use the favorite option or a keyword to mark images you want to include on top of the matching conditions you're already using.
Start creating a Smart Album as normal: File > New Smart Album, set up criteria that match your needs, and click OK.

Now, look through the Smart Album and mark every photo you want to include in the set in an identical way. Use the favorite option to mark favorites, for instance, which is the simplest method. Or select images you want to include, choose Window > Info, click in the Add a Keyword field, and add a keyword you can use to filter against, like "Include."

Edit the Smart Folder criteria by Control-clicking the name in the Sidebar. (View > Show Sidebar if you don't see the sidebar.)

Add a criterion to include images you've marked, like Photo, Is, Favorite. Be sure Match is set to "All," so that all conditions are matched.

Click OK.
You can now remove additional items from the Smart Album by removing the favorite or the keyword.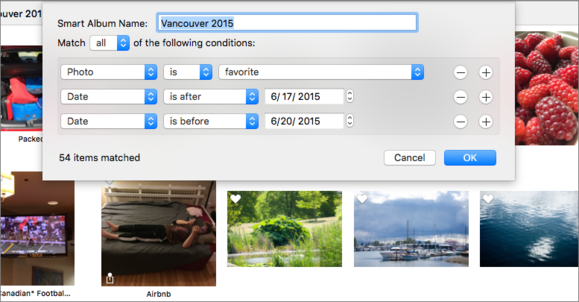 Ask Mac 911
We've compiled a list of the most commonly asked questions we get, and the answers to them: read our super FAQ to see if you're covered. If not, we're always looking for new problems to solve! Email yours to mac911@macworld.com including screen captures as appropriate. Mac 911 cannot reply to email with troubleshooting advice nor can we publish answers to every question.