Did you know that Caller ID is a sham? It is. There's no system of verification on the public switched telephone network (PSTN) to check that the Caller ID number inserted into the system by the calling party is a number that party legitimately owns. For many years, the New York Times' Caller ID was (111) 111-1111; I freelanced for the Times, and when that number popped up on my cell, I knew who it was.
This makes it frustrating and sometimes impossible to block all incoming spam, fraudulent, or harassing callers, because many people and organizations who want your time use Caller ID tricks. There are free and cheap services to route calls one at a time, and software that lets boiler-room operations do it in bulk.
As a result, one scamming outfit might call you on a variety of numbers. Recently, I have received a series of phishing calls that appear to originate not just from my area code (206 in Washington state), but from my exchange, the three digits at the start of a local phone number, like 123 in 123-4576. This, of course, makes it more likely for me to pick up.
Long-time colleague and fellow Macworld contributor Jeff Carlson emailed me with a problem related to this:
I created a contact called Telemarketer Bastards to add numbers to, and have blocked it. However, I still get calls with Telemarketer Bastards as the identity, which I need to dismiss. So what's the point of blocking?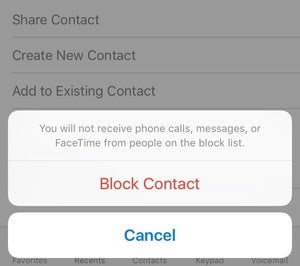 iOS lets you select a number or contact and choose Block This Caller. Jeff was cleverly trying to speed up the process by blocking the contact, and then adding all spam numbers to that contact. Unfortunately, Apple seems to not honor the contact blocking in this case, but defers to individual phone numbers. (I haven't been able to test effectively whether unblocking and blocking a contact with multiple numbers then blocks every number.)
Instead of first adding the number to the contact, follow these steps for the desired results:
Carefully tap the "i" information button to the right of the phone number in the Recents list.
Swipe to the bottom and tap Block This Caller.
Confirm by tapping Block Contact.
Only now tap Add to Existing Contact, search on your spam caller contact, and add it.
This last step will help in the future if something goes wonky with blocking or—as happened to me months ago—your block list is mysteriously wiped it. (Find your block list in Settings > Phone > Blocked, where you can also manually add numbers via Add New at the bottom of the list.)
In iOS 9, Apple added an internal search to match a Caller ID number to any phone number embedded in email or other places in iOS, but unless you had a preset list of every spam number that iOS could consult, that wouldn't help; and those numbers change regularly.
Apple announced at its recent WWDC keynote that it will make it possible for phone operators—it used the example of Tencent—to tie into a database of unwanted numbers and display the results to you as the call is coming in below the Caller ID number. This is the equivalent of adding a prefab Telemarketer Bastards entry, more politely phrased.
Ask Mac 911
We've compiled a list of the most commonly asked questions we get, and the answers to them: read our super FAQ to see if you're covered. If not, we're always looking for new problems to solve! Email yours to mac911@macworld.com including screen captures as appropriate. Mac 911 cannot reply to email with troubleshooting advice nor can we publish answers to every question.