Emily Henderson writes in with a disturbing problem on her iMac:
I upgraded from Yosemite to El Capitan a few days ago and now I am missing storage on my iMac. I am supposed to have 3TB of storage on my hard disk. and now it is telling me I only have 120.14GB.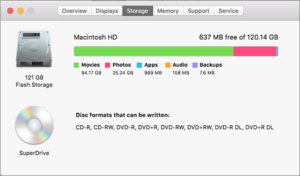 She attached a screen capture, and it's clear what happened: the Fusion disk on her iMac became unlinked. Apple's Fusion Drive pairs a hard disk drive (HDD) with a solid-state-drive (SSD). It appears as a single "fused" volume in the Finder, and OS X manages and optimizes what's stored for rapid access on the SSD—everything needed to start up a Mac and handle constantly recurring tasks—and on the HDD.
Unfortunately, this sometimes goes awry. Emily screen capture shows a single 121GB volume (the available portion of the 128GB drive) labeled "Flash Storage," which shows the drives went into fission. And, more unfortunately, assuming the HDD isn't damaged, using Disk Utility to rebuild the Fusion drive erases the contents of both drives.
If you find yourself in this situation, make sure you have a complete Time Machine backup or, better, use drive-cloning software like Carbon Copy Cloner or SuperDuper. Then boot into Recovery HD by restarting and then holding down Command-R until you see the system start to load. You can then run Disk Utility from the menu that appears and try to fix the Fusion drive.
If Disk Utility displays an error, restart, hold down Command-Option-R, and follow Apple's instructions on its support page to use Internet Recovery.
These instructions can seem overwhelming if you've never had to clone a disk or restore it from backup. In that case, I'd recommend finding a friend, relative, colleague, or consultant with experience having done this to avoid accidentally losing your data.
Ask Mac 911
We've compiled a list of the most commonly asked questions we get, and the answers to them: read our super FAQ to see if you're covered. If not, we're always looking for new problems to solve! Email yours to mac911@macworld.com including screen captures as appropriate. Mac 911 cannot reply to email with troubleshooting advice nor can we publish answers to every question.