What do Apple Music, network attached storage devices, and the iPod nano have in common? Well, they're all topics of questions I examine in this week's column. Why is some music in an iTunes library "No Longer Available?" I offer a fix for this issue. How can you ensure that iTunes works correctly with a NAS? Check out my advice. Does Apple Music work with the iPod nano? And how do you quickly get all of an artist's music to a playlist?
Unavailable music
Q: I have about 100 songs in my iTunes library that show an iCloud status of "No longer available." However, these are not songs I added from Apple Music; they are all either ripped from CDs or purchased from iTunes, and I have all the non-DRM files on my Mac. I am guessing that when I first signed up for Apple Music, these were "matched" by Apple Music, and were available for streaming on my other devices. Now, since these have been pulled from the Apple Music catalog, I can no longer play them on secondary devices. Is there a way to force Apple Music to upload these tracks, as it is supposed to do for tracks it cannot match in its catalog?
There are a number of possible iCloud Status labels in iTunes. These tell you what kind of tracks they are. You might see Matched, Purchased, Uploaded, or, if you have a subscription to the service, Apple Music. But there is also the No Longer Available status; this is for tracks that were once available to stream on Apple Music, but have been pulled by record labels.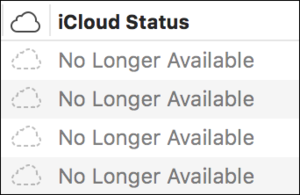 What you describe should probably not happen, since, as you say, the files are rips or purchases. You should only see No Longer Available for tracks that you added from Apple Music to your iTunes library, not for local tracks that were matched or uploaded.
You can probably fix this by removing the tracks from your iTunes library and re-adding them. Find all the tracks, drag them to a folder in the Finder, then delete them from your iTunes library. (Select them all, and press Option-Delete, and then click Delete Song to make sure that iTunes doesn't just remove the local file and not delete the cloud copy as well.) Next, drag the files you copied to the Finder back to iTunes. Since they are local, non-protected files, iCloud Music Library should either match them or upload them.
Missing NAS
Q: I store my iTunes library on a NAS, and some of my music got copied to the iTunes folder on my MacBook Pro when the NAS drive was not connected. How can I stop iTunes from losing the path to the iTunes Media folder on the NAS?
This is a common problem with NAS devices. If you launch iTunes before the NAS (network-attached storage device) is mounted, iTunes doesn't see it, and switches its default media folder location to the Music folder in your home folder. Sometimes NAS devices drop off the network for a second, and if iTunes can no longer see it, it does the same thing.
Lots of people store their iTunes libraries on NAS devices, and it seems like a good option, because if you don't have the local disk space it lets you keep your music somewhere else. But this problem seems to occur often. I would recommend that if you have iTunes set to launch at login, you remove it from your Login Items. Many of these issues occur because iTunes launches quickly and the NAS, or any network volume, takes a few seconds to mount. And if you do see that the NAS is no longer visible in the Finder, check iTunes' Advanced preferences to see where the iTunes Media folder is currently being stored.
Artist Playlist
Q: I've created a playlist for one artist. How do I take all his music and put it into that playlist. All I can figure out is how to do it track by track. Please tell me there's an easier way!
There is. In iTunes 12.4, click Artists in the sidebar, and find the artist you want to add to the playlist, then drag that artist entry onto the playlist.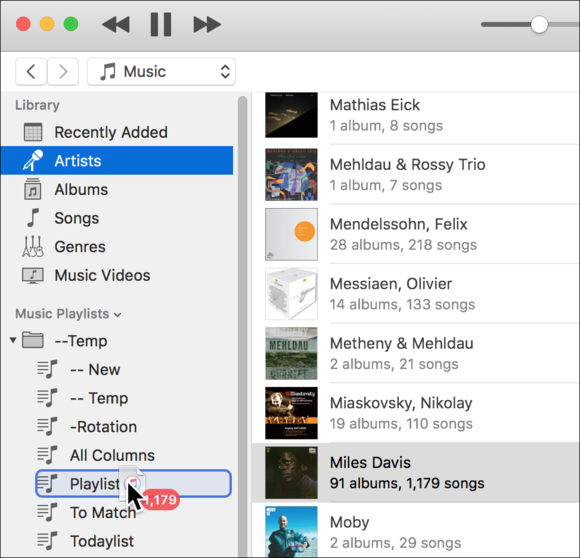 Apple Music on an iPod nano
Q: I recently purchased an iPod nano with the hope that I could put all of my music on it, so when I run I don't have to take my iPhone. I have an Apple Music subscription and have downloaded a few hundred songs using this service. However when I try to sync my iPod it won't sync any of those songs. Is this possible, and, if so, how do I accomplish this?
Alas, Apple Music only works with iOS devices. While Apple still sells two non-iOS iPods—the $149 nano and the $49 shuffle—you can't put Apple Music files on them.
Have questions of your own for the iTunes Guy? Send them along for his consideration.