One year after launching the HomeKit framework for smart home devices, Apple is releasing a dedicated "Home" app to control them.
The Home app in iOS 10 will provide quick access to all of the user's smart lights, door locks, thermostats and more. Users will be able to launch custom "scenes" (which group together multiple device actions into concepts like "Good Morning" and "I'm Home") with one tap, and view a master list of devices for individual control.
Apple's official Home app will support remote control smart home devices, provided the user has a third-generation Apple TV or newer. (The Apple TV is required to provide end-to-end encryption between the iOS device and the HomeKit devices.) Lock screen actions are supported as well—for instance, users can see who's at the door when someone rings. A swipe over from the iOS Control Center will also provide quick access to favorite controls.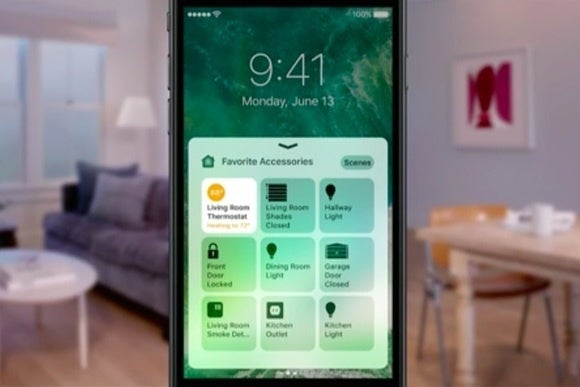 Until now, Apple has expected HomeKit device makers to offer their own apps, through which users can control devices and create scenes. Still, the quality and amount of control was inconsistent between apps, and the idea of using a thermostat app to control some connected light bulbs may have been counter-intuitive. (In lieu of an official app, several third-party options have stepped up over the past year, including Home, Devices, and Control.)
The Home app will be available this fall as part of iOS 10 for the iPhone and iPad, alongside a version for the Apple Watch.