Your iPhone isn't exactly difficult to use as-is, but imagine if you voiced commands like, "Call an Uber" or "Check savings account balance" and your phone jumped into action without your having to lift a finger. Having a conversation with your iPhone is about to become the norm, thanks to the launch of Apple's new Siri software development kit, which will finally let third-party app developers give the voice-activated digital assistant more smarts.
Craig Federighi, Apple's senior vice president of software engineering, used the messaging app WeChat to demonstrate Siri's new powers at the Worldwide Developers Conference keynote on Monday. How it works: Just give Siri a command as you normally would and mention the name of the app you want to use. If the app is integrated with Siri, Siri handles all of the legwork of performing whatever task you need. In the WeChat example, Federighi said, "Send a WeChat to Nancy saying I'll be five minutes late." The Siri interface for third-party apps is rich, with preview cards showing the app screen accomplishing what you've asked for.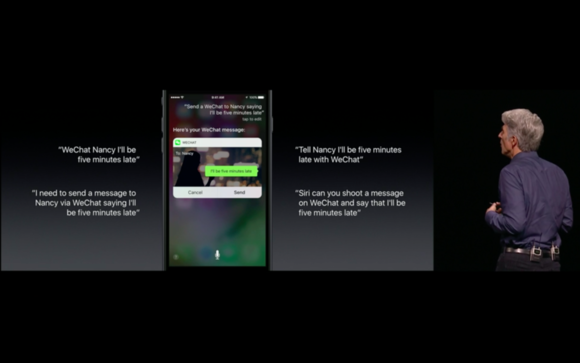 The Siri SDK is rolling out with iOS 10, which officially launches this fall but will be open to developers over the summer so they can improve their apps. Apple has major partners lined up at launch. You'll be able to hail rides with Uber, Lyft, and Didi in China; send messages through Slack, WeChat, and WhatsApp; search for photos in Shutterfly and Pinterest, pause and start workouts in MapMyRun, Runtastic, and Runkeeper; send payments to friends with Square Cash; and make calls using Skype and Vonage. Siri's third-party support also works with CarPlay, so you can make calls and send texts using those apps without having to use your hands.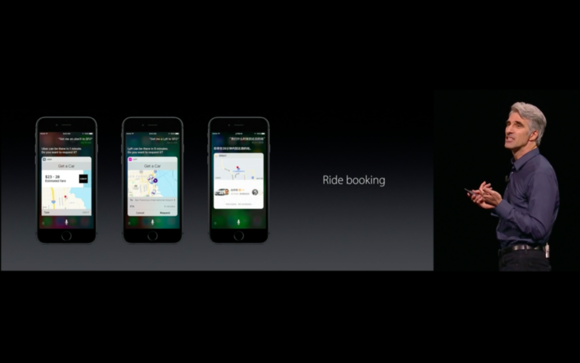 The long-rumored and oft-requested SDK was the centerpiece of Apple's Worldwide Developers Conference keynote on Monday morning, and for good reason. Giving developers access to Siri is the only way for Apple to compete with Amazon's Alexa assistant, the anchor of the company's Echo hub, and with Google Assistant, which will serve as the Alexa for Google's own hub, Google Home.
Other companies are nipping on Apple's heels with their own machine learning-powered assistants. Siri's founders have their own solution, Viv, and an iOS app called Hound is doing more than Siri can do, and faster.
As iPhone sales growth slows, Cupertino needs to make its phones more compelling, and not just on the hardware side. Making Siri smarter and more capable is one way to accomplish that.