Emoji, stickers, and bubble effects, oh my! Apple has opened the floodgates of its most popular app in iOS 10.
At WWDC on Monday, Apple revealed that iOS 10 is making the Messages app way more visual and emoji-friendly, just as the overall iMessage platform will begin to integrate third-party apps. Developers will be able to create apps specifically for iMessage that will let you send stickers or perform certain group-actions right from the Messages app.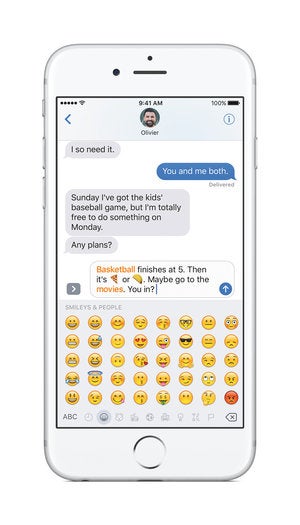 In terms of style, Messages is getting a major "emojification" in iOS 10. Emoji that are sent by themselves (meaning without accompanying text) are three times bigger. And you will get emoji suggestions as you type.
Messages will also let you replace certain keywords with emojis—simply compose a message, then press the emoji button, and the app will highlight all the words that have a corresponding emoji. Tap on the highlighted words to replace them with said emoji. So a phrase like, the monkey likes pizza, gets translated into, the ? wants ?
"Children of tomorrow will have no concept of the English language," said Craig Federighi, Apple's senior VP of software engineering, while demonstrating the new Messages during the WWDC keynote.
In addition, Messages will let you say it "loud" or "whisper" with large or small Bubble Effects. If you really want to go overboard, there are also full-screen effects, like fireworks that burst in the background. In addition, you can send handwritten messages, Digital Touch interactive cards, your heartbeat, and even Tap Back to add a quick emoji response to a specific messages.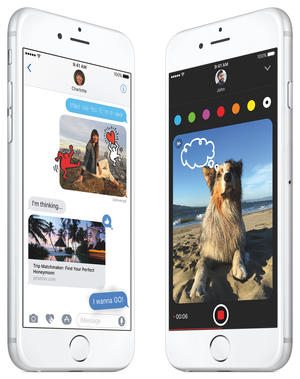 Messages in iOS 10 also has a new feature called Invisible Ink that will send a hidden text or photo that the recipient then has to swipe in order to decipher. Lastly, any URL you send in Messages will get a visual treatment, with artwork taken from the website. And videos and Apple Music links will play inline. Plus, it's easier to attach a photo or video from your camera roll, or even take a new video and photo to send.
All that is only what Apple has done to the Messages app natively. In iOS 10, third-party developers will also be able to create apps designed specifically to be linked to iMessage. The most obvious examples are stickers and multimedia cards that incorporate your videos and photos, but Apple also demonstrated a case study where a group of friends could all compile and submit a food order without leaving the Messages app. In order to accommodate these third-party integrations, Messages will have a new app drawer where you can see all compatible apps or install new ones from the App Store.