Larry Dixon wants to convert MP3 to AAC in iTunes, like he used to. But in the latest version, he can't figure out the process. I admit, it's a little wonky, and I had to read up and test the process, because elements of it date way, way back in iTunes and show their age.
You can select any media file or files in iTunes that's not DRM protected, and then choose File > Convert > Create [Format] Version. That creates a copy of the file or files in iTunes in what format appears. You can also hold down the Option key and the menu item changes to Convert to [Format], and lets you save the selected items in any location you want.
For me, "format" says MP3. But that can be changed: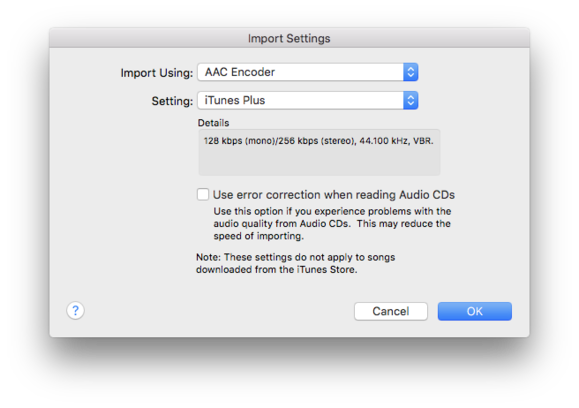 In Preferences > General in iTunes, click Import Settings next to When a CD Is Inserted. Yes, I know that doesn't seem to make sense, but it's part of how hoary this part of the software is.
From the Import Using menu, select the output format, and then optionally pick or customize further details from the Setting menu (the encoding rate and other variables).
Click OK and OK.
Now the File > Convert sub-menu item will show whatever CD import format you selected.
Ask Mac 911
We've compiled a list of the most commonly asked questions we get, and the answers to them: read our super FAQ to see if you're covered. If not, we're always looking for new problems to solve! Email yours to mac911@macworld.com including screen captures as appropriate. Mac 911 cannot reply to email with troubleshooting advice nor can we publish answers to every question.