Sue Simpson writes:
We just had one of our employees use 84GB in 12 hours. She has a new iPhone 6. She received an overage message and her data was shut-off. Highest use of data in her apps indicates "Media Services." No one knows why nor how this is possible. She was at home on wireless at the time as well.
First off, great diagnosis job on Sue and her staff's part. If you're trying to find a bandwidth drain, going to Settings > Cellular will show you data consumed by each app, but not in order of usage, only alphabetically. Swipe down to the bottom of that list and tap System Services, which is sorted by internal iOS processes from most to least usage.
Here's where Sue and team found that Media Services had consumed most of that data. Media Services seems to be the service that's invoked by iCloud Music Library and iTunes Match. When active, both services check your local iOS (and OS X) music libraries against what's stored in Apple's cloud in different ways.
iCloud Music Library is part of an Apple Music subscription. When you have an active subscription and you enable iCloud Music Library, Apple syncs files on every device on which you've opted into iCloud Music Library. It collects anything you've marked to listen to in Apple Music, like adding it to a playlist; anything you've purchased from Apple; and any unique music you've added to iTunes anywhere, like music you created or ripped.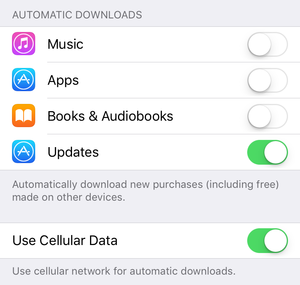 Both iTunes Match, a separate subscription, and iCloud Music Library reduce upload time and storage needs by matching tracks from the iTunes Store against files in your iTunes library. Both services leave your original files alone, but mark the iTunes Store track in your library. On other devices, when you opt to download all songs added or manually tap a cloud-download symbol, iTunes (OS X) or Music (iOS) downloads the 256 Kbps AAC file from the iTunes Store.
With Apple Music only, iCloud Music Library retrieves DRM versions of the songs that aren't kept and can't be played without an active Apple Music subscription. With iTunes Match, the same tracks are retrieved DRM-free, and can be played forever.
So with Sue's employee, the problem is most likely that she has a huge library of lossless-encoded music and enabled either or both iTunes Match and Apple Music Library. If she did this from a Mac, the uploads would occur entirely via a broadband connection, and potentially go unnoticed, probably even with a monthly included-usage cap that some ISPs now impose (or plan to impose).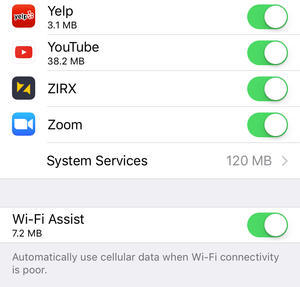 That alone shouldn't have caused the problem if she had disabled using cellular data for the Music app (Settings > Music > Use Cellular Data) or she was on a Wi-Fi network, as she believed herself to be. The other culprit here is almost certainly Wi-Fi Assist, Apple's iOS 9 technology for shifting some data to mobile when you're connected to a badly performing Wi-Fi network.
I wrote previously about disabling Wi-Fi Assist, but it shouldn't have engaged with Media Services, as Apple says it doesn't engage background tasks and has other brakes on excessive data use. Based on messages in forums about the same problem Sue's employee saw, Wi-Fi Assist can't be relied on when iCloud Music Library or iTunes Match is enabled. Turn it off.
As for the bill associated with 84GB of data: it's worth calling the carrier. Given that Apple enables Wi-Fi Assist by default and doesn't honor its limits all the time, a mobile provider might be willing to re-rate the month (move a customer to a higher tier that's better priced) or even forgive the data overage.
Ask Mac 911
We've compiled a list of the most commonly asked questions we get, and the answers to them: read our super FAQ to see if you're covered. If not, we're always looking for new problems to solve! Email yours to mac911@macworld.com including screen captures as appropriate. Mac 911 cannot reply to email with troubleshooting advice nor can we publish answers to every question.