The Apple Watch started shipping last April, and despite selling an estimated 11 million watches last year, Apple's "most personal device ever" has taken a lot of heat over its imperfections. The biggest criticism: Its super slow speed, which at launch was due to relaying all information from your iPhone. Apple released watchOS 2 last fall, which allowed apps to run natively on the device instead of from your phone, but that didn't make a huge difference.
At the Worldwide Developers Conference keynote, the Cupertino company showed off another major upgrade to the Apple Watch in the form of watchOS 3. The next-generation operating system promises to solve all those issues with slow apps and a complicated user interface, and will make the watch even more personalized. Here's everything you need to know about watchOS 3, which rolls out to the public this fall.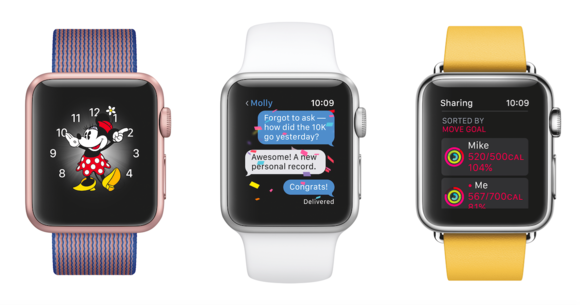 The Apple Watch is slow. Will watchOS 3 speed it up?
With watchOS 3, your favorite apps will launch seven times faster than they do currently—and this applies to both built-in apps and third-party ones. When you open an app from the brand-new app Dock or from its Complication on your watch face, it will launch instantly (no more spinning wheel of death). The new watchOS will keep those apps in the watch's memory and update them in the background, so you'll always see the latest information when you need it.
Launching apps from the home screen is hard. Will that get easier?
The home screen is staying the same, with all those tiny, tiny app icons. But the Apple Watch's side button beneath the Digital Crown, which has been used to call up a list of your watch-wearing contacts, will now launch a Dock with your 10 favorite apps—either Apple's own or third-party options. The new Dock will effectively replace Glances. Think of the Dock as a version of the iOS app switcher, so you'll see a recently refreshed snapshot of each app with the latest information. Tapping on an app here will instantly launch it. You'll also be able to instantly launch apps by tapping their watch face Complications.
So that side button is finally gonna be useful?
Aside from the Dock, the side button will call up a brand-new feature called SOS. Press and hold the button to place a call to emergency responders in a medical emergency or when you feel unsafe. After pressing the button, your watch will count down from 3 to 1 before placing the emergency call, just in case you've activated the button accidentally.
SOS works using your iPhone's cellular connectivity if it's nearby, or a Wi-Fi network if your watch is connected. If you're traveling overseas, your watch will know to dial that country's emergency number and not 911.
After placing the call, your Apple Watch will share your location with the people you've marked as emergency contacts in your phone. The watch will also put your Medical ID, which you should also set up on your iPhone, on its lock screen so first responders can see vital information like your age, allergies, and medical conditions at a glance.
Are there any new apps?
Apple is bringing Apple Watch-optimized versions of its stock iOS apps Find My Friends and Reminders to watchOS 3. Reminders displays your various to-do lists and lets you check off items. Find My Friends updates automatically in the background so you can see where your friends and family are at any given moment.
There's also a brand-new health app called Breathe.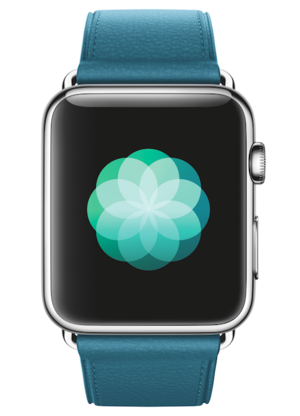 What is Breathe and what does it do?
Breathe is a relaxation app that guides you through deep breathing exercises using haptic feedback, the subtle wrist taps that your watch uses for notifications. You can access the new app from your home screen, the new Dock, or from notifications that remind you to breathe, which you can adjust.
At the end of a session, the app will show you a summary of your relaxation time and your heart rate (just to see if it really worked).
The Apple Watch is a great fitness tracker but there are no social features!
Apple is taking a page from Fitbit with a watchOS 3 feature called Activity Sharing, which does exactly what it sounds like. You'll be able to share your Activity rings with friends and family and see theirs, too. Closing the three Activity rings, which encourage you to move, exercise, and stand more every day, is addictive. Seeing your friends' rings is easy: Just swipe to the right of your own rings to a list of your contacts. You can sort the rings by step count, workouts, or exercise minutes, and even tap on a specific person to see their activity stats, including workouts from both built-in and third-party fitness apps.
The Activity app is also integrated with Messages in watchOS 3. When you tap on your contact's name to see their rings and daily stats, scroll to the bottom to send them a message. You can choose from prewritten smart replies that are either encouraging or, um, rude.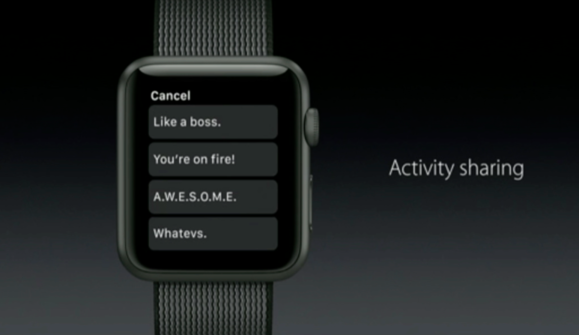 You can even share your post-run heartbeat with a friend to prove you've left them in the dust.
Are there any changes to the Workout app?
In watchOS 3, the Workout app gets its own complication, so you can start a workout right from the watch face. There's also a new Quick Start option so you can jump right into a workout without setting a goal. Swiping to the left ends a workout, so you no longer have to force touch the screen to end, pause, or resume a workout.
The Workout app in watchOS 2 is split into sections you have to swipe through, which is inconvenient when you want to see your distance, pace, elapsed time, heart rate, and calories burned in one glance. With watchOS 3, all of those metrics will be displayed on one screen. You'll also be able to mark segments and label new workouts like Pilates and boxing.
One small but major Workout app change, at least for me, is the automatic pause/resume feature for runs when the watch senses that you've stopped, say at a stoplight. Forcefully pressing on a watch screen with sweaty fingers to pause my workout when I have to wait for car traffic is just gross.
I use a third-party fitness app, not Workout. Will those apps get better?
Apple is opening up all of its sensors to third-party fitness apps, which means apps like Runtastic, Runkeeper, and MapMyRun can tap into real-time heart rate data, the gyroscope, and the accelerometer. Your favorite fitness apps will now be able to run continuously in the background when you start a workout and capture all the data that was once only available by tracking activity in the built-in Workout app. This will go a long way toward making the Apple Watch a better fitness tracker, especially if you already have a preferred third-party fitness app.
Another small tweak: When you raise your wrist to glance at your watch screen during a workout, your watch will wake to show you the stats in the fitness app that's running in the background. The watch recognizes what the foremost app at any given moment is, so even if you switch to the Music app to skip songs, raising your wrist again will bring up the fitness app instead of Music.
Are the Apple Watch's fitness features becoming more accessible?
Yes, Apple is adding a new setting in the watchOS 3 Activity app for wheelchair users. When you toggle it on, your watch will recognize your wheelchair use with hourly "time to roll" notifications instead of "time to stand," two new workouts in the Workout app, and recognition of wheelchair pushes toward your activity rings.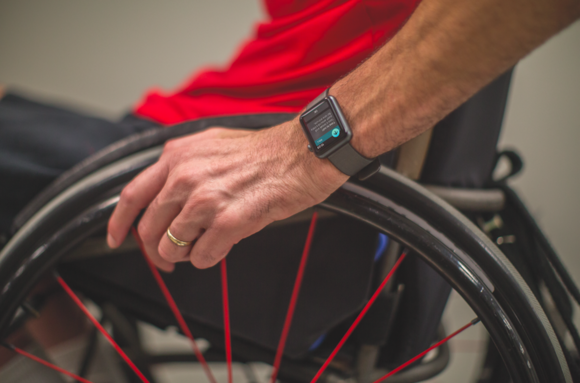 Any changes to Messages?
Replying to a message on your Apple Watch is easier in watchOS 3, because you no longer have to tap the reply button to pick the way you want to respond. You can tap the microphone icon to dictate a message, the smiley face to reply with an emoji, a new heart icon to send your heartbeat, or scroll down with your finger or the Digital Crown to see the prewritten smart replies you have saved.
There's also a new reply option called Scribble, which lets you scrawl out letters with your fingertip that the watch then converts to text. This won't be ideal for sentences, but perfect for scribbling short answers to questions you don't want to dictate aloud. Scribble works in both English and Mandarin, and it knows which language your keyboard defaults to.
Messages on the Apple Watch are getting some of the same creative features tha are coming to Messages in iOS 10, like large emoji, stickers, confetti, and Invisible Ink, which scrambles your images and text so your recipient has to swipe to reveal the actual message.
What's happening to Glances?
Glances are going away. In watchOS 3, swiping up on the watch screen will bring up a revamped Control Center, more similar to what you'd see on your iPhone. The Glances in watchOS 2 have a mini Control Center-like screen, but in watchOS 3 the Control Center's options are expanded, and there's nothing to the left or the right.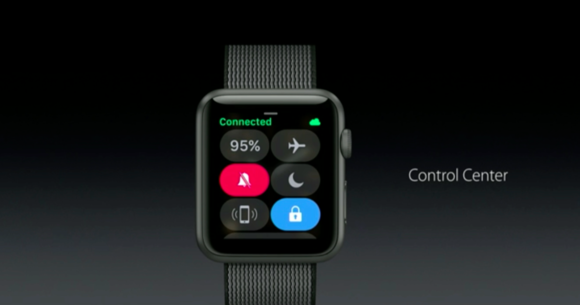 I want new watch faces. What are my options?
Mickey Mouse is finally joined by a Minnie Mouse watch face in watchOS 3. Apple is also adding an Activity face so you can see your daily progress toward your Move, Exercise, and Stand goals. You can choose between a digital, analog, and chronograph version, as you see below.
There's also a new face called Numerals, which is a spare but beautiful option that you can customize with various fonts and colors.
How do I change my watch face?
Just swipe left or right on your watch screen from edge to edge to toggle between faces. It's not a whole lot easier than force-pressing to see various faces and choose between them, but Apple said people like to use different faces for different times of day, so it's simplifying that process slightly.
There's also a new Faces Gallery coming to the Watch app in iOS 10 this fall for finding and customizing watch faces.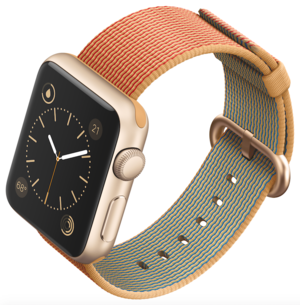 Are there any new features for Complications?
Complications were introduced in watchOS 2 as a way for third-party app developers to add little bits of useful information to your watch screen—everything from flight times and news alerts to the weather forecast and your iPhone's data usage. But complications were limited to just a few watch faces. Now they're available on the Photo, Motion, and Timelapse watch faces.
Launching an app from a complication in watchOS is a slow process—so slow that I rarely do it. But with watchOS 3, apps will launch instantly when you tap the complication on the watch face, with information that has been refreshed in the background and ready to view.
Can I control my HomeKit accessories with my Apple Watch?
Apple's new Home app is coming to both iOS and watchOS, so you can control all your HomeKit-compatible appliances right from your wrist.
Are there any changes coming to Apple Pay?
Apple Pay is about to get even more useful in watchOS 3. Apple's mobile payment service was included in the watch from day one, but now app developers can integrate it for buying stuff in-app and not just at the register.
Does the Apple Watch have any new tricks?
Yes, and we can't wait. When your Apple Watch is in the vicinity of your Mac, you won't need to enter a password to open it—your Mac will unlock itself. It's a perfect demonstration of seamless continuity between devices.
Developers get the first crack at watchOS 3 starting now, with a public launch slated for fall.
Do you have any questions about watchOS 3? Let us know in the comments.