My Apple Watch helps me to keep track of my health and makes up for my crummy memory with calendar and to-do notifications. Being able to control my music or respond to a text message without taking my phone out of my satchel? Awesome.
Too bad it sucks so much as a travel companion on long trips.
Where I prefer to travel with as few cables as possible, the Apple Watch demands a charger that can't be shared by my iPhone or iPad. While travelling off the grid, I can often go a few days without having to charge my iPhone and iPad. With the Apple Watch, I'm forced to top it off, Every. Single. Day—chipping away at the power reserves of the external battery I keep in my pack. That means fewer recharging cycles for my other devices. And despite coming with a tough metal body and ion-X scratch-resistant glass or a sapphire crystal display, the Apple Watch is far from rugged.
Happily, the Tactix Bravo ($600 on Amazon), a waterproof, overbuilt GPS and fitness-oriented smartwatch made by Garmin, quashes all of these issues and offers enough baked-in functionality to keep even the most tech-oriented traveler happy.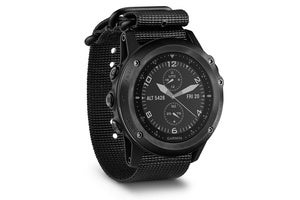 Admittedly, this isn't my first Garmin rodeo. I've worn the original Tactix since acquiring one back in 2014 as part of my load out for trekking across Spain. For every step of the hike, I wore the original Garmin Tactix: the company's first go at a ruggedized GPS watch designed for use by law enforcement and military personnel. Its vibrating alarm woke me up every morning and its built-in barometer let me know when a storm was on its way. Most importantly, its compass and GPS functionality got me back on track on a couple of occasions when my mind, and consequentially, my body, wandered off course. Thanks to a software upgrade in 2015, it became capable of relaying notifications from an iPhone at the cost of a tremendous hit to its battery life. I loved it and wore the Tactix up until it was antiquated by my Apple Watch, with its wide variety of apps, and solid fitness tracking capabilities.
However, after testing the Tactix Bravo for the past five weeks, Garmin's earned my loyalty back.
Available with either a silicon band or interchangeable black and olive drab NATO-style straps, Garmin's Tactix Bravo is based on their Fenix 3 GPS watch ($550 to $600 on Amazon). There's a few differences between the two: the Bravo comes with tactical and jumpmaster applications (for engaging military badassery) and is ready for use with night vision goggles. It also has a different case design than the Fenix 3, featuring a sapphire glass face (which you can get as a costly extra for a Fenix 3,) and a carbon coated, scratch-resistant stainless steel body. If you don't feel like you need any of these features (and few people really do), save yourself a few bucks and a get Fenix 3 instead. Or don't—I personally like the Bravo's looks as much as I do its functionality and feel the extra cost is justified as I plan on wearing it daily.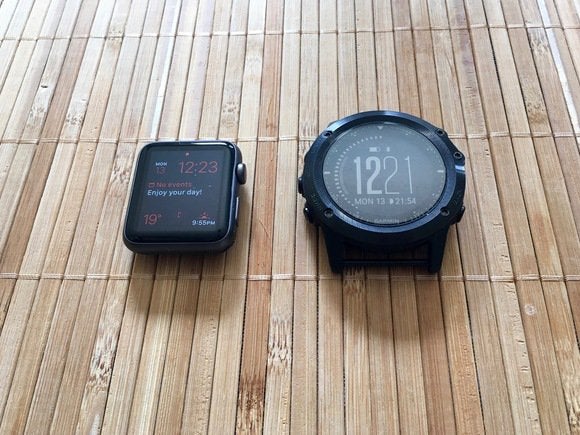 At 2.0 x 2.0 x 0.6 inches in size and weighing 3.09 ounces, the Bravo isn't a small watch. But after wearing it for an hour, you'll forget that it's even there until you need it. Then you'll find that, unlike the Apple Watch, the Bravo's color display is always on and daylight readable. Using it at night? No problem: its backlight turns on with the push of a button. Speaking of which, now's as good a time as any to mention that the Bravo's functions are all navigated via a five-button interface. That capacitative touch isn't a part of the Bravo's DNA means that you can use it with wet hands or even underwater. Did I mention that it's waterproof? Because it totally is, down to a depth of 100 meters.
As for apps, the Bravo can't compete with the volume of options available to Apple Watch users, but it's no slouch either. Users can accept/reject phone calls, have limited control over their iPhone's music and receive iPhone notifications right out of the box. Thanks to the Bravo's built-in omnidirectional antenna it can receive GPS/GLONASS satellite data in a wide variety of challenging environments, making it possible to find your way through the woods or the city with waypoints or tracing your way back along a track you just finished walking. It also comes with a compass as well as a self-calibrating altimeter and barometer.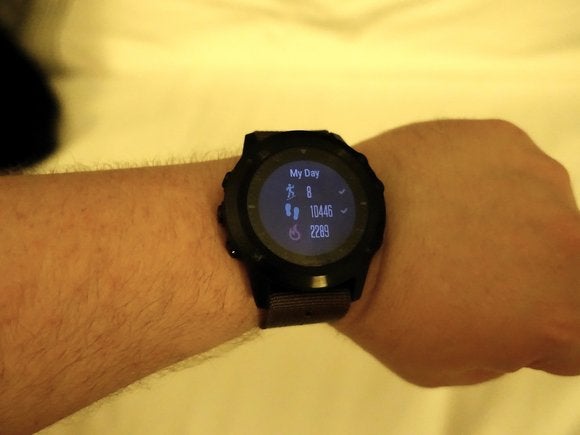 For the healthy, or for folks like me who are hoping to avoid their first heart attack, the Bravo can track a wide variety of activities including golfing, walking, running, hiking, cycling, and swimming. It's also possible to accurately monitor your heart rate through the use of either a running- or swimming-oriented heart rate monitor. Of course, it'll monitor your step count. And with help of third-party apps like MyFitnessPal and Strava, you'll be able to track your calorie intake and other important metrics. While the watch can keep track of your daily progress on its own, the data is best viewed on your iPhone using Garmin's free Connect app. Should all of this not enough to keep you happy, don't fret: Connect also serves as a gateway to a curated collection of free apps, widgets and watch faces for your Bravo.
So, that's the watch's build specifications and functionality covered. Now let's talk battery life. For a smartwatch, it's absolutely insane.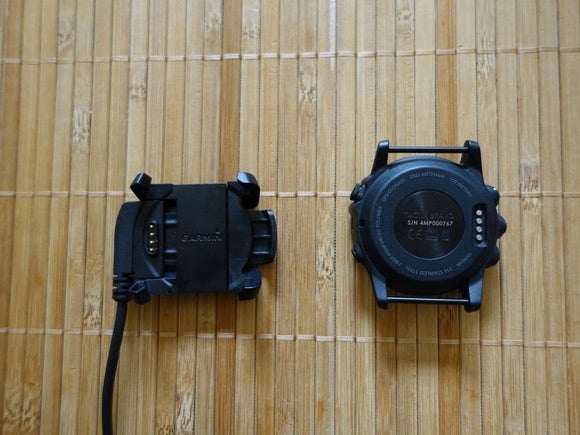 Depending on how you use your Tactix Bravo, you can milk up to six weeks of use out of a single charge. If you leave its GPS running, full-time, this number drops down to 20 hours. Looking to find middle ground, I ran a simple experiment: Turning my Bravo's Bluetooth on so that it could receive notifications the same way my Apple Watch does, I used it in the same manner as I would an Apple-branded wearable. To simulate the daily charge I'm accustomed to giving my Apple Watch, I turned the Bravo off at night when I went to bed and then powered it back on first thing in the morning before putting it on. Even while receiving a heavy amount of vibrating notifications per day and occasionally using the watch's GPS functionality, I was able to go two-and-a-half weeks before the Bravo needed to be topped off. After a three-hour charge, it was back in the game.
With this being the case, if you're in the market for a tough, highly functional wearable that can go weeks between charges, I strongly suggest checking the Tactix Bravo out.
Next time: No matter where you roam, you gotta eat! We'll take a look at Jetboil's fancy new stove, the Genesis Base Camp.