After years of using email, those messages start to consume valuable internal storage space and can eventually slow down your Mac, where a copy of every single email is cached locally. That's why it's a good idea to occasionally archive and purge older messages.
Full-featured backup
As the name implies, Mail Archiver X ($40) is a Mac application for offline storage of messages, folders, and entire accounts. Instead of saving messages as flattened PDF documents or exporting mailboxes into MBOX format that are only readable by the same email client, Mail Archiver X faithfully archives messages into its own Valentina database from which they can be viewed, searched, or further saved to a variety of common formats in a few clicks of the mouse.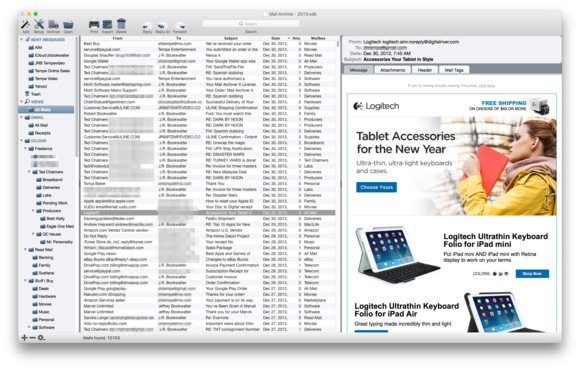 This comes in especially handy for Evernote users who want to retain cloud-based copies of certain emails, such as software receipts containing license codes you'll need in the future. Mail Archiver X exports multiple emails complete with tags to a specific notebook along with optional attachments. Messages can also be exported to MBOX, PDF, RTF, text, or XML formats; owners of FileMaker 12 or later can also use that popular productivity application for an external database.
Mail Archiver X utilizes a familiar three-panel layout, with mailboxes along the left side, message list in the center, and preview at right. The third panel also includes tabs for viewing attachments, header details, or mail tags. The toolbar across the top provides shortcuts for setup, print, export, delete, and search, as well as the ability to reply to or forward selected messages straight from the original email client.
While earlier versions supported popular email software like Apple Mail, Microsoft Outlook/Entourage, and Thunderbird, the latest 4.0 release allows users to archive from multiple clients at the same time, with granular control over which mailboxes are included. You can even archive directly from one or more IMAP server accounts, no mail client necessary.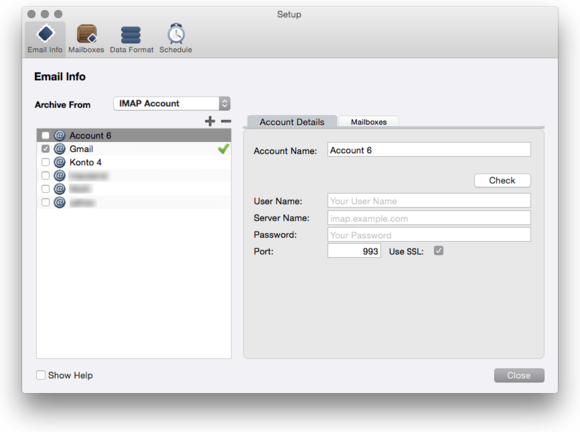 Slow and steady
There's no denying Mail Archiver X is a convenient utility, but in the past the software hasn't exactly broken speed records. I'm happy to say performance has noticeably improved with version 4.0, but how much ultimately depends on the size of your archive. The larger the database grows over time, the slower it tends to become when viewing or sorting messages.
Thankfully, Mail Archiver X can create multiple smaller archives to keep things efficient, although it should be noted Setup options are applied globally, rather than stored inside each database. This becomes tricky when using the built-in scheduling option to automate backup on a daily, weekly, monthly, or quarterly basis, or for archiving only mails that fall within a specific range, such as an entire year's worth of messages at a time.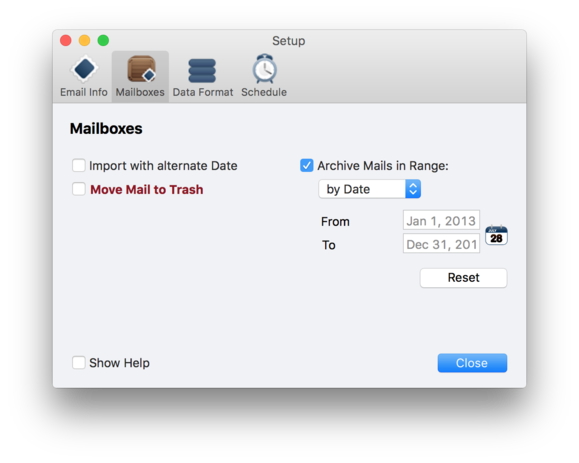 Mail Archiver X is also intelligent enough to skip emails that have been previously archived, but it's not a true incremental backup. If the initial archive took hours to create, subsequent backups will take about the same amount of time. If you're backing up thousands of emails in one session, it's a slow process. I typically archive overnight or on weekends, when my MacBook Pro is otherwise idle.
Leisurely performance aside, Mail Archiver X is unique in its ability to archive messages in a way that retains the structure and formatting of the original client. I'd love a way to add standalone MBOX files to an archive without first importing them back into Apple Mail, but in my experience, the developer is lightning-quick at addressing support issues. The software also includes tools to diagnose, clone, or rebuild database problems that may arise.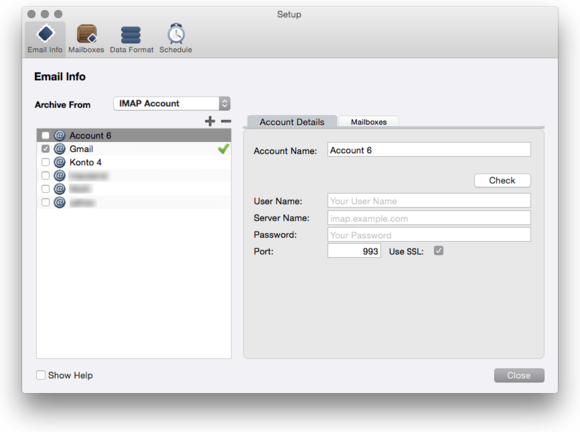 Bottom line
Support for multiple mail clients and IMAP accounts make Mail Archiver X 4.0 a worthwhile update and a good investment for heavy emailers looking to keep their clients lean. It's not the fastest utility around, but it's definitely one of the most robust.