Newsflash: Apple is using its software to convince people to buy new iPhones. That classic Apple strategy remains one of the reasons why Android users will never, ever get to use iMessage on anything other than an iPhone.
Unnamed Apple executives confirmed that iMessage will never be expanded to Android. According to The Verge, Apple believes that making iMessage the top messaging service and keeping it iOS-only brings added value to owning an iPhone. Furthermore, iMessage already has one billion active users, which Apple thinks is enough to provide solid data for the iPhone-maker to venture into artificial intelligence and machine learning.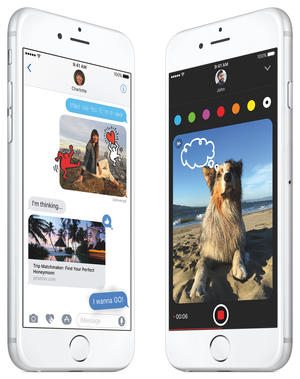 Earlier this week, Apple introduced a suite of new features for iMessage at the company's annual Worldwide Developers Conference, including an emoji find-and-replace tool, visual link-sharing, and other interactive and visual effects. In addition, iMessage was opened up to allow third-party developers to create compatible apps, making the messaging service more like Facebook Messenger and WeChat.
Before these features were announced at WWDC, rumors surfaced that Apple might be expanding iMessage to Android devices. Apple has already made one of its services available as an Android app— Apple Music—although that seems to be following a different strategy: Boosting overall subscription revenue versus converting Android users to the iPhone.
Why this matters: Third-party integrations seemed to be the theme at WWDC 2016. In addition to opening up iMessage to developers, Apple also announced Maps extensions, SiriKit, and CallKit. However, Apple remains careful about how much it opens up its core software. For example, Siri will only be able to integrate with six types of third-party apps.
It's safe to say that iMessage apps will also have their limitations in regards to what they can do. And no matter how open Apple's mobile software becomes, it will never be open enough to be used on anything but an iOS device.