Ready for Twitter to become even more like Facebook? The platform is moving into video in a major way with 140-second clips in both Twitter proper and Vine, a new video section called Watch Mode, and video recommendations for other videos to watch. The network's most popular users, like President Barack Obama and Justin Bieber, are getting a stand-alone app called Engage, which sounds a lot like Facebook Mentions.
Twitter is making video a huge priority by extending video length from 30 seconds to 140 seconds (staying on-brand, of course). Those longer videos are also coming to Vine, but don't worry, the popular app for creating hilarious video loops isn't changing its 6-second limit. Instead, you can post 140-second clips alongside your Vines.
You won't have to watch these longer videos in-tweet. Now tapping on a video in your timeline will launch a new full-screen viewing mode with recommended clips surfaced just below. The same experience applies to longer videos on Vine.
The new features are rolling out soon on Twitter for iOS and Android.
Weeding out the normals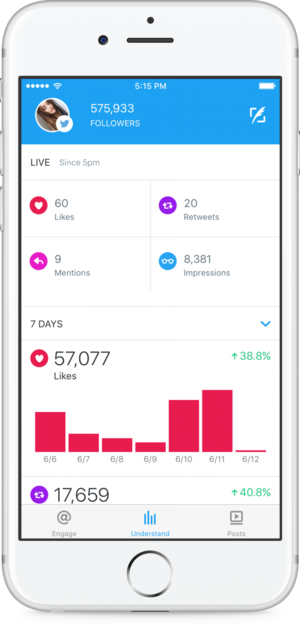 Twitter Engage launched Tuesday on iOS to help video creators and other important people see metrics on their clips, including likes, retweets, mentions, and views. They can also see demographics for their videos and a feed of what their fans are talking about.
Unlike Facebook Mentions, Engage isn't solely aimed at celebrities. But the two apps are similar in that they show mentions from so-called "influencers" and filter comments from fans.
Anyone can use Engage, but the value to regular Twitter users won't be that high because the app lacks a timeline. Instead, you see three tabs: Engage, which shows you mentions from people with a lot of followers or users who interact with you a lot; an Understand tab with graphs of analytics over time; and a Posts section for viewing your stats for individual tweets and videos.
Engage essentially creates a walled garden where you only see the highest-quality content. The level of controls Twitter has introduced for its new app have inspired some users to question why the company made it so easy for influencers to tune out the riff-raff, while it still hasn't managed to make the platform safer for women to use.
But Twitter has to try new things, especially since its user growth has stalled out at 310 million monthly active users and Wall Street isn't happy about it. To compare, Instagram just announced it has more than 500 million monthly active users, 300 million of whom check the app on a daily basis.