Me: Hey Craig, where are the iPad Pro features on that list?Craig: ¯_(ツ)_/¯
I fully expected this week's column to walk through new features that would make the iPad Pro even better than it already is: Here are the top productivity features for iPad Pro in iOS 10 (or something along those lines) would've been the headline. I had it all planned out.
Instead, I'm sitting here scratching my head wondering if Apple forgot about the iPad Pro. Last year's WWDC keynote dedicated a fairly significant amount of time to the iPad and its newfound multitasking features. As someone who had always loved using an iPad to get work done, it was a dream come true.
This year, Apple spent two hours walking developers through new software features set for release this fall. WatchOS 3 looks like it fixes a lot of issues with the Apple Watch; tvOS 10 adds key features to the streaming box; macOS Sierra adds Siri (!!) to our computers; iOS 10 focused on Siri and iMessage.
Across the board, the improvements are needed and welcomed. It's undoubtedly an exciting time to be an Apple user! Until you start to look through the announcement for new features coming to the iPad Pro—or any iPad for that matter—when iOS 10 is released.

Beyond the few seconds towards the end of the iOS 10 portion of the keynote, where Craig Federighi quickly mentioned iPad users would gain the ability to view two Safari tabs at the same time split-screen in iOS 10, the iPad took a backseat to the iPhone, Apple Watch, Apple TV, and Mac.
Well, that's not entirely true. Apple spent about 10 minutes at the end of the keynote walking through a couple of demos for Swift Playgrounds, a free app aimed at teaching kids how to code directly on the iPad.
Outside of that, however, the iPad found itself as the "me too" device throughout the keynote. At the end of each of the 10 iOS feature sets we were walked through, the presenter on stage would end with something along the lines of "this looks great on the iPad as well."
Cool. Happy to hear that. What about features specific to the iPad?
Going Pro
Apple has spent the last year laying out the narrative that the iPad Pro lineup is a fully capable PC replacement for many, yet unveiled absolutely zero new features to move that narrative forward.
Viewing two Safari tabs at the same time was on nearly every iOS 10 wish list, and rightfully so. What about user accounts? What about drag-and-drop for photos and text when using apps in split-screen mode? Where's an improved app switcher in multitasking? Each of those areas desperately need attention.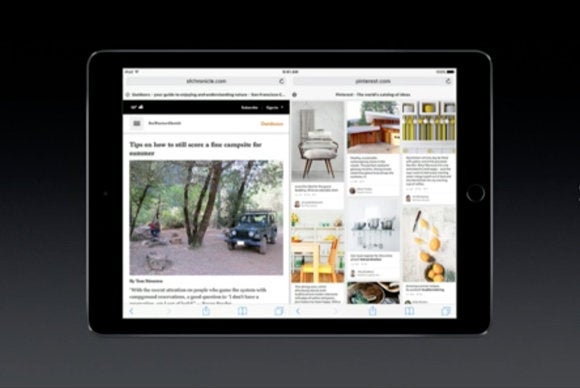 Despite the lack of productivity focussed features for the iPad lineup, all is not lost; there are some improvements worth pointing out.
The way iOS 10 handles widgets looks to be a useful way of quickly gathering information, and one feature sure to benefit from more screen real-estate. From what I can gather, instead of having a single column of widgets as you will on an iPhone, the iPad will have two columns of widgets for you to arrange to your liking.
A 9to5Mac report details a new, three-pane view in Apple Mail and Notes. The added column will give you access to more information without having to tap and swipe between panes. In Mail, for example, you'll be able to view your account's folder hierarchy, contents of a folder, and an email's text, all on one screen.
There's certainly more left to uncover as the iOS 10 beta program matures. Or better yet, perhaps Apple is waiting until later this year when it will presumably announce the second-generation iPad Pro and new software features to go alongside it. Let's just hope those new features make their way back to the first generation model.