Keith Pitman writes:
On my iPad the Mail icon constantly shows four new, unread emails, even though I actually have none. When I go into Mail and look at the list of mailboxes, it appears the four unread emails are in Junk, even after I delete all junk and then delete Trash. How can I get the unread counter to reset to zero?
This is some kind of IMAP synchronization problem, and iOS doesn't offer tools to solve it. (In OS X, you can rebuild mailboxes, take sync offline, and run troubleshooting operations in the app.)
You can try two methods of fixing the problem:
Open Settings > Mail, Contacts, Calendar.
Tap the account in the Accounts list at top.
Disable Mail. Wait, and re-enable it.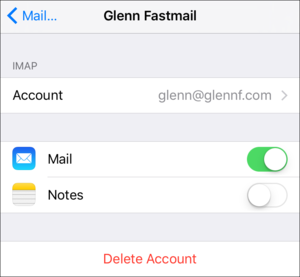 If that doesn't solve the problem, you'll need to remove the account from iOS and add it back, which is annoying, but should clear the broken state of things:
Open Settings > Mail, Contacts, Calendar.
Tap the account in the Accounts list at top.
Tap Delete Account.
Opt to keep local copies or not. I'd recommend not, because that's part of the problem.
Tap Add Account and re-enter your details.
Jeffery Battersby offered advice last summer about unmovable mail folders that may also be useful.
Ask Mac 911
We've compiled a list of the most commonly asked questions we get, and the answers to them: read our super FAQ to see if you're covered. If not, we're always looking for new problems to solve! Email yours to mac911@macworld.com including screen captures as appropriate. Mac 911 cannot reply to email with troubleshooting advice nor can we publish answers to every question.
Note: When you purchase something after clicking links in our articles, we may earn a small commission. Read our affiliate link policy for more details.