If you haven't been paying attention to BitTorrent over the last few years and still equate the company with piracy, its plan to become a legitimate media company may come as a surprise. But BitTorrent, the company behind the peer-to-peer file-sharing protocol of the same name, just launched a streaming app that has already won over artists, musicians, and filmmakers. The app is available today on Android and coming soon to iOS and Apple TV.
BitTorrent Now emphasizes emerging artists, so content discovery is a high priority for the company. I've never heard of most indie bands from Brooklyn (despite living in Brooklyn), so how will I know which ones to listen to? BitTorrent has a team curating recommended projects inside the app, and there will also be a trending tab to see what's popular with other BitTorrent users and on social media. You can follow your favorite artists, shuffle play genres of songs, create playlists, and sync all your content across your devices. Basically, it functions similarly to the other streaming apps you know and use daily.
Except it's radically different.
How BitTorrent became an artist's best friend
BitTorrent Now is actually a distribution platform for any artist to share their work any way they want. Anyone can submit content for publication and choose how it's distributed. Musicians just breaking onto the scene can set up email gates so people have to submit their addresses to access songs. More established artists can sell their work. And BitTorrent is introducing an ad-supported model that puts pre-roll ads in front of videos. Artists take a cut from each model: a 90/10 percent split in their favor from direct sales and a 70/30 percent split for ad revenue.
The ad-supported model is new territory for BitTorrent, so the company is piloting the program with about a dozen partners to test the waters. Artist/rapper/visionary Yung Jake, singer Kerli, indie film company Oscilloscope Labs, and director Adam Bhala Lough are among the creators who have signed up to test the ad-supported model with songs, albums, movies, and artwork.
"From the beginning, it was about options, not rules, when it comes to your business model," Straith Schreder, BitTorrent's vice president of creative initiatives, told me. "Ads, direct sales, subscriptions: we want creators to pick whatever business model. We're rolling it out as a pilot because we want to learn how to create truly great experiences for fans. I think for fans, the options and not rules, the agency thing, applies to them as well. If you want to buy something and not see ads, that's fine. Creators don't have to participate in this program."
BitTorrent Now is the company's second streaming app in as many months, just after the launch of live-streaming app BitTorrent Live in May. The new app is rooted in the company's Bundles program, which debuted in 2013 and included major partners like Lady Gaga, Madonna, and Thom Yorke. Bundles were distributed in a similar way to content on BitTorrent Now, though sans apps and without an ad-supported model.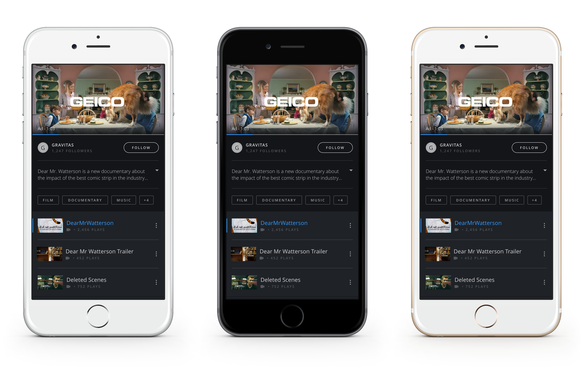 The program is being rebranded and relaunched as BitTorrent Now to get away from the idea that artists have to package their work. They can sell or share pieces of content a la carte. Bundles will still exist as a distribution unit, and they've been pretty successful. More than 30,000 artists used BitTorrent Bundles to publish content, which more than 200 million people then downloaded. With the launch of BitTorrent Now and the move to smartphone and TV apps, BitTorrent is taking its platform mainstream.
BitTorrent Now is just one in a sea of streaming apps, most of which offer ad-supported streaming as an option. Schreder told me the real debate is over the artist's share of streaming revenue, and that BitTorrent Now offers a percentage that can't be beat by other streaming platforms. That fair split could win over artists that don't want to earn pennies on the dollar for every song streamed.
The future is streaming
This year is a big one for BitTorrent. Eric Klinker, the company's former CEO, was reassigned to spin off the peer-to-peer file-syncing app BitTorrent Sync into an enterprise-focused stand-alone company, Resilio. BitTorrent Live launched on iOS, Android, and Apple TV, bringing peer-to-peer live video streaming to the masses with a full lineup of TV channels. ( Rumor has it BitTorrent plans to add a live news network to that roster, though it's still early days.)
BitTorrent's new CEOs, Jeremy Johnson and Robert Delamar, are tasked with turning BitTorrent's creative consumer-focused projects, powered by its peer-to-peer protocol, into a media force to be reckoned with. It's unclear whether people will embrace the new approach, but one thing's for sure: BitTorrent has definitely won over the artists who once despised the company's torrenting tech.
Those artists now have a new enemy: YouTube.