Everyone hates Uber's surge-pricing, except for Uber of course. Now the crazy-making lightning bolt that indicates you're about to spend a fortune to get home is going away, replaced by a fare guarantee that tells you exactly what you're going to pay for the ride. But that doesn't mean the surge is gone.
Uber's new up-front fare feature, which is slowly rolling out for UberX rides in some U.S. cities and in India, is exactly like the pricing you already see for UberPool rides. Just put make sure your pickup location is accurate, then enter your destination and Uber will calculate your exact fare.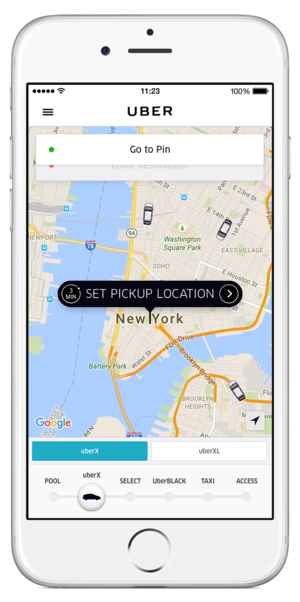 How it works, according to Uber: "Upfront fares are calculated using the expected time and distance of the trip and local traffic, as well as how many riders and nearby drivers are using Uber at that moment. And when fares go up due to increased demand, instead of surge lightning bolts and pop-up screens, riders are given the actual fare before they request their ride. There's no complicated math and no surprises: passengers can just sit back and enjoy the ride."
Uber currently caps surge pricing in case of emergency, like storms and the recent mass shooting in Orlando.
Why this matters: That last part is important: No more surge pricing notifications. Instead of telling you you're about to pay two times the normal fare, Uber will just calculate the fare for you. The feature is designed to eliminate guesswork and outrage, but also seems a little sneaky. Many people wait out the surge by requesting a notification when it drops or by reopening the app after a few minutes. Now they won't know surge is in effect, unless they see a bit of small text beneath the upfront price that says "fares are higher due to increased demand." How much higher? You won't know.
But you'll at least know what your credit card will be charged at the end of a trip, which might cut down on the complaints Uber receives—and the cold sweat you feel when you check your receipt the next morning.