Apple has made it easier to upgrade to a new iPhone, but it's going to cost you.
This week, 9to5Mac spotted some key differences in Apple's Trade-Up page. Most notably, Apple has reduced the maximum credit that you can get from trading in your old iPhone, from $300 to $250. Additionally, this credit can be used to pay for a new device up front or lower your monthly installment payments to a carrier like Verizon or AT&T.
Previously, Apple gave buyers the ability to use the credit from their old iPhones toward an interest-free loan for a new phone through its Trade-Up with Installments program. The financing was provided by Citizen Bank, but customers made the monthly payments to Apple directly. Even though the Trade-Up with Installments program was just introduced in February, it appears Apple will no longer be offering this alternative and has switched to letting carriers handle the financing.
It's unclear if you can get a better financing deal through your carrier, although the big four offer all kinds of pricing plans to win your business, especially when new iPhones come around. If you can wait for the iPhone 7 release in September, there may be deals aplenty to be found. Below are the current pricing options for a 64GB iPhone 6s: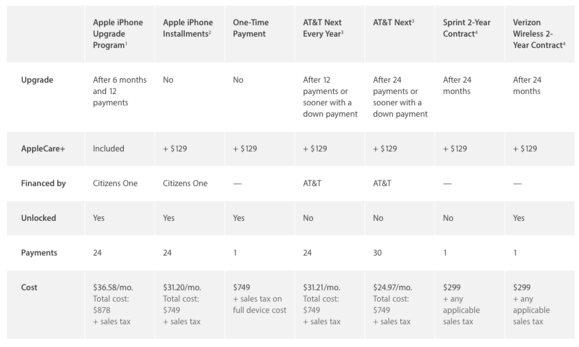 Why this matters: Two-year contracts. Installment plans. Locked devices. Carriers may have made purchasing a new iPhone more affordable, but the process is a total nightmare. When Apple introduced the iPhone Upgrade Program last year, it seemed we were finally going to get some relief from having to deal with the carriers. And when Apple added the Trade-Up with Installments option, it looked like we were finally entering a new carrier-agnostic era. The iPhone Upgrade Program was not always smooth sailing, however. Now Apple is again relying on the carriers to finance the iPhone purchase process.