Dan Wieder wanted to track down a mismatch for his daughter between the images stored on her Mac and what was being synchronized via iTunes to an iPad:
Looking in the album, she can see it has 1,308 photos. But when it syncs to the iPad, only 1,026 photos get synced. I tried the usual things with removing the photos from the iPad and resyncing, rebuilding the Photos Library, etc. So far, it still said 1,026 photos were synced.
I asked Dan to check whether or not the images were externally referenced, something that Photos allows, but which isn't always obvious. And which shouldn't have made a difference in syncing.
With externally referenced media, Photos for OS X overlays a very faint square-plus-arrow-pointing-to-the-upper-right icon that indicates the photo or video wasn't imported into Photos, but remains stored elsewhere on volume that's mounted. You can toggle whether the icon is displayed via View > Metadata > Referenced File. (The icon is a yield sign plus an error if the original media can't be found.)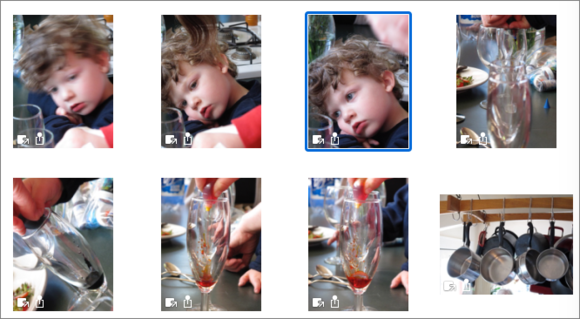 You can see which images and videos are externally referenced by creating a smart album that using the criteria Photo, Is, Referenced. In that album, you can opt to select some or all of those items, and then choose File > Consolidate, and Photos will copy the images into its library. If a media file or volume is missing, Photos prompts you to select it, giving you a chance to mount a drive or find the current location. (Externally referenced files aren't synced to iCloud Photo Library, which is a good or bad thing depending on how you want to manage where media lives.)

Dan checked, and that wasn't the problem. However, as he examined the images that didn't sync more closely, he found that they were all marked Hidden. Yet, he was seeing them in an album! That makes no sense—except it's the expected behavior in Photos for OS X!
Yup, that's right: hidden photos appear in plain sight in albums and the main view in Photos. Media marked hidden disappears only from Moments, Collections, and Years. If you use iCloud Photo Library, the same is true, because the photos or videos you've hidden need to sync among your devices so that they are in the same state on all of them.
Because Dan's daughter is syncing via iTunes, the images simply aren't copied over.
You can see which items are hidden in Photos in OS X via the Hidden album, which can also be shown or, uh, hidden via the View menu.
Ask Mac 911
We've compiled a list of the most commonly asked questions we get, and the answers to them: read our super FAQ to see if you're covered. If not, we're always looking for new problems to solve! Email yours to mac911@macworld.com including screen captures as appropriate. Mac 911 cannot reply to email with troubleshooting advice nor can we publish answers to every question.