While many Mac shutterbugs cling desperately to Aperture in the wake of Apple's abandonment, I've been quite content since moving to OS X Photos. The only feature I do miss is editing library images from external applications without extension support, like Adobe Photoshop CC. But now there's a clever workaround to enable this feature.
Infinite editors
External Editors for Photos (EEFP; $1 on the Mac App Store) allows OS X Photos users to seamlessly edit images using any Mac image editor, no export/import required. EEFP works like other Photos extensions, but hands the actual editing duties off to standalone applications already installed on your system.
Here's how it works: Open an image with OS X Photos, click Edit, then select External Editors from the Extensions icon bar. You'll see a list of image editing apps at right; click one and it launches automatically, ready to work on the current photo. Make your desired edits, save, and the changes magically appear in place of the original version back in Photos.

That alone is impressive enough, but the fact you can revert back to the original at any time elevates EEFP to a must-have extension. The software also preserves existing metadata, so you can work freely without fear of losing data during the round trip from Photos to external application and back.
Speaking of data loss, because JPEG is inherently lossy (you lose a bit of quality with every save), the developer included the option to convert files to TIFF prior to external editing. (RAW files can be converted to JPEG instead.) However, there's no option to perform conversions by default, which would make this feature even handier.
Little conveniences
If that's all External Editors for Photos could muster, I'd be genuinely impressed. It's one of those apps you really have to use to appreciate for its simplicity and added convenience. And given the price, there's really no excuse not to own it.
But it gets better. You can ignore image-friendly applications on your Mac that aren't technically editors (Safari and Google Chrome, for example) by adding preferred software to the Favorites tab. One improvement I'd like to see would be the ability to choose from the list of apps already recognized by the extension, rather than having to select them from the Applications folder.
Like all extensions, EEFP is also an application with two options: A pulldown menu for choosing the default JPEG editor, and a box that automatically enables this choice every time. (Settings can also be changed within the extension by clicking the gear icon in the lower right corner.)
Last but not least, you can import, drag, or copy images from anywhere on your Mac and drop or paste them directly onto the EEFP extension preview to update what appears in OS X Photos, while still retaining the option to revert to the original version at all times.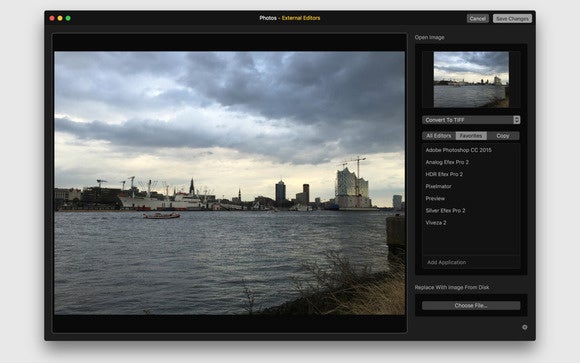 Bottom line
External Editors for Photos is an indispensable tool that seamlessly makes any image editor on your Mac available for use as an OS X Photos extension.