Faizal Dwi Nugraha is missing media:
The Photos app works well; iTunes works well too; but I can't see any files in the Photos/Music/Movie folders within the Media folder.
As I noted recently, one way to import to upload media items from Apple software is via the Open dialog box under the Media label. You should see Music, Photos, and Movies, which, when selected, should link to libraries and other storage. This lets you pick items from your Photos library, for instance. Faizal sees these icons, but clicking them doesn't reveal any media items.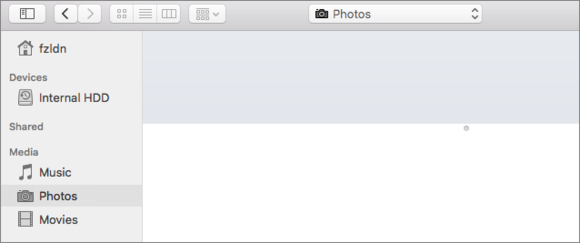 Because these are referenced through the system, the most likely cause is a corrupt Spotlight index or having Spotlight disabled entirely.
Open the Spotlight system preference pane.
Click the Privacy tab.
If the startup volume or any volumes on which media libraries reside or any relevant folders are listed in the Privacy tab, remove them. This starts Spotlight indexing.
Check back later, and the Open dialog items should show items.
If the Privacy tab doesn't list relevant volumes, the index may be corrupted. Drag the startup and other volumes into the Privacy list; wait a moment, as the indexes will be disabled and removed. Now select the volumes and click – to remove them, which will restart indexing.
Now, if that fails, boot into Recovery HD mode (restart your Mac, and then hold down Command-R), and run Disk Utility. Select First Aid for each volume. Restart your Mac.
Ask Mac 911
We've compiled a list of the most commonly asked questions we get, and the answers to them: read our super FAQ to see if you're covered. If not, we're always looking for new problems to solve! Email yours to mac911@macworld.com including screen captures as appropriate. Mac 911 cannot reply to email with troubleshooting advice nor can we publish answers to every question.