Apple worked for an entire year on a new file system, but according to Craig Federighi, "every time we'd add a couple new emoji, it would be the biggest thing." So, in iOS 10 emojis are three times bigger. Not only that, but Apple added a handful of visual tricks to Messages, and transformed iMessage into a platform for third-party apps.
Needless to say, there's a lot you can do in the new Message, so let's get started. These features have been made available via the iOS 10 public beta, but we expect them to get refined before the final iOS release this fall. You can read how to install the public beta here.
In addition, the recipient will also need to have installed iOS 10 in order to view most of these messages in all their eye-popping glory. Otherwise they show up as regular text with a description of what the visual should have been, like (sent with fireworks). Not nearly as captivating. And Android users won't be able to experience these visual effects at all.
Emoji nation
When Apple announced that emojis in iOS 10 would be three times bigger during WWDC, the crowd cheered. In order to get the super-sized versions, however, you have to send an message containing only emojis. Adding text shows regular-sized emojis.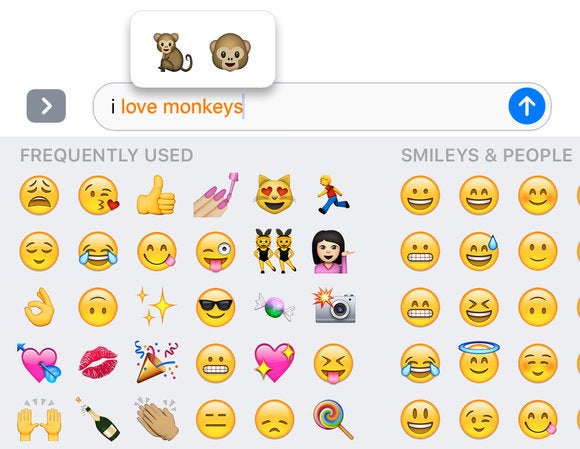 On top of that, Messages has a new emoji replacement tool for converting keywords into corresponding emojis. For example, the text "I love monkeys" turns into "I ? ?" – all you have to do is compose your message and then tap on the the emoji button. Then tap on the highlighted keywords to choose from the corresponding emojis.
Bubble and full-screen effects
If sending an emojified message is not enough to grab your friend's attention, you can rely on all-new bubble effects and full-screen visuals. After typing your message, press down on the blue up-arrow on the right of the input field. That will take you a "send with effect" page where you can slide up to select your text to appear as "Gentle" like a whisper, "Loud" as if you're yelling, or "Slam" down on the screen. Here, you can also choose "Invisible Ink" to send a hidden message or photo that the recipient can reveal by swiping away the particles.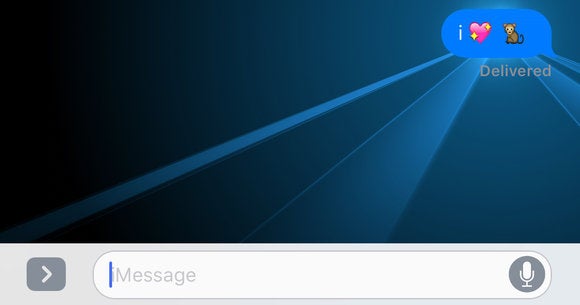 Toggle from these bubble effects to screen effects to send your message with a full-screen animation. Swipe between sending with balloons, confetti, lasers, fireworks, or shooting star. The effects appear for a few seconds when the recipient opens the message. Lasers, fireworks, and shooting star also come with sound, because how can anyone take a fireworks show seriously without the bursting sounds. After you've selected an effect, you can press the blue up-arrow again to send or the x to cancel.
Digital Touch
A feature that originated on the Apple Watch has come to iOS 10. Tap on the icon with the heart and the two fingers that sits on the right of the input field to access Digital Touch. Here, you can doodle and insert animations on either a black canvas or on a photo or video. Select from seven colors on the right of the canvas and you can use one finger to sketch, hold two fingers to create a beating heart, tap gently to create a vanishing circle made out of particles, tap with two fingers to create lips, drag down with two fingers to create a broken heart, and press down to create a glowing burst. You can tap on the camera icon on the left to add all these animations to a selfie, too.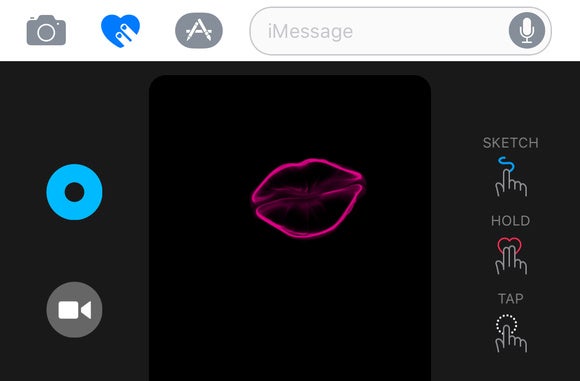 Just be aware that as soon as you let go of your fingers on the black canvas, the animation will be sent to the recipient, so make sure you have a clear vision of what you want to create before putting pen to paper, or finger to screen in this case. These animated cards show up on the Apple Watch, as well, as long as it's running the latest watchOS 3. They show up as still attachments on iOS 9.
Handwriting
Digital Touch is not the only way you can use your finger to express yourself in the new Messages. Turn your iPhone horizontally to landscape mode, and you'll be able to use handwriting. Here, you can select from seven pre-populated handwritten messages like "happy birthday" and "thinking of you." Or you can just keep the font and create your own message by tapping "Clear" towards the top.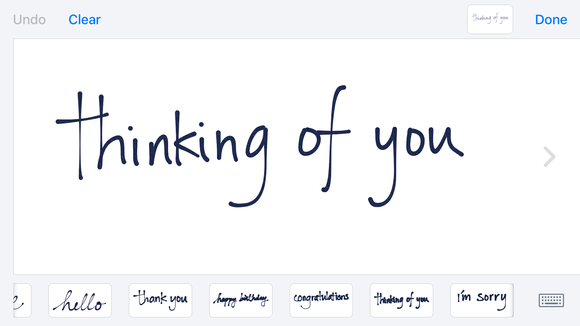 If the recipient has installed iOS 10 as well, these messages are displayed stroke by stroke, as if they had been handwritten in real-time. The ink also has a drying effect for an authentic pen-on-paper feel. If the recipient has iOS 9, these handwritten messages show up as still attachments.
App Store and third-party integrations
Perhaps the most profound change iOS 10 brings to Message is the integration of third-party integrations, turning iMessage into a platform. Access your iMessage app drawer by tapping on the icon right next to the input field on the left. The launch iMessage apps include Recents, Music, and Images. As with iOS apps, you can press down on them to make them wiggle and rearrange them or delete them.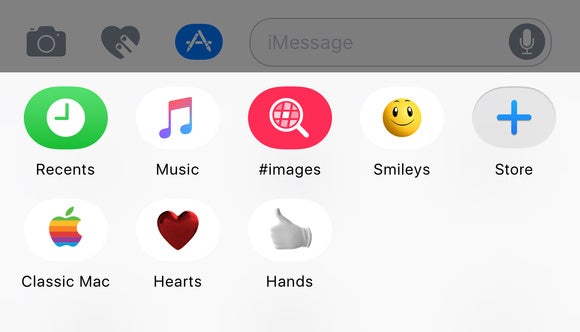 Recents displays your recently-sent messages, whether it's a Digital Touch creation or a handwritten message. Music lets you share your most recently played song from Apple Music that will play in-line (more on that in the next section). Images lets you search the web for photos, videos, and GIFs. The image search results are powered by Bing, and they seemed pretty comparable to the GIF searches in Google's Gboard iOS keyboard.
When introducing iMessage apps at WWDC, Apple showed off integrations from DoorDash to create a group food order and Disney to send Donald Duck stickers. But in the public beta, the launch integrations are underwhelming. You can tap on the Store to get four more integrations–Smileys, Classic Mac, Hearts, and Hands–but these are all apps for even more stickers. There is no Venmo app, no Dropbox app, and no bots…yet. But that is the promise of iMessage as a platform.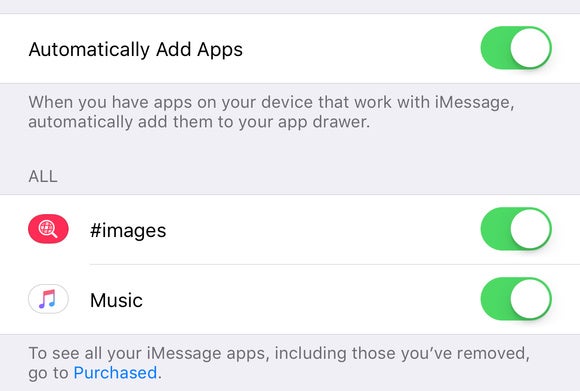 There's an option to automatically add iMessage integrations from iOS apps you install, which could come in handy as more third-party services create messaging extensions in the future. We can also see iMessage apps replacing some third-party keyboards for iOS, especially keyboards whose sole function is sending GIFs or special emoji, like Kimoji.
Media and visual links
Lastly, Messages in iOS 10 has redesigned the way you attach media, whether it's a photo in your camera roll or a video you've recorded in-app on the spot. Tap on the camera icon and the keyboard becomes a media hub with a viewfinder for taking photos or video right there and then. You can continue browsing your camera roll by swiping left, or launch the Camera app or Photo Library by swiping right.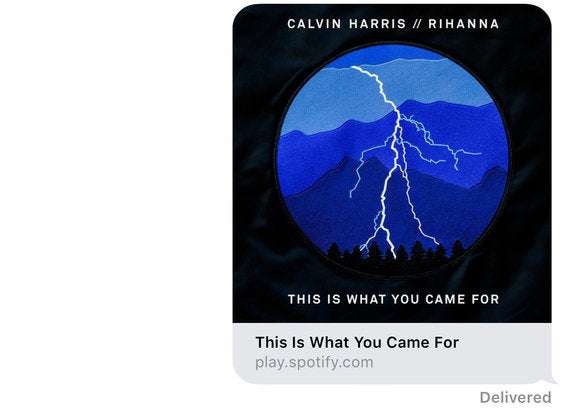 Also, when you send a URL to an article on the Web, Messages automatically turns it into a preview with a headline and image pulled from the link. Similarly, you can send a link to YouTube or Vimeo and have the recipients watch the video in-line. You can also play tracks from Apple Music without leaving Messages. There's actually an iMessage app for sharing songs from Apple Music (see section above). In fact, every URL we sent showed up as a visual link, even Spotify tracks, although much to no one's surprise, you're not able to play those in-line.