The Apple ID system, built somewhat haphazardly via .Mac and the iTunes Store, never really fit with the reality of complicated human life. Husbands and wives, parents and children, partners of all kinds found themselves sharing Apple IDs in order to avoid buying duplicates of every app and song and video in order to distribute them among multiple devices in a household.
Apple's solution, when it arrived a couple of years ago with iOS 8, showed a lot of potential. Like the webpage says, "Family Sharing makes it easy for up to six people in your family to share each other's iTunes, iBooks, and App Store purchases without sharing accounts." I've been using Family Sharing since it launched, and it's got a whole lot of potential. My kids now have their own Apple IDs, and I approve their app purchases–plus they have access to all the apps my wife and I have purchased.
That said, Family Sharing feels very much like a version 1.0, a first crack at the idea that people with their own Apple IDs also have intermingled real lives that should probably be intermingled digitally. Nearly two years after the release of iOS 8, however, not a whole lot has changed in the realm of family sharing. And it's got some glaring deficiencies that really need to be addressed.
Photo Library, table for one
Let's start with iCloud Photo Library, which Apple introduced a year ago. It's a pretty cool service, but it doesn't really support Family Sharing. You can share (scaled-down) images with your family manually, but only a single Apple ID can control the library.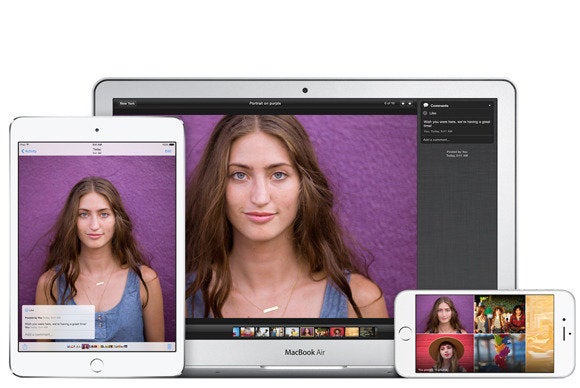 This is a problem in my family, because my wife and I manage our photo library together. Ideally, our Macs and iOS devices would be able to see the same library, and our iPhones would contribute the photos we took to that library. But right now, it's not possible.
Let's face it–my teenage daughter probably doesn't want to contribute most of her photos to the family library, but I'd still like her to have access to it, and have the option to contribute photos to it if she wants, all from her iPhone. That's also not possible.
The end result is that, when my wife wants to make photo calendars or order prints, she has to use my iMac to do it, rather than her own MacBook Air. It shouldn't be this way.
Backup bugging
Because I store our entire family photo library in iCloud, I'm playing for Apple's largest iCloud storage plan, giving me a terabyte of cloud storage. My assorted documents and photos only use about 600GB of that plan, giving me 400GB of free space.
Meanwhile, my wife's iPhone and iPad keep complaining that they are unable to back themselves up because they've reached the end of their free 5GB of cloud storage. What's wrong with this picture?
It doesn't make sense that families can't share a single iCloud storage allotment. We all share data on our cellular plan, and it's never a good sign when wireless companies are ahead of you on features. The members of my iCloud family account should be able to access my terabyte of storage for their own use.
Last night, I gave up and had my wife buy extra iCloud storage for her own Apple ID–$1 per month for 50GB–just to stop the backup warnings. I suppose $12/year is not a very high price to silence the warnings, but it seems silly when I'm already paying Apple $120/year for more storage than I can actually use.
Too much is tied together
Now, you may be asking yourself: Why not solve this problem by logging my wife's devices in to my Apple ID for use with iCloud Photo Library and backup?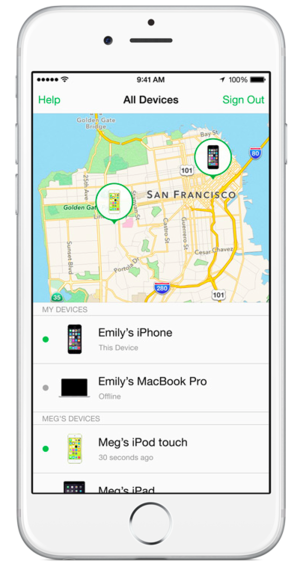 Great question, reader. But here's the thing: While Apple does let you add an additional Apple ID for access to some features (you can be logged into the App Store with a different ID than iCloud, for instance), there are many services that are interlinked and can only be logged into by a single, primary Apple ID.
iCloud Photo Library is like that. It wants to use your primary Apple ID. Backup, too, is tied to the primary ID. My wife and I considered just logging her iPhone into my Apple ID so she could back up freely, but Find My Friends is similarly tied to the primary Apple ID–so if she was logged in as me, she would no longer appear in Find My Friends because her phone would no longer be hers–it would just be an additional phone of mine.
I'm not advocating for Apple to solve the problem of family sharing by allowing us to log into every cloud service á la carte–that would be a confusing mess–but even today it's not much of a workaround for most of these services.
Services revenue versus user experience
This whole discussion leaves aside one of the larger issues here, which is the question of whether Apple favors extracting more money from its loyal customers over the quality of their experience using Apple products. I'm encouraged by Tim Cook's statements on the matter, which indicate that Apple will not make users feel pain in order to boost revenues.
But that said, it seems like Apple has been behind the curve on cloud storage for a few years now. The policy of offering 5GB of free storage per Apple ID is no longer generous. Apple should increase that allotment, either by converting the allocation to an amount of space per device–so if you attach an iPhone and an iPad to the same Apple ID, you'd get twice as much space–or by granting the free tier more storage.
Yes, that change in policy might cause Apple to lose some sales of those $10/year base-model iCloud storage plan like the one I signed my wife up for last night. But it would also dramatically reduce the number of people who are scared or baffled or angry when their iPhones announce that they've run out of iCloud space and are unable to back up. (It would also presumably decrease the pain in users who come to the Apple Store with a dead phone only to discover that it hasn't been backed up in months.)
Apple shouldn't be relying on pain to drive sales of cloud-service plans. The free tier should be big enough to get everyone using the service and liking it, so much so that they're interested in paying more for more storage space. And if someone's paying $36/year or $120/year for a larger chunk of storage, they should be able to include their families in on that allotment–not force existing customers to fork out a little bit more because Apple has failed to extend its existing Family Sharing features beyond where they were two years ago.