Geoff writes in asking for help for his daughter:
My daughter is a paramedic. As a paramedic she takes people's pulses all shift long. However, her Apple Watch face goes blank before she is finished taking a pulse, making it impossible to wear her watch while working.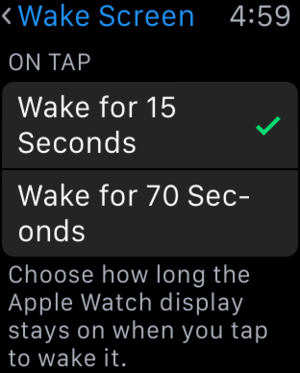 He wonders if there's a way to keep it visible. In watchOS 2, there is.
From the Home (honeycomb of apps) screen, tap Settings.
Tap General > Wake Screen and swipe down to On Tap.
Change to Wake for 70 Seconds.
This will drain the battery on the Watch more quickly than a default 15-second sleep, but given that she's looking at a Watch face, which uses an Apple-developed native app and doesn't need to interact with an associated iPhone, the difference should be minimal.
Ask Mac 911
We've compiled a list of the most commonly asked questions we get, and the answers to them: read our super FAQ to see if you're covered. If not, we're always looking for new problems to solve! Email yours to mac911@macworld.com including screen captures as appropriate. Mac 911 cannot reply to email with troubleshooting advice nor can we publish answers to every question.