Apple didn't devote much time to Notes during the iOS 10 reveal at the Worldwide Developers Conference keynote in June, which wasn't that surprising. Notes got a huge overhaul in iOS 9 and is better than ever. But one line in the keynote stopped us in our tracks: Collaboration is finally coming to Notes.
One reason note-taking apps like Evernote have relegated Apple's built-in Notes app to the sideline is because they have features like collaboration that let multiple people contribute to a note. Apple clearly—please forgive me this pun—took note.
Once the Macworld staff put the iOS 10 beta on our devices, we put the new Notes collaboration tool to the test to see how easy it is to create and collaborate on notes as a group.
How it works
The person who creates the note owns it and has the power to invite people to view and contribute to the note. Just tap the new collaboration icon, a round yellow badge with a person and a plus sign, to send invitations via text, email, or by copying and sharing a link.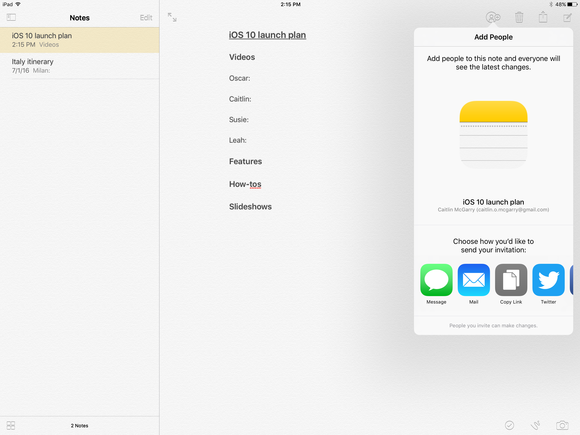 In the iOS 10 beta, your collaborators will receive an iCloud link to open your note. If they're also using iOS 10, tapping that link will prompt them to either open the note immediately or decline. It's easy and seamless, but that's only on devices that are running iOS 10. Otherwise, they'll be pointed toward an iCloud web link to sign in and open the note there.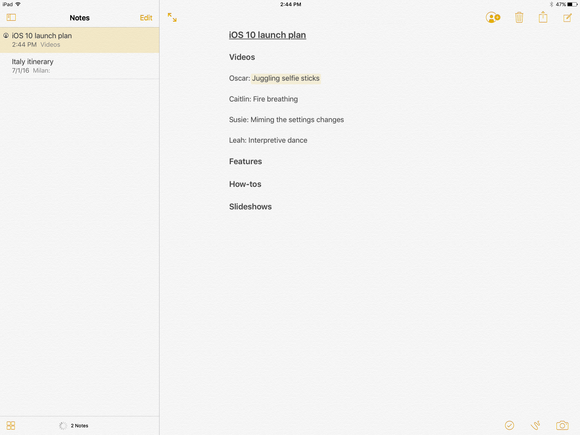 After that, collaboration is simple. You can see changes happening in real-time, with new text highlighted in yellow for a moment before the background fades in with the rest of the copy. People you've invited to collaborate on your note can share the link with others, but they can't invite additional people to make changes. You can cut off access to your note at any time, or delete the note altogether. Notes that people are collaborating on with you are marked with the person icon in your list of notes.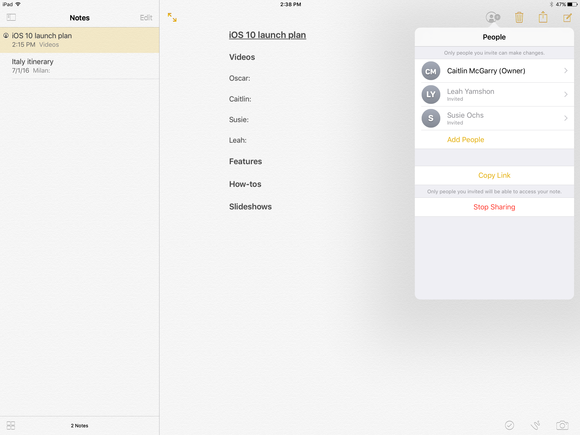 I find Google Docs easier for work collaboration, but for sharing grocery lists and trip itineraries with partners or family, the new Notes tool in iOS 10 is a long-awaited feature that will definitely make life easier. If you're already using Evernote or another alternative and prefer a cross-platform approach with an ecosystem of supported apps and full-featured search and indexing functionality, well, Notes in iOS 10 probably won't impress you enough to switch. The app definitely still has problems. But for a lightweight note-taking service, Notes gets the job done, and collaboration makes it even better.
Have any questions about Notes in iOS 10? Ask away.