Every year, Apple organizes its new software releases around a few tentpole features, and this year it was pretty clear that the belle of the ball was the improvements to Messages—especially on iOS 10.
In some ways, messaging has always been a killer app, no matter the technological era. People have been typing to each other on computers for decades upon decades, and it would be hard to attribute the success of the Internet, at its most basic level, to anything other than people's desire to connect with each other.
But what Apple is doing in iOS 10, while not unprecedented, shows a markedly different direction for the company. No longer content to embrace standards for trading texts, Apple's now putting its own stamp—if you will—on the whole idea of sending messages. And like many of Cupertino's decisions, that's got its upsides and its downsides.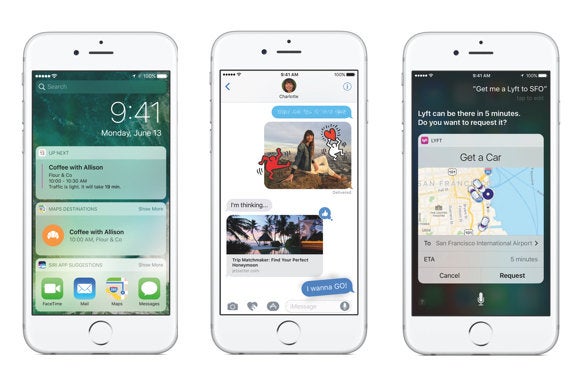 That's rich
As always, Apple's control over its platform brings advantages. Most obviously, it has the ability to bundle its own messaging solution with its operating system. That's done great favors for iMessage in the past—when Apple launched its messaging system back in 2011, the default communication method between mobile devices was still SMS texting, a technology that pretty much entirely depended on the carriers. (And which they charged through the nose for, simply because they could; they quickly turned to unlimited texting plans around the time iMessage was announced—no doubt seeing the writing on the wall.)
Beyond simply ensuring that every user of an iOS device (and a Mac, though we'll talk about that more in a moment) can send and receive iMessages, Apple's also been able to soup up the rather bare bones SMS and MMS options by layering more features on top of it. In the earliest days, that included features like delivery confirmation and read receipts, as well as rich content—not only pictures and videos supported by MMS—but contacts and locations as well.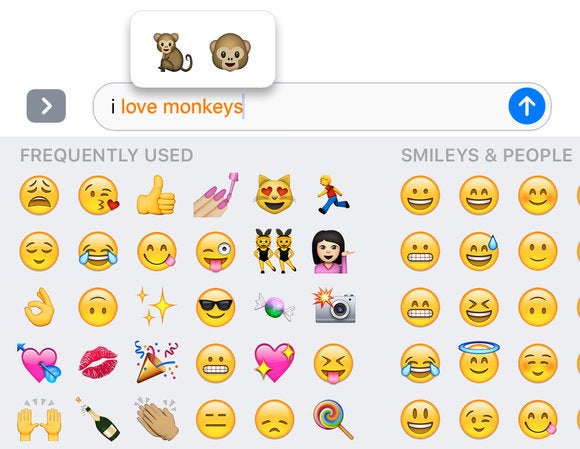 Over the years, that rich content expanded to include voice messages, Live Photos, and now, of course, everything else: stickers, handwriting, Digital Touch sketches, screen and bubble effects, and—most importantly—giant emoji. Because Apple controls iMessage stem-to-stern, it can ensure compatibility, guaranteeing that the message you send is the message that will be received.
In most cases, anyway.
WYSIWYG
But, much to the company's dismay I'm sure, Apple's platform isn't the only one in town. And in this connected age, none of us have the luxury of assuming that everybody we ever need to talk to will be on the same platform as we are.
It's not that iMessage falls short in this regard; like any good messaging system, it falls back to good old vanilla SMS when you text someone on Android or another mobile platform. But all those fancy features you get with iMessage are obviously not available when you send messages to those on other platforms. (Also, if you've ever tried to engage in group messages with people who aren't on iOS… well, it's just kind of a mess.)
This is a choice that Apple has made—one with which it is probably perfectly happy. You want the great features? You come to Apple's platform; the company will welcome you with open arms. Some might argue that Apple's marketing message would be better served by giving users of other platforms a taste of what they're missing; that's why rumors of iMessage for Android were running fast and furious before this year's WWDC. But this time around Apple has opted not to offer users of its competitors' products a "glass of ice water in hell" as Steve Jobs so colorfully once put it.
In some ways, that's a shame. We live in an age of amazing technology, and when it comes to cross-platform messaging, it sometimes feels like we're sending telegrams. But third-party messaging solutions have picked up the slack (if you'll excuse the pun) somewhat, offering rich cross-platform functionality—albeit with the barrier to entry of having to find, download, and sign up for their services.
Macs get the minimum
Which brings us to the Mac. Apple has been in the messaging game even longer on the Mac: It first introduced iChat way back in 2002, which supported AOL Instant Messenger, then later expanded to Jabber, Yahoo, ICQ, and more. Eventually, iChat transmuted into Messages and getting iMessage support, and for a while, things were pretty stable.
However, with the new additions in iOS 10, the Mac is once again left out in the cold. It gets some of the new features, like Tapbacks, but the flashier additions are iOS-only. It's a puzzling move, to my thinking, though unpacking it brings a certain degree of logic: The Mac is a much smaller market than iOS, and messaging is no doubt less popular on the desktop than on mobile.
But even with that, it's a little frustrating that the exact factors that give Apple the ability to control the entire messaging solution don't extend to its most mature platform. After all, Mac users like to send flashy, silly messages as much as the next person.
Platform, not plateau
Apple's ambitions are, of course, much broader than simply communication. It made no secret of the fact that it intends to turn iMessage into a full-fledged platform, with apps letting people make payments, hail rides, and so on. Services have become an increasingly important part of Apple's bottom line, and iMessage is probably the company's most popular service—it handles tens of billions of messages a day. There's the potential for big business there, and Apple would be foolish not to try and capitalize on it.
With iMessage's initial success, Apple has pulled the hand of the carrier out of the pockets of most of its users, and delivered a better product for its users to boot. Whether or not Apple eventually decides that it wants to give Android users a taste, I'd certainly hope that any success of iMessage as a platform would bring the Mac along for the ride.