At a Glance
Expert's Rating
Pros
Lots of helpful hints in the form of animations, chats, and dialogs
Lets you create new ways of absorbing and viewing information from disparate sources
Easy navigation through longer documents
Good import and export functionality
Cons
Less than intuitive at first glance
Work space gets crowded with lots of notes
Our Verdict
Research tool with a deep feature set, ideal for students, academics, and businesses
Research can be tough, whether it's paper-based or online. From collecting and assembling documents to reading and extracting enough wisdom to formulate judgments and conclusions, the process of absorbing knowledge is a challenge.
LiquidText ( iTunes Store link), an iPad-only app, seeks to impose some order in the new chaos of gathering and referencing information, with an innovative interactive interface that, in version 2, allows you to integrate multiple documents on one screen.
Used for reviewing and annotating PDF files, Word and PowerPoint documents, and web pages, the app's recent update boosts the price from free to $10. You pay that price only if you download the in-app purchase that facilitates multiple document handling. Otherwise, you can continue to use LiquidText for free, viewing one document at a time.
The gesture-based LiquidText is designed specifically for active reading, an academic pursuit that involves highlighting, annotating, searching, and note-taking. The app is especially useful when paired with an iPad Pro because of its spacious canvas and companion Apple Pencil stylus. With LiquidText, Pencil has special powers, such as the ability to auto highlight text, firm-press to select images, and simultaneous scroll and excerpt function. But no worries if you have a different iPad model: LiquidText works with iPads running iOS 9.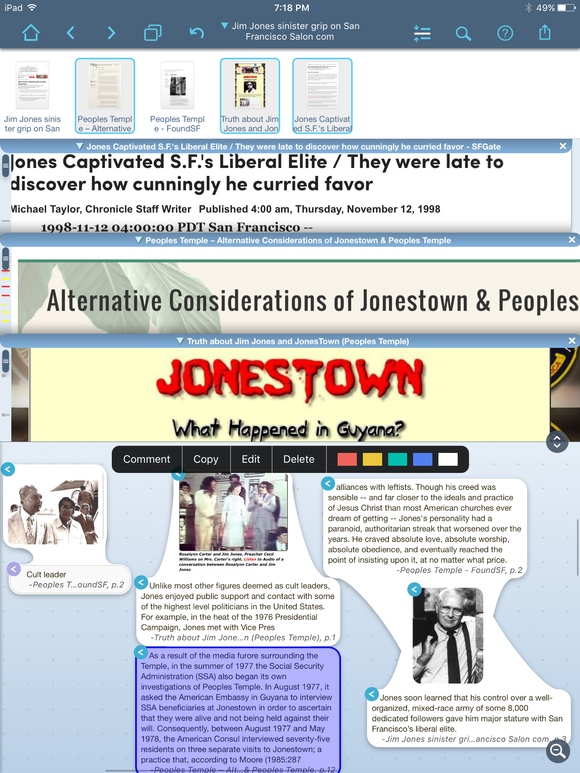 The app also integrates with popular online storage apps like Dropbox, Box, iCloud Drive, or email. You can import web pages into LiquidText directly from mobile Safari or work with the app's own browser.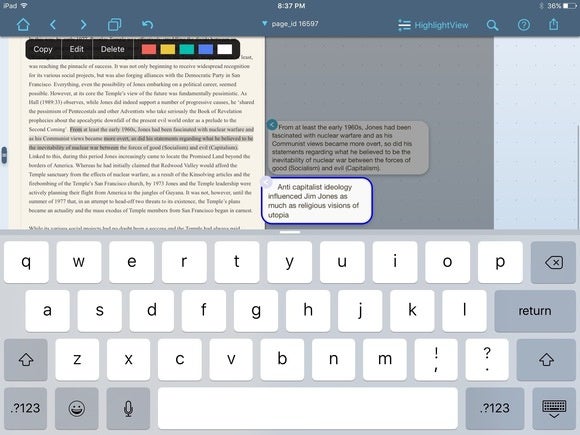 Interactive interface
LiquidText is not, at first glance, the most intuitive app, so the developer has devised a multi-faceted interactive instructional help system. A question mark icon at the upper right reveals on-screen instructions that clarify how to comment, highlight, work with multiple documents, and more. The app also provides various animated help cues, a chat interface, and a label system that users can summon when needed.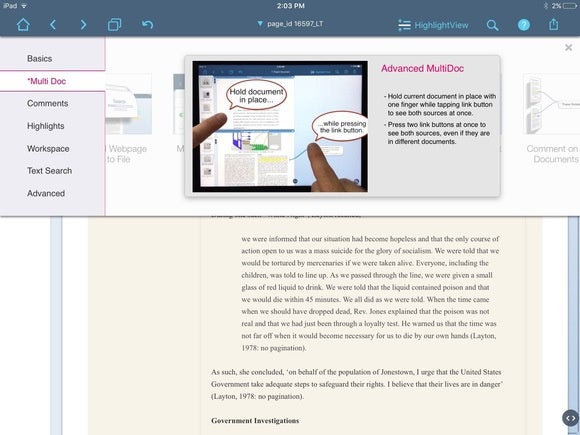 The layout is simple, and you can view your iPad in either landscape or portrait position. In landscape, the app places original documents on the left and an open work space on the right. In portrait, the workspace is below the document. The work space is the place to pull text excerpts or images, and type comments. Gestures let you highlight parts of the document and drag them to the work space or view all highlighted material at once via a HighlightView function.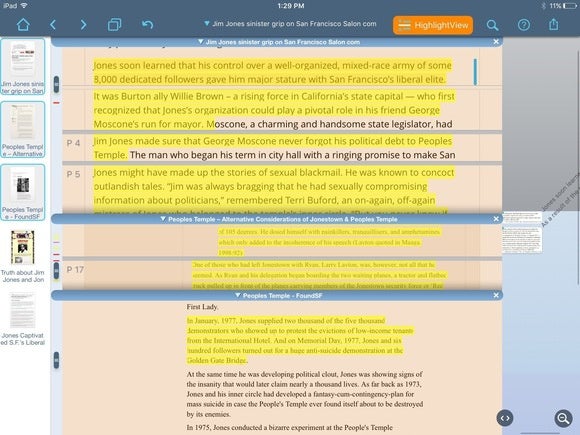 Building research
Choosing an excerpt involves highlighting, selecting, and dragging it into the empty work space. You can comment using the comment command in the floating toolbar and link text pieces together with a nudge. A tiny button on the side of the document allows quick navigation through long or multiple narratives.
As you build a collection of comments, excerpts, text boxes, and images, you can move them around, drag to group them together, and pinch in and out to alter the size of the view. You can even do a multi-document search. The ability to pinch and shrink documents to compare different sections simultaneously on one screen is a powerful feature, as is the ability to assemble and connect notes, and passages from the text. You can even have one comment refer to two sources at once. Double tap an in-line image to select it and then drag it to the workspace as you would text.
Synthesizing information
With LiquidText, excerpted text stays connected to the source document. This is helpful in double-checking facts and analysis, comparing narratives, and avoiding accidental plagiarism.
Whether you keep each document separate or merge them into a single file, you will be able to view only three documents at the same time. If you want to see a different document in your file, you can toggle an open one off and a new one on.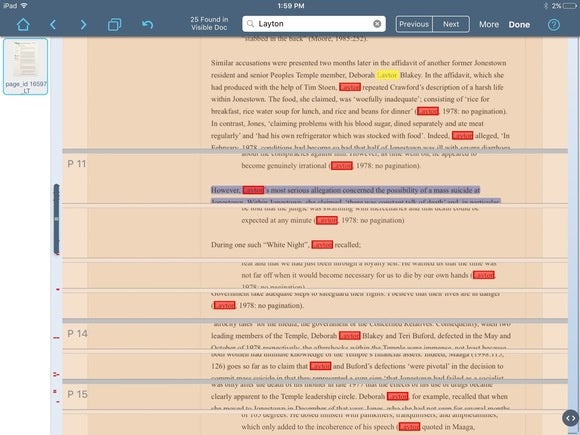 While it would be great to use LiquidText on an iPad Pro, the vast majority of iPad owners have a smaller model. While keeping the canvas' right side completely open would be optimal, that also renders text smaller and harder to read. The solution is to use the button at the bottom of the interface to expand and contract the document views. You can also use pinch gestures to make visual adjustments to the text as you read, annotate, and color code excerpts, comments, and highlights to visually distinguish between topics. Nonetheless, there is a finite amount of work space, and it can fill up quickly.
When you're done, you can save, share, email, or send your research to your favorite cloud service in a choice of three formats that can include your selections, comments, and notes.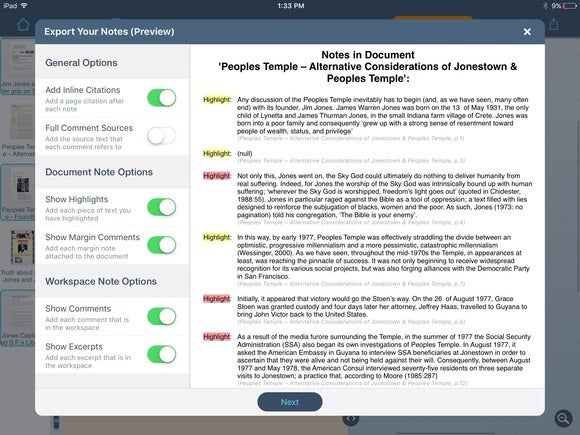 Bottom line
LiquidText is a deep and complete productivity tool for students, academics, and businesses. Once you get familiar with all of its features, it proves hugely flexible in helping to collect, retain, and even create new information. The interface is friendly enough at first glance, but I urge you to check out the tutorials to get the app's full value.
The upgrade costs $10, which, for a mobile app, might seem a bit steep. However for those who stand to benefit from LiquidText's advanced functionality, the price will prove reasonable. Check out the free version first; depending on your projects, it may be all you need.