The last time Taylor Swift held a strong opinion about an Apple product, Tim Cook made instant changes. So, hopefully Taylor will help convince Apple to take the Notes app to the next level.
In the last year or so, a bunch of celebrities have made public statements by sharing from the Notes app on their iPhones. Taylor Swift did it most recently, but previously, other young stars like Ariana Grande, Amy Schumer, and Demi Lovato made public statements by posting a screenshot of one of their Notes on Twitter or Instagram (or both simultaneously because they're that social media-savvy).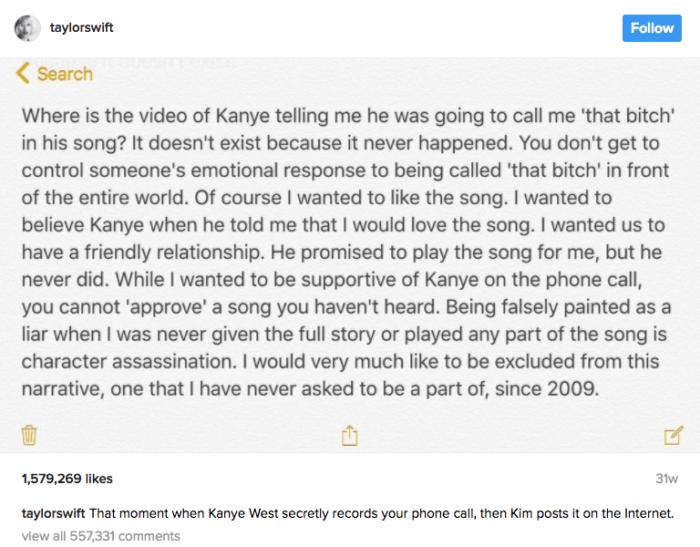 It's surprising how popular the Notes app seems to be among these famous over-sharers, especially considering Apple has made it unusually cumbersome to share your Notes with the world. Let's go through all the steps these celebrities had to go through just to give us a piece of their mind:
Take a screenshot in Notes
Open Instagram or Twitter
Choose the screenshot
Crop/edit the screenshot accordingly
Post on Instagram or Twitter
Delete the screenshot from your camera roll
Six steps? That seems very labor-intensive, especially when you have some major PR damage control to take care of. And the steps multiply if your statement is too long to fit into one page, which means multiple, edited screenshots like Ariana Grande had to do when she was asked to apologize for licking a donut without paying for it.
Despite expert cropping and editing, these screenshots always fail to look elegant. More importantly, they could accidentally reveal details or information that you might not have wanted to make public. For example, the fact that Taylor Swift had to "search" her Notes to find her response to Kim Kardashian led some to believe that Taylor had a prewritten statement all along. Not the best thing when you're trying to prove to the world that you're not, in fact, calculating.
Obviously, there's a need for Notes to be better integrated with social media. Right now, when you tap on the Share sheet in Notes and select Twitter, you automatically can only Tweet the text. Not very useful if your note is longer than 140 characters. And Instagram is not even an option in the Share sheet.
Apple could make this process more effortless if it were to include an sharing option that would treat our Notes more like photos, rather than text. This new Notes sharing feature could work similarly to Instapaper's Tweet Shots. Just highlight a string of text from an article you're reading on Instapaper and choose the Tweet Shot share option. Instapaper will automatically create an image featuring the text you highlighted and that conforms perfectly to Twitter and Instagram's image aspect ratios. Plus, you can choose from different fonts and background colors.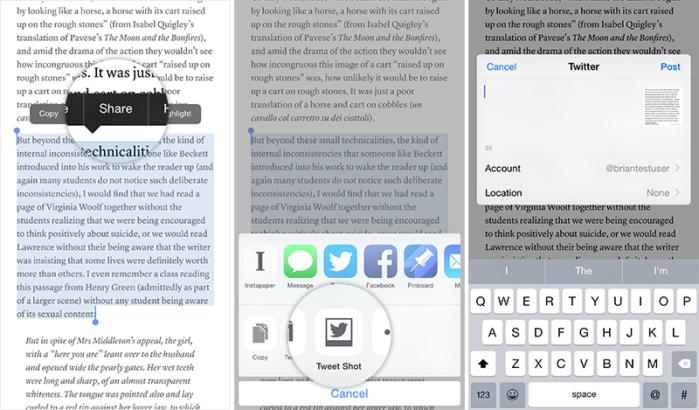 Why this matters: Notes has the potential to become the go-to app for when people want to share something that's longer than 140 characters. It seems to be the go-to app for celebrities right now, even though it's a pain.
Twitter has actually been verging on this territory for a while now, allowing direct messages to be up to 10,000 characters and making it so that links and photos don't count towards the 140-character limit.
If Apple were to capitalize on how Taylor Swift and other famous people are using Notes, the native app could become a surprise hybrid between Twitter and blog platforms like Medium and Tumblr. And if Apple were to add some flair with colored backgrounds and interesting typography, Notes could also become the app for making inspirational quotes to share on Instagram.