The rise of platforms that let you shop strangers' closets has been quick, but most of these social commerce sites are limited to women's clothing and accessories. Five-year-old Poshmark, one of the biggest players, is becoming more egalitarian with the addition of men's and children's items this week.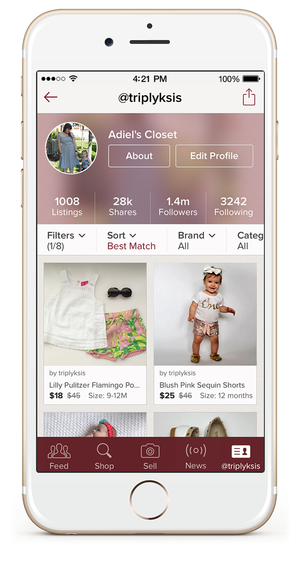 Poshmark works by letting buyers customize their preferences to a T, so they'll only see items they would actually buy, and in the right size. That personalization engine had to be radically overhauled to make sure the site's existing users wouldn't suddenly start seeing unwanted kids' or men's clothes in their main feed of recommended items.
Poshmark founder and CEO Manish Chandra told me that men's and kids' items were a long-requested addition from the site's community of devoted users, but that Poshmark's real differentiator is its social features. In addition to its algorithm, the platform also has thousands of sellers who are also stylists. Those users find items, up to 4 million per day, and recommend them to their followers, encouraging more sales.
Where most social shopping sites are resale only, Poshmark also has a wholesale marketplace that turns its sellers and curators into small business owners if they want to buy directly from brands and open a retail boutique on the site.
Chandra says he doesn't expect men (or, obviously, children) to flock to Poshmark, at least not in the beginning. But the women who are already using the site to find clothes for themselves will now be able to shop for the kids and dudes in their lives without leaving the platform.