My Apple ID has seen a lot. I've used a lot of Macs and iOS devices over the years, and reviewed a whole bunch more. As a result, I've gotten some insight into all the lists Apple keeps about your personal constellation of Apple hardware. It's a bit confusing, since there are multiple lists, with different restrictions, measuring different things! Here are the ways the Apple counts what you've got–and what it lets you do with those lists.
iTunes authorizations
When Apple launched the iTunes Music Store in 2003, you could only play iTunes music on three different computers, but an unlimited number of iPods. In short order, that number was increased to five computers. Apple dropped digital-rights management from music sales in 2009, but the restriction still exists for other digital media Apple sells, most notably video.
If you choose Account > View my Account in iTunes, iTunes will tell you how many Computer Authorizations you have. This number is the number of Macs or PCs that have explicitly authorized iTunes. To authorize or deauthorize your Mac, look at the Account: Authorizations submenu. (Trying to play a DRM-controlled file like a purchased movie will also bring up the authorization dialog box, forcing you to log in before you can play the file.)

Once your Mac is authorized, it will be able to play copy-protected videos, both in iTunes and in QuickTime. If you're ready to pull your hair out because you don't have five Macs but Apple says you've reached your limit, you can give up and start from scratch–once per year you can press the Deauthorize All button and then reauthorize your computers one at a time.
If you want a list of those five computers, though, there isn't one. Not quite. Instead, you need to find a list of all your authorized iTunes devices…
iTunes in the Cloud
"iTunes in the Cloud" is a weird phrase, one of the many perplexing phrases you'll find in the complex back corridors of iCloud. In your account screen in iTunes, you'll find an iTunes in the Cloud section that allows you to see all the devices you've authorized for connection with copy-protected digital media from Apple. Just click the Manage Devices button and you'll be presented with a list.

From the resulting screen, you can see every device that's been authorized for playing copy-protecting media, with both its type (iPad, iPhone, Mac) and the unique name you gave it. (This is a good time for me to put in a plug for you to name every device you own something unique. Coming to this screen and seeing "iPhone (Jason's iPhone)" listed three times is not helpful.) It also tells you when you associated each device with your Apple ID, which can be helpful in pinpointing which device is which, in case you're not sure.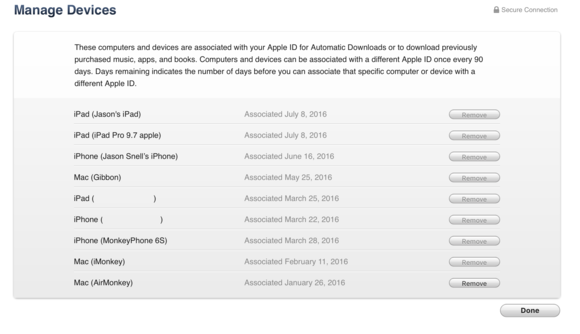 This is where the old "five Macs and unlimited iPods" has gone. The new limit is 10 devices total, including iOS devices, with a maximum of five of them being computers. If you ask me, this number is too low, and Apple needs to get its media partners to open things up a little bit more.
According to Apple, a device is added to this screen when you try to download old purchases from the iTunes Store, App Store, iBooks Store, or Mac App Store; when you turn on Automatic Downloads or Family Sharing; or when you subscribe to iTunes Match. If you run out of room, one option would be to use Family Sharing to create a second account for some of your devices–and if you've got a large family, you're going to run into this limit in a hurry, so take advantage of that feature. It may not be perfect, but it's better than not being able to use a bunch of features on some of your devices.
Another quirk of this list is that you can only associate a device with a different Apple ID once every 90 days. So if you move your child's iPad to their own Apple ID, you'll need to hold it for 90 days before selling it to someone else, or they won't be able to log in to iTunes. This kind of stinks, but it's a limitation that's designed to prevent cycling many devices through different Apple IDs for piracy or fraud purposes.
If the Remove button is grayed out, this is a sign that your device has been actively connected to your Apple ID in the last month. Go to that device and sign out of iTunes in order to activate that Remove button.
The Apple ID device list
But there is probably no more comprehensive list of Apple devices than the one you'll find in your Apple ID device list. If you've logged into your Apple ID from a device, you'll find it at appleid.apple.com. Just log into the Apple ID site and look in the Devices sub-section, and you'll see all the devices currently associated with your Apple ID.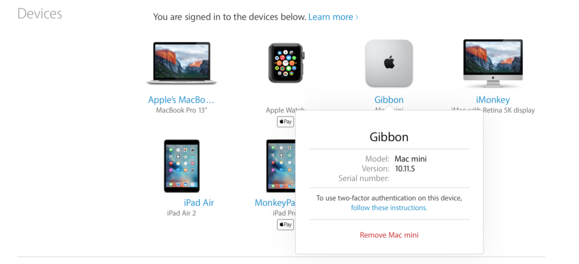 This view is a lot friendlier than the one in iTunes. It's got pictures, specific model numbers, names, whether it's enrolled in Apple Pay, and–if you click on them–OS versions and serial numbers. From here you can also remove devices from your Apple ID, though they'll just reappear if they are currently running and logged in.
Before I switched to Apple's new two-factor authentication, every time I used Apple's old two-step authentication system, it prompted me with a list of devices to use for authentication–most of which were old devices I hadn't logged into in months or even more than a year. I was always baffled about where that list was coming from and how to remove old devices from it, but it turns out that the Apple ID website is the answer. Once I pruned out my old devices, that list started to make sense.
In any event, once I found the Devices list on the Apple ID site, I felt I finally had a handle on my devices–almost. It's funny, but this list isn't completely comprehensive either: My wife's laptop, which is authorized with my Apple ID in iTunes, does not show up here. Oh well. There's more work Apple needs to do here, but the simple functionality Apple ID site encourages me that things are moving in the right direction.