When it comes to technology, the word "server" might bring to mind, for some, a warehouse-sized room not unlike the end of Raiders of the Lost Ark, but with fewer crates and more racks of computers. For others it might be the cause of sweaty palms and glazed-over eyes.
But servers don't need to be mysterious or scary—after all, a server is just a computer that serves up information (and/or services) that can be accessed by other computers. Sure, it can get more complex than that, but it can also be a fairly simple and invaluable tool.
I run a Mac mini server on my home network for a handful of reasons that are fairly mundane, but all of which help at least provide some peace of mind, especially when I'm not in the house.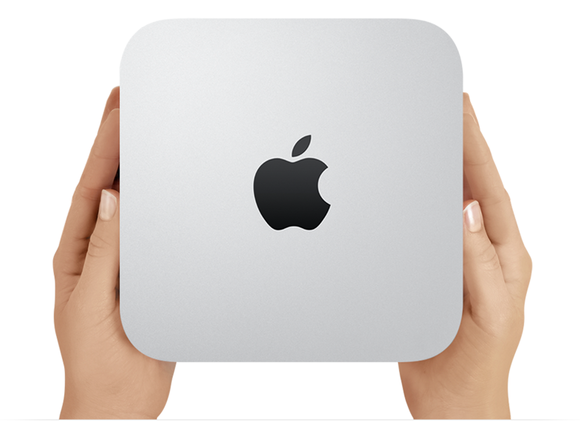 The portal
One of the primary uses of my Mac mini is as a portal into my home network. When I'm away from the house, or on a business trip or vacation, this means I can not only access the data on my home machines, but even see and control them.
I maintain several different services to let me access my home machines. Most basic is the Secure Shell (SSH) command line interface (OS X calls it "Remote Login" in the Sharing system preferences pane) and its associated Secure FTP (SFTP) file transfer service. These services allow me to quickly interact with my home machine as well as download files to whatever Mac or iOS device I happen to have with me at the time.
I've also taken the somewhat more complex step of setting up OS X Server to host a Virtual Private Network (VPN)—essentially an encrypted tunnel that lets me securely route my data and my Internet connection back through my home network. In some cases it might be slow, but it does help protect my data when I'm using a spurious Wi-Fi network.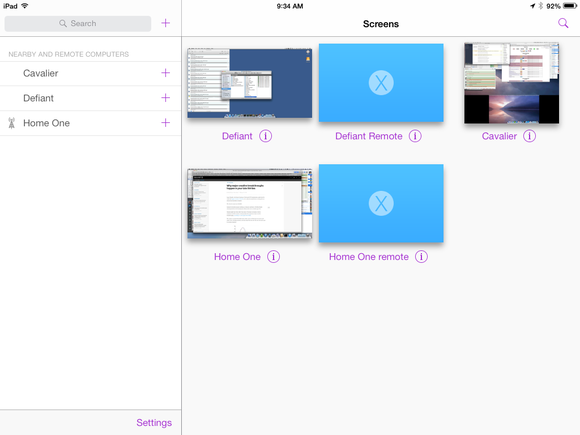 Sometimes I want to check on an app that's running on one of my computers, and for that I turn to the invaluable Screens by Edovia. If you know your way around a little firewall trickery, you can use OS X's built-in screen sharing to the same effect. (Before I started using Screens, I sometimes used to screen share into my Mac mini, and then screen share from there into my iMac, since my iMac wasn't directly accessible.) Beyond the ability to access programs on the remote Mac, I've also availed myself of another benefit: If you have a desktop Mac that's turned on and has a FaceTime camera, you can remotely launch Photo Booth on it to take a look around your home while you're, say, on vacation.
The media
In this day and age, what self-respecting server doesn't serve up media? I have a full copy of my iTunes Library on my Mac mini, and in those cases where iCloud Music Library is a bit under the weather, I can use iTunes Home Sharing to stream from my mini to my iOS devices and Macs alike. It also lets me access some types of media that iTunes doesn't store in the cloud by default, such as audiobooks.
My non-iTunes content, mostly video, is stored in Plex, a home media server with apps for the Mac, iOS, Apple TV, and a few of those other platforms, too. You can stream video (and music and photos, if you so prefer) from your Plex server to those other devices, whether it's the Apple TV connected to the big TV in your living room or your iPhone when you're traveling halfway around the world, as long as you have a usable Internet connection.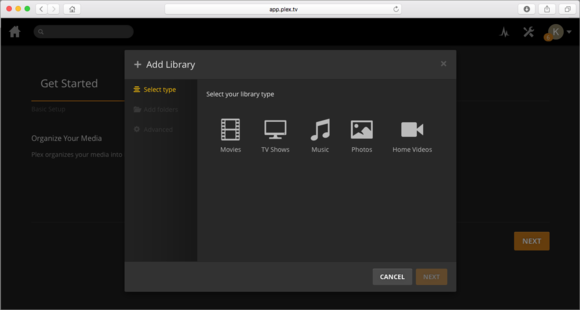 The vault
Most importantly, my Mac mini is my vault. That's where I archive all my documents, store the downloaded copies of my iTunes and Photo libraries, and keep any other data that's not in the cloud. I use SuperDuper! to create a nightly clone of the entire server, and have online backup via CrashPlan, just to be on the safe side.
With three Macs in the house (server included), it can be a pain trying to make sure that files don't get lost in the shuffle. To simplify matters, I generally consider my server to be the "canonical" versions of my files.
In truth, I could stand to be more vigilant about making sure that I shuttle files onto the mini more regularly. Since I do most of my day-to-day work on the iMac, I generally only remember to move files from there every once in a while. (Critical files that I'm working on all the time on a variety of different devices live instead in Dropbox or iCloud Drive.) But many of the the files on that mini go back a long way, in some cases all the way back to the very earliest documents I created on my original Macs.
Service included
In many cases, a lot of these server-based technologies are being obviated by services that run in the cloud and handle common tasks like file storage or streaming media. Cloud services are just fine—I use plenty of them—but in some cases, they're simply not the right fit. The one major advantage to running your own server is that you have control over everything, from soup to nuts. That can have its downsides too—when something goes wrong, you're usually the one who has to fix it—but sometimes there's just no substitute for doing it yourself.