At a Glance
Expert's Rating
Pros
Powerful new video editing, annotation features
Multiple annotations per session with non-destructive editing
Mac and iOS screen recording
One-click sharing to social networks, cloud storage services
Cons
Limited audio editing functionality
Library content stored inside package, no links for larger media files
Occasional performance issues when attempting to import unsupported media
Our Verdict
Capto expands on the abilities of the former Voila with a more robust set of tools for capturing screen or websites and recording Mac or iOS screens that can be easily shared with other applications and popular cloud services.
Best Prices Today: Capto 1.0.2
Born from the ashes of the former Voila, Capto ($30 single user; $20 student/educator; $80 family pack) was built from the ground up as a completely new Mac application to handle not only screen capture, recording, and annotation, but also basic video editing in up to 4K resolution.
Voila users will feel right at home—aside from the darker appearance and a few user interface nips and tucks, Capto could be mistaken for Voila 4 at first glance. You organize a library of images and videos from the left-hand pane, with buttons across the top for accessing the key tools.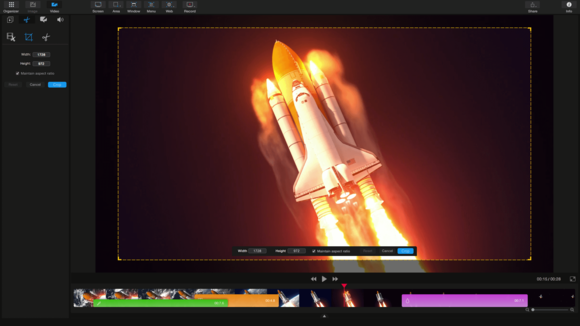 There are more than 50 new features, including quick preview from the bottom capture tray and a full-screen video player, but it's the under-the-hood changes longtime users will most appreciate. Capto is now faster than Voila, a change you'll feel every time you use it.
Two of my favorite improvements are non-destructive editing across the board, and the ability to add multiple annotations. The software also recognizes other image-capable applications installed on your system, adding them to a list of one-click "send to" locations from the Share menu. (You can also add destinations manually, and Capto can be configured to share to cloud and FTP services as well.)
Capture this
When it comes to capture, everything can be done from the menu bar, whether you need the full screen, just a small area, a specific window or menu, or even floating panels, which can be awkward or impossible to grab from other apps. There are also keyboard shortcuts available, which can be customized in preferences.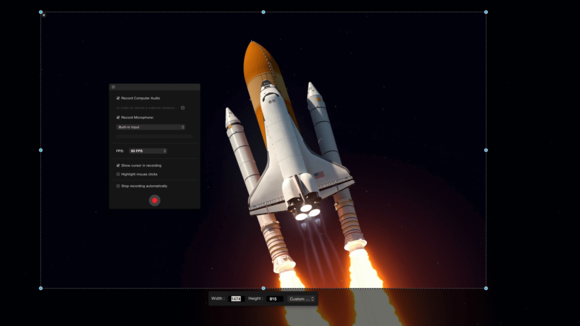 Capto records full HD video of the entire screen or a selected area at 60 frames per second (fps) for smoother results, although files are actually saved at 30 fps or less. For those on Retina display-equipped Macs, there's an option to automatically scale video to 1x during recording to keep frame and file sizes manageable.
With Capto, users can start from a new, empty canvas, rather than with an existing image. This is done by selecting File > New and entering the desired width and height, but there's a shortcut available from the capture tray. From there, simply assign a background canvas color, then add images, text, or annotation as needed.
Despite its enhancements, Capto retains the archaic packaged library format of the previous app, which isn't designed with cloud storage or multi-system access in mind. By default, anything captured with or imported into Capto (including video files) is copied to a library stored in the Pictures folder. I'd prefer to leave larger files where they are and link to them instead, but if internal storage is an issue, Capto can be configured to store the library in another location.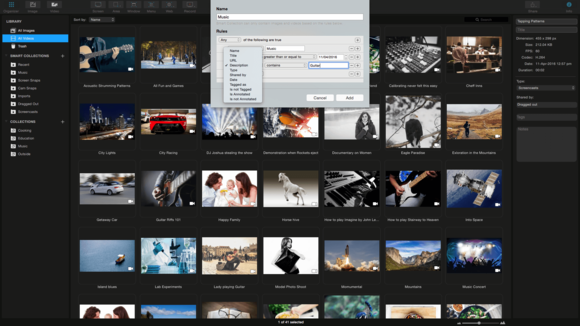 Chop shop
Video editing is one area where Capto stands head and shoulders above Voila, as well as costlier screen capture utilities like Snagit. Instead of just trimming the head or tail of a clip, you can now cut out entire sections, crop them, or join multiple videos into one.
I particularly liked the new annotation options for adding shapes, arrows, callout bubbles, text, or blur to videos. Users can adjust where annotations are shown in the timeline annotations, with multiple elements on overlapping layers.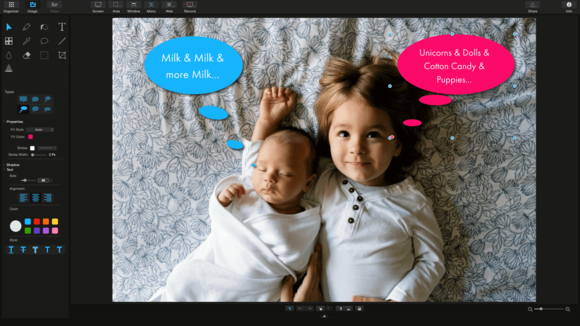 There is also a smattering of audio editing tools built in for adding quick fades to the head or tail of a clip, changing volume levels, and adjusting or entirely muting selected regions. One thing you can't do is add or replace audio, which is a missed opportunity—Capto won't import standalone audio files, and lacks the capability to do much more than mute an existing track.
Finally, Capto's video capabilities extend beyond the Mac: With an iOS device plugged in, the software can capture, edit, and annotate action taking place on your smartphone or tablet as well.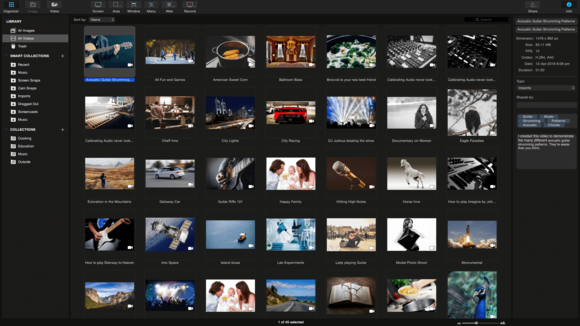 Global Delight offers a 15-day trial on its website, and existing owners of Voila or the company's other flagship title Boom 2 can upgrade at a 50 percent discount. (Capto can import existing Voila libraries.)
Bottom line
Goodbye Voila, hello Capto—and with it, more capable video editing and annotation tools at an affordable price unmatched by the competition.
Best Prices Today: Capto 1.0.2