According to a recent GLAAD report, shows on Netflix and Amazon Video have more LGBT characters than all the broadcast TV channels combined. But even in these streaming services, transgender characters and racially diverse gay characters are still noticeably lacking.
A brand-new streaming app, Revry, launched this summer to help close this gap by exclusively showcasing LGBT entertainment—web series, short films, documentaries, podcasts, music videos, viral videos, and other "snackable" digital content—made by indie creators from all over the world. Revry is the first LGBT-focused streaming app for tvOS and Chromecast, and it's also currently available on iOS, Android, Roku, and on the web. You can sign up for a monthly Revry subscription for $5 a month, or $55 a year.
Revry's cofounders began working on the streaming service shortly after the fourth-generation Apple TV was released in October 2015. At the time, the tvOS App Store yielded no search results for this type of "queerated" entertainment. Logo, the MTV sister cable channel for gay audiences and home of RuPaul's Drag Race, has a streaming app for iOS and Android, but no such counterpart exists for tvOS.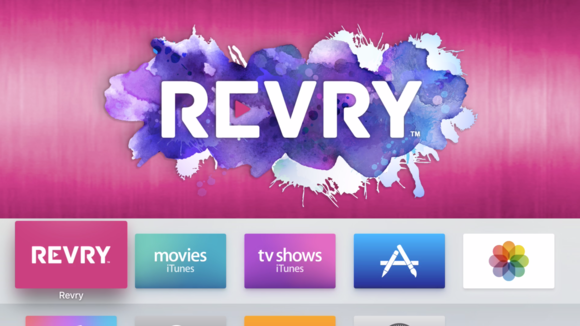 "We were so excited when the new Apple TV with an App Store first came out," said Revry's CEO Damian Pelliccione, "but then we did a search for 'LGBT' and found nothing."
Seizing the opportunity, Pelliccione assembled a small team and immediately started working on Revry. One of the most important parts of developing Revry was scoring content deals. Revry currently has revenue-sharing partnerships with hit web shows like Starting From… Now, Australia's most-watched lesbian series with 24 million views; After Orange, a documentary series about women's lives after incarceration that can be considered a real-life followup to Orange Is the New Black; and Cooking with Drag Queens, which is pretty self-explanatory.
"It's extremely important for us to continue to expand the show's reach to new audiences, but also that queer stories are told and are readily available to the community," Starting From… Now's writer/director/producer Julie Kalceff said in a press statement. "The Revry team's passion both for digital media, queer content, and the LGBT community were clear from our first meeting."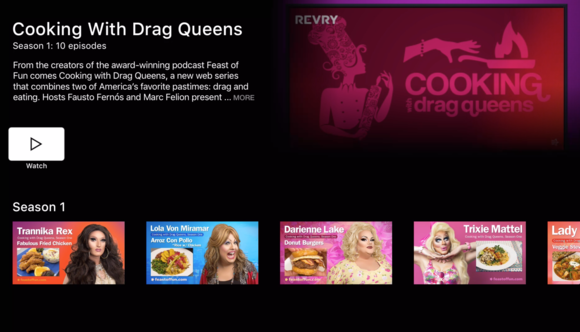 Like Netflix and Amazon (and even Apple Music and Tidal), the Revry team knows that in order to compete against other streaming services it eventually needs to offer original content that can't be found anywhere else—especially not for free on YouTube. Revry is now looking to secure exclusive content and produce original programming.
Later this year, the second season of After Orange will be available exclusively on Revry. Also in the fall, the streaming service will premiere H.O.T.: House of Trans, a docu-series following the lives of transgender performers in Los Angeles. The series is being billed as Paris Is Burning for the 21st century, and it features Miss Shalae, the trans performer who recently gained attention for her epic remake of Beyonce's 10-minute Lemonade music video.