At a Glance
Expert's Rating
Pros
TV in your hand
Automatic configuration Includes local programming grid
Long buffer, up to 90 minutes
Cons
Requires networked tuner
Doesn't integrate with DVR software
Our Verdict
Want to watch TV on your iPad or iPhone? Channels makes it easy, as long as you have the proper hardware.
Best Prices Today: Channels
I'm a long-time cord cutter, but the increasingly chopped-up world of broadcast, cable, and exclusive programming available via websites and apps frustrated me enough that I bought an over-the-air (OTA) tuner so I could at least have a reliable source for major networks and PBS. By itself, the device just sits on the network; it has to be paired with useful software. That's where Fancy Bits' new Channels app for iOS ($15 on the iTunes Store) comes in, a sequel and complement to the developer's Channels app for Apple TV, previously reviewed .
Required hardware
The iOS app lets you watch and buffer live television on an iOS device with an A7 or newer processor, thus starting with the iPhone 5s, iPad Air, and iPad mini 2 (not the original), and both iPad Pro models. The software includes a no-fee continuously updated programming grid, so you can see current and upcoming shows as well as episode descriptions for most stations in most markets.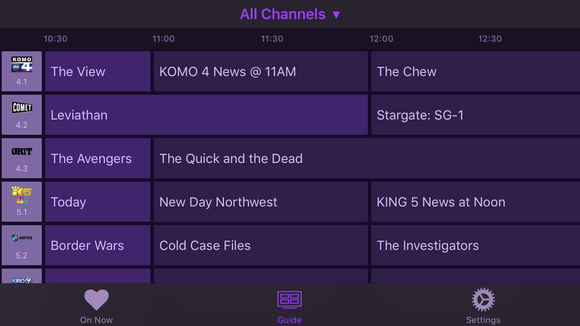 Channels requires a networked television tuner made by SiliconDust—any of its HDHomeRun series, which I previously reviewed. The HDHomeRun comes in three US models; the HDHomeRun Connect ($100 MSRP; $85 on Amazon) and the HDHomeRun Extend ($180 on Amazon) receive only OTA broadcasts; the HDHomeRun Prime ($123 on Amazon) can also take a CableCard (where available) to tune a subset of cable programming and only on some systems. All feature two simultaneously usable OTA tuners and require just a single coaxial cable hookup for an antenna. They cost from about $90 to $120. Non-US versions are available and Channels for iOS works in several other countries, including Canada and the UK.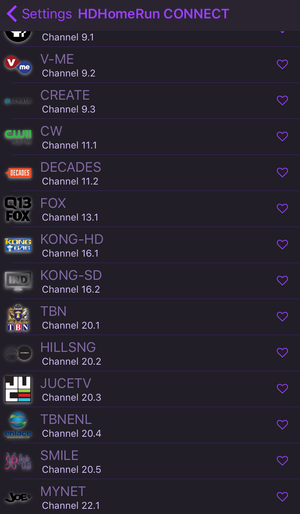 All three models connect to a network via ethernet. Because iOS streams over Wi-Fi, you might face some streaming issues with uncompressed video over an 802.11n network that don't crop up with a wired connection, such as a laptop or computer also connected via ethernet. (Channels doesn't support remote viewing of live TV, because it relies on the LAN-only HDHomeRun hardware.)
Two of the HDHomeRun models stream uncompressed MPEG2 broadcast video, which for HD programming can eat up 18 to 20 Mbps of network bandwidth, according to Fancy Bits. The third model, Extend, has built-in H.264 compression, which dramatically reduces network throughput, and which Channels also supports decoding for display. Channels doesn't support the picture-in-picture video option that works on newer iPads in iOS 9, as the developers had to build a custom video player.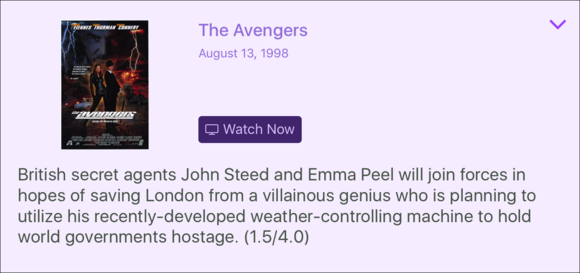 Tuning OTA via a networked device that passes along the already-digital signal has appeal if you want ready access to programming from any device on your network instead of being tethered to a television set, its antenna (or a dedicated external one), and a TV set's typically terrible user interface. HDHomeRun models all include two TV tuners, allowing multiple devices on the same network to watch programming at once, whether using Channels or digital video recorder (DVR) software. The app also supports using multiple HDHomeRun units on the same network if you have heavy DVR and viewing needs.
Using Channels
There's little to configure in Channels. The Settings view automatically finds HDHomeRun devices, but they can be added manually if your network filters the Universal Plug and Play (UPnP) messages used by the tuners. The app figures out your geographic location from the channel listings that come up (station call letters are encoded in broadcasts) and should populate your channel list with station names and provide programming details when you browse and tune.
Channels includes a programming guide for selection and episode details where when available; it seems to cover nearly everything across the Seattle broadcast market. It can also buffer live recording up to as much as 90 minutes, allowing pause, fast forward, and rewind. The exact buffer size is limited by available storage on the iOS device. Exiting the channel view immediately deletes the buffer, which seems like a bad design choice unless a user switches channels.
The app has two main views: On Now and Guide. On Now shows favorites that you pick in the Settings screen by selecting an HDHomeRun device, letting you exclude channels you don't watch. For example, in my region, there are many higher-numbered channels that offer non-English, religious, and shopping programs I never watch. And some local stations have multiple HD sub-channels, some of which are dedicated to genres (like Westerns, crafts, and black-and-white movies) that you may prefer or avoid.
The On Now guide shows the current program art, like a television series "card" with an image and the show's name, while the Guide shows upcoming programs. Because this isn't a DVR app, you can't schedule recordings, but you can see what's coming up on the channel. Tapping a screen in On Now or the Guide brings up episode information and a Watch Now button. I'd prefer being able to hold and press or use 3D Touch to bypass the episode screen. In the Guide view, tapping the channel name accomplishes that, but it's not available in On now.
You can swipe left and right to jump back 7 seconds or ahead 30 seconds; those parameters can't be changed, but they're mostly the right duration to replay something you missed in the buffer or skip a commercial. You can also scrub through the recorded buffer with a finger. The app lets you select closed captioning and alternate audio tracks options (not always available).
Not just on your iPhone or iPad
The app supports AirPlay, so you can pass the audio or audio and video to another supported device. If you have a fourth-generation Apple TV and plan to watch a fair amount of broadcast programming, it may make sense to invest $25 Channels. Channels for iOS is cheaper ($15) and gives you the flexibility to roam, but you may get tired of messing around with AirPlay. At the moment, the iOS version of the app offers a programming grid, which isn't yet in the Apple TV version.
You can't directly use Channels for iOS on a Mac, but there's a reasonably clever workaround. Plug in an iOS device to the Mac with a Lightning cable, and then launch QuickTime Player and select New > New Movie Recording. Pick the iOS device as the source in the dropdown menu. Even without recording, you'll get the live display from the device, including while Channels is running. (The audio slider may be set to zero in QuickTime Player: jiggle the pointer over the screen and then adjust the audio output.)
With the HDHomeRun Prime model that supports a CableCard in addition to OTA broadcasts, Channels can decode normal ClearQAM unencrypted channels and encrypted QAM stations via the CableCard, but the app doesn't yet have certification for digital-rights managed (DRM) programming. The developers still haven't decided whether to pursue that. Cable operators may use DRM on only premium offerings (like HBO), on all non-broadcast stations, or on everything. If you're interested in this option, check with your cable operator or discussion forums for your provider to figure out compatibility. (The FCC has plans to get rid of the CableCard in favor of software integration, too.)
Channels is not a digital video recorder (DVR); it only offers an extended recording buffer from the currently selected live channels. For DVR purposes with an HDHomeRun device, you can use Geniatech's eyeTV software, MythTV for OS X, or HDHomeRun DVR (currently in a paid beta for Mac). Fancy Bits also has a DVR app in the works, but doesn't have a release date.
Bottom line
If live television has been a missing or irritating-to-use piece for your viewing pleasure, Channels plus a networked tuner pulls it neatly into your iPhone, iPod touch, or iPad.
Best Prices Today: Channels