If you crave a Wacom Cintiq-like coordinated pen-tablet experience, but don't have the coin, Astropad offers up something similar at a more affordable price. For $30, you can download the Astropad iPad app and the free Mac companion app that, when launched alongside your favorite photo, graphic, or sketching program, offers a real-time hand-eye connection to your image.
The magic is in the mirroring. Astropad, which connects the tablet and Mac either wirelessly or via USB, displays your monitor on the device, allowing additional input. A free Astropad iPhone app is also available.
Available on Wednesday, version 2 of the app delivers several under-the-hood upgrades that promise better performance, enhanced control, an improved pressure curve, and better compatibility with an assortment of artistic Mac apps.
Astropad's claim to fame is its proprietary Liquid technology. According to the developers, Liquid's improvements in version 2 have Astropad running three times faster than before with much reduced pixelation.
I have always found Astropad's performance more or less instantaneous on my iPad Air 2, and that still stands. Then as now, the instant both apps launch, they function as a unified workspace. Everything you do on an image in one space is reflected in the other without drivers. The one-to-one mirroring is universal, so that if another app — your email, say — peeks through somewhere on-screen, you will also see it on the iPad, and that is distracting. So be sure to set up your main monitor properly, use your art app in full screen mode if possible, and hide or close extraneous apps and windows. Then use iOS gestures to enlarge images or move the picture around to focus on a particular section.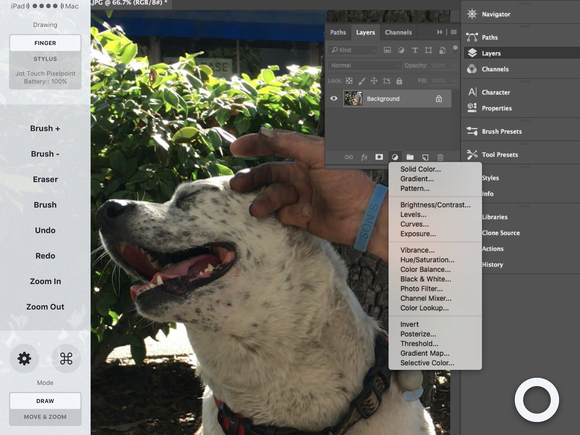 Version 2 also touts a new velocity control that constantly analyzes network conditions to better regulate image quality and control latency. This will be especially useful, I suspect, where folks are working on slower networks, though it couldn't hurt on faster ones.
Another under-the-hood item that could make life easier is the upgraded CPU and memory use. Developers say the new Astropad now uses three times less CPU and four times less memory, designed for longer work sessions and extended battery life. Improvements to the interface have made the sidebar controls a lighter or translucent gray, while the control ring that governs visibility that can now toggled to hide or show it. A settings option can now hide the cursor while you draw.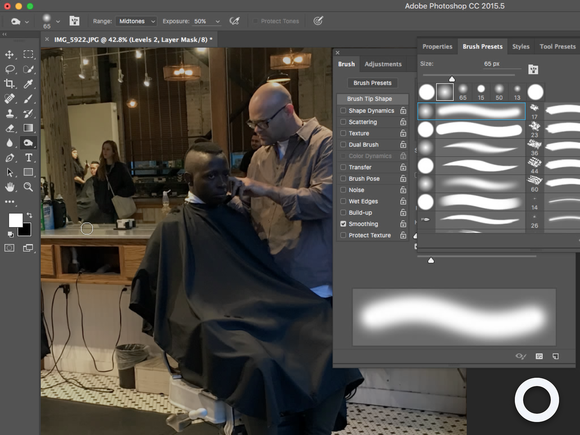 Version 2 also features a more refined pressure curve, which yields a varied stroke with different degrees of pressure, so less force is needed to draw with an Apple Pencil or stylus.
Astropad works the same way with every app because the utility is not app-based, but connects with the app on your screen. Nonetheless, the new version boosts software compatibility, now specifically supporting panning and zooming gestures across Affinity Designer, Art Rage, Clip Studio Paint, Lightroom, Mischief, and Sketchbook Pro.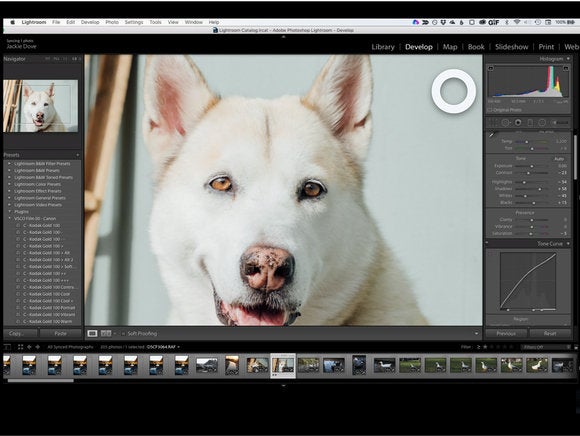 Why this matters: Not everyone can afford a Wacom Cintiq, and for some, using Astropad may be even more convenient because the functionality resides in devices that people habitually carry with them rather than adding a specialized piece of hardware to their arsenal. The iPad Pro and Apple Pencil, coupled with Astropad, significantly expands workflow choices for artists, and photographers at all levels.
Astropad works on iPads running iOS 8 or later and on Macs running OS X 10.9 Mavericks or later. The upgrade is free to existing users. Astropad Mini for iPhone has also been updated to version 2 for compatibility and is free.