Given how deeply ingrained technology is in our everyday lives, trying to travel without it is a bit like trying to travel without a change of socks: You can do it, it just might not be very pleasant for you (or, honestly, those around you).
For a big chunk of August, I've got a trip to a convention back-to-back with some good old-fashioned vacation time, and it's had me considering what technology to pack, and how to keep all of those devices working well. Because the last thing anybody wants to do is lug around some gizmo only to find that it's not pulling its weight, if you'll pardon the expression.
So here's a quick overview of the tools that I pack, and some of the concerns that arise when traveling with technology.
Many devices make light work
A few years ago, even going away for a short trip generally meant bringing along my laptop, in part because doing many tasks on a phone was still unpleasant, and because there really weren't a lot of other alternatives. (And probably more than a little bit because the idea of being disconnected was a cause for clammy palms and nervous sweats.) Even when the iPad first came out, I trucked it along more for entertainment than for anything productive, loading it with videos and games for the plane.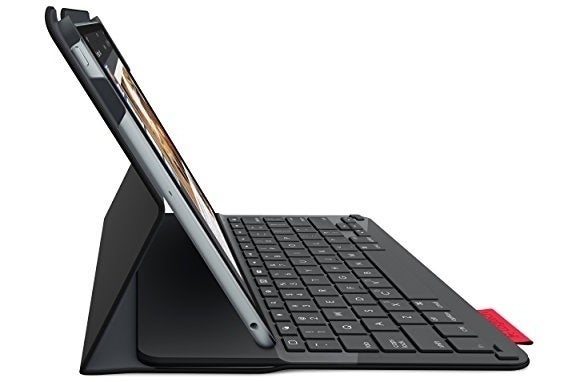 That's all changed. These days, I regularly travel with just my iPad Air 2, especially since I added a Logitech Type+ keyboard. This unlocks a whole lot of possibility, since it can not only handle entertainment on the flight, but also actually allow me to get real work done—like writing this column in a Starbucks, for example.
Okay, it might be a stretch to say just my iPad Air 2. Because the tangle of cords and plugs in my bag points to the fact that I'm also carrying an iPhone 6s, an Apple Watch, and a Kindle Paperwhite. Traveling without the phone is a nonstarter, especially since it has my boarding passes, messaging to keep in touch with my traveling companions, and of course, plenty of maps and apps for getting around by public transit, ride-sharing, and on foot.
The Apple Watch has not proved itself to be quite so indispensable yet, but I find its unobtrusive messaging a great addition, since it means less time spent pulling my phone out of my pocket—and hopefully more battery life for my iPhone. But that does mean there's no way around bringing my Apple Watch's charging cable. Likewise, a spare Lightning cable never goes to waste, and the Kindle needs its own mini-USB cable—though it often lasts long enough I don't need to charge it up during my trip. Cord clutter: the struggle is real.
Bits (and bytes) and bobs
As nice as an iPad Air 2 and a hardware keyboard are, they're nothing without the software. In addition to the multitasking features that Apple added in iOS 9, which have made it far easier to perform a simple task like referring to a webpage while writing—which I do almost every time I write—I rely heavily on third-party tools.
For example, 1Writer and Scrivener are Dropbox-based writing tools that let me get my tech writing and fiction work done, respectively, while ensuring that all my data syncs back to my Mac. I've found that they're generally just as capable as their Mac-based counterparts for tasks that I'm likely to do when I'm traveling.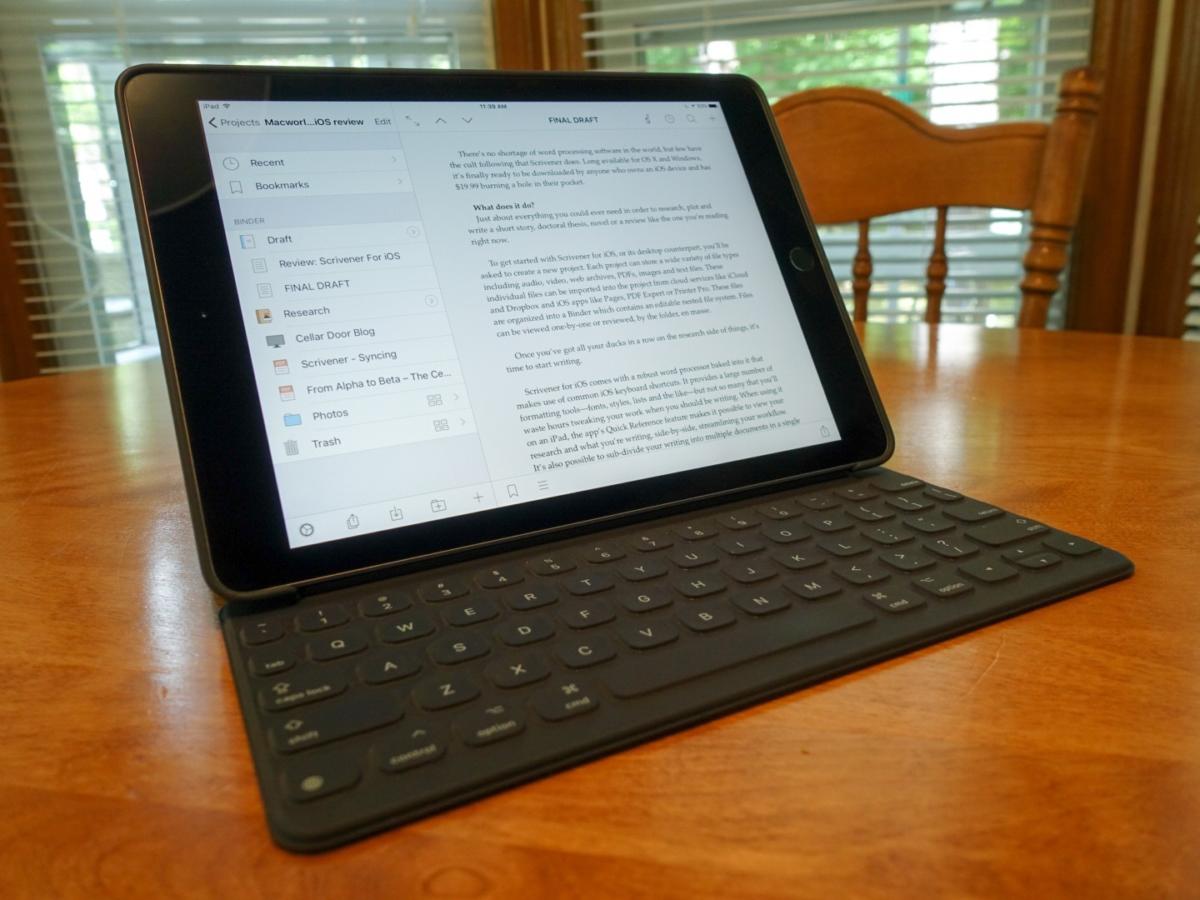 There are, admittedly, still times when my iPad solution comes up short, but a little software can help smooth over the gaps there, too. In particular, I want to commend Panic's fantastic Transmit, which is a great tool for downloading files from a remote server, whether it be where you host your website or your Mac back home.
Speaking of that Mac back home, I was reminded that not all tools and sites are iPad-friendly—even in this enlightened day and age—when I tried to push live an episode of one of my podcasts. The hosting site, SoundCloud, doesn't play well with Safari on iOS, and its iOS app is pretty bare bones, so it doesn't support the feature I needed to change a podcast from private to public.
The solution? Our good old friend the Mac. But since I didn't have one handy, that mean logging in to my Mac back home via Screens, the excellent screen-sharing app for iOS. Thanks to Screens, I could pull up my iMac's screen on my iPad—even while standing on the floor of a crowded convention center—and use Safari there to access SoundCloud's website and push my episode live. Phew.
Accessorize to success-orize
Those devices and software are only part of the picture, however. You need to plan for contingencies. For example, my iPad is a Wi-Fi-only model, and on the road Wi-Fi can easily be hit or miss—even if it exists, its coverage or performance can be spotty. In those cases, my iPhone's Personal Hotspot feature, which allows me to tether my phone's cellular connection to my iPad via Wi-Fi, has saved my bacon more than a few times.
But the biggest problem of all, when it comes to technology, is power. You aren't getting anything done if your devices' batteries are dead. Fortunately, portable battery packs are basically a dime a dozen these days, and are well worth the investment when you're out at a conference all day, especially if you're using your phone a lot. Carrying a spare power plug and charging cable is never a bad idea, either: charge early and charge often.
Back at my home base, making sure I can charge all my devices is just as important. I make sure to pack a portable power strip with a couple of USB ports, which can accommodate my iPhone, Apple Watch, iPad, and even—in a pinch—my Kindle, all at the same time. (Don't forget to recharge that portable battery pack, too!)
And that's great, because when you're on the road, it's a fine line between technology being your best friend or your most frustrating foe. Ensuring you've got the right tools for the job can make all the difference.