Corel Painter has a long history of serving fine artists, illustrators, comic and manga mavens, and photographers, and every year the company conjures up new features and enhancements to dazzle the faithful. Corel Painter 2017, released Tuesday, comes across with some innovative brush actions, alongside new gradient tools and advanced interfaces.
Corel is also moving Painter into new 3D territory to accommodate users working in gaming and entertainment. The company has announced a new integration with 3D sculpting app ZBrush, via a ZAppLink plugin. Designed to work with the app's new Texture Painting feature, you can now export a ZBrush file directly into Painter as a layered 2D image to add realistic and painterly textures while preserving all lighting and effects previously applied in ZBrush. When done, your images are sent back to ZBrush via ZAppLink and re-projected into a 3D model.
Brush and gradient tech
Texture Painting is a new brush category that offers a variety of surface textures to help you fundamentally alter the look of drawings, photos, and paintings by blending new textures into an existing image. Just choose or create a texture with the specific brushes designated for that task.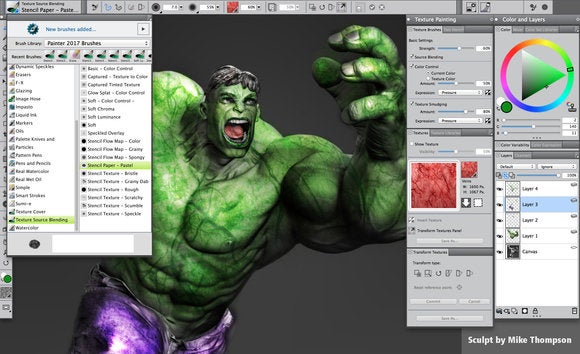 Speaking of brushes, Painter 2017's new Glazing Brushes offer enhanced control over the opacity of your painting on a per-stroke basis, letting you work with transparent and translucent transitions. These brushes give you stroke-level opacity so each brushstroke is applied independently and each dab of paint builds up smoothly, achieving seamless blending between colors without undesirable colors in overlapping dabs.
Corel is touting Painter's new Interactive Gradient tool as a cure for the blank canvas by letting you quickly create and edit gradients with depth and lighting variations. Got a blank canvas? You can start by immediately filling the background with a gradient from Painter's library of built-in gradients and testing various presets. A new Express Paint button works with the tool to apply a vast assortment of painting styles to gradients.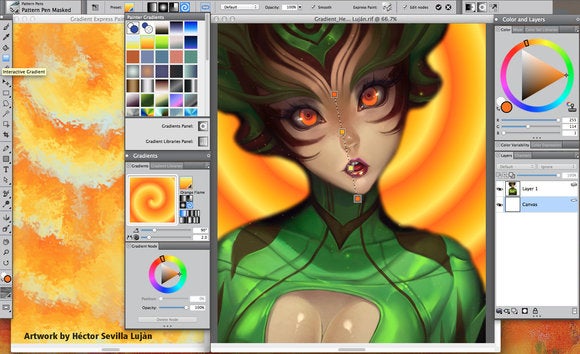 Interface improvements
Painter 2017's new Artists' Layouts, collections of pre-defined user interface workspaces, are designed for different kinds of workflows, letting you view only the relevant palettes and tools for your piece with a single click. There's even a minimal interface that frees up space for tablet users. You can also choose the two workspace layouts that you use most often and switch between them to suit the current task or the display mode of your device.
The new version of Painter also debuts Palette Drawers, a workflow enhancement that unclutters your workspace while keeping essential tools available. With it, you can combine panels and custom palettes in the best grouping to suit your project or workflow. When you're not using a Palette Drawer, you can minimize it with a click.
Enhanced features
In addition to new brushes and gradient tools, Painter 2017 updates some existing features. Dab Stencils offer full control over brushstroke opacity based on the active paper, flow map, or texture. Property bars have been enhanced to make it easier to control and adjust brushes.
An improved Dropper tool makes it easier to sample color, featuring new options that let you average the colors of pixels in larger sample areas, from 3×3 to 101×101 pixels. Plus, you can sample a color from the active layer or from all visible layers.
Finally, you can now display the Brush Selector as a panel so that your recently used brushes and variants are immediately available, alongside the entire Brush Library.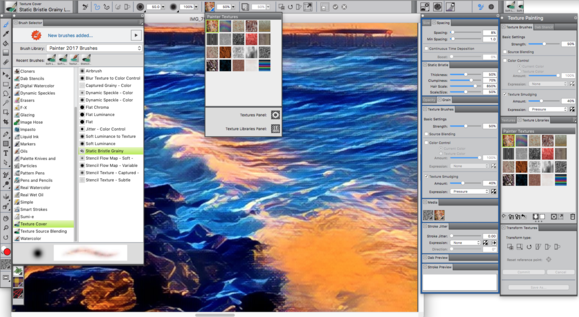 Corel Painter 2017 is available for $430; upgrades are $230. It runs on Mac OS 10.9 or higher.