At a Glance
Expert's Rating
Pros
Can use any filter on any image
AI-based neural networks creates unique-looking images
Each image you try can be automatically saved to your Camera Roll
Cons
Output resolution is low at 1080 pixels
Users have no control over how the app reads and treats each image
Must have an internet connection and pass through Prisma's server
Images are square only
Server connections are variable and sometimes time out
Our Verdict
Though Prisma has some flaws, it creates truly impressive artistic renditions of your iPhone photos.
Best Prices Today: Prisma 2.3
Sometimes an app is so just right for its moment in history that it hits everyone between the eyes and lingers in the limelight. That's what is happening with Prisma (free, iTunes Store link), a free photo/art app for iPhone that touts special effects image "filters" that render the painterly styles of famous artists like Van Gogh, Picasso, Lichtenstein, Mondrian, Kandinsky, and others.The buzz around Prisma and the fascination it has generated persists because the app is super simple to use and yields an endless variety of genuinely unique results. It's all on account of Prisma's secret sauce: cloud-based neural network and deep learning algorithms that reinterpret your pedestrian little snapshot through a signature artist's eye. Each style is applied differently in response to the unique patterns in the picture.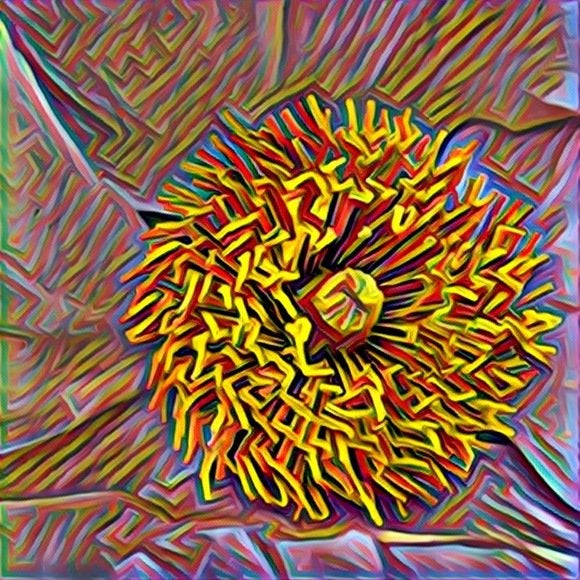 Use of neural networks for art, which involves interpreting images in layers, is not brand a new concept. Google open sourced its code from last year's DeepDream neural network experiment, and others have tried their hand at adapting similar technologies for artistic purposes. Prisma has achieved commercially viable depth, variety, and speed, augmented by persistent updates and enhancements.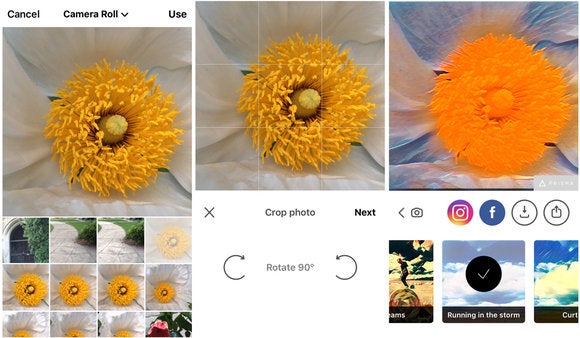 Prisma is not an Instagram clone. It is not a filter at all. It doesn't merely sit atop your image to alter its look. When you choose a Prisma style, the app delivers a new image to you based on the neural network operation that responds to your picture's unique arrangement of pixels.

I love that after you choose an image style, the pictures don't always turn out as you would expect because each image integrates with the algorithm differently. Some styles inevitably work better than others on different types of scenes. You can start with the hints the app offers: I picked examples featuring people as a guide to filtering portraits, while example images of landscapes were my first choice for nature shots. But hey, with abstract paintings, anything goes. The image downloads with 100 percent intensity, but by sliding your finger onscreen, you can adjust the effect. A split view gives you a direct before-after comparison. Prisma adds an unsightly watermark to the lower right hand corner of each image by default, however it is easily removed in the settings.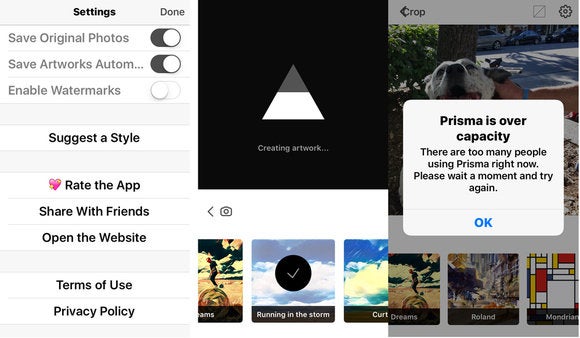 So what's not to like? Well, a few things could stand some improvement. Right now, as entrancing as they are, the resulting images are low-resolution at 1080×1080 pixels, much lower than the image input of your phone. Prisma has already gone on record that it intends to improve output resolution. In addition, no matter what aspect ratio your images are going in, they all come out square. And while that's great for the Instagram crowd, some people want a choice.
Processing time is highly variable because Prisma needs a server connection in order to work. If you are experimenting with different filters to see which ones best fit your images (you will be doing this, trust me), waiting for that last 1/5 of the image to process is excruciating. While no completed image ever took more than two minutes to render and make its way downstream, on several occasions the entire process just halted when there was too much traffic for the servers to handle. When that happens, the obstruction can last for quite awhile, which is frustrating.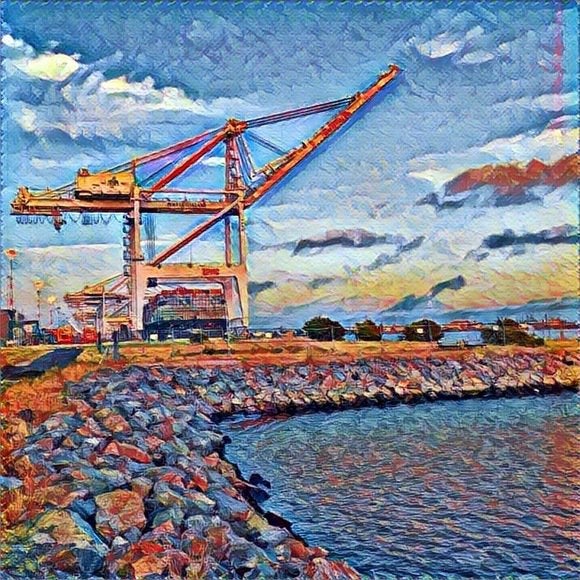 More importantly, that connection also means that your images are passing through a third-party server before their artistically altered visions grace your iPhone screen. Not everyone is wild about that idea.While each style has a name, and sometimes we know who the artist is, the app does not provide any information on the styles or the artists used with the app. Also, the developers swap styles in and out without notifying users or explaining the reasons. An info page containing specific information is sorely needed, and would be very easy to produce.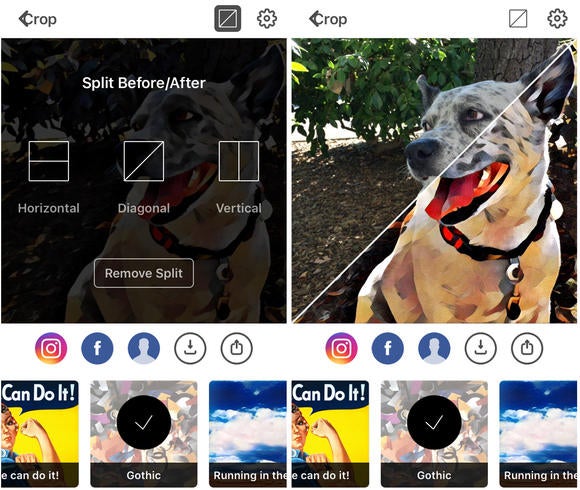 Bottom line
Despite its flaws, I really like Prisma and think it's worthwhile to check out for anyone interested in art, special effects, and photography for its fascinating interpretations and abundant choices. Right now, if you can accept the software "as is" and recognize that this is part of a next generation of photo enhancement tools, you will be rewarded with some impressive stuff to share on your social networks, if not on your wall.
Prisma's developers are working to improve its performance, and frequently add new artistic filters, which serve to keep the app fresh as they work through its technical kinks. Already, it has even casual viewers delighted and intrigued, and that is the ideal direction of any new app.
Best Prices Today: Prisma 2.3