When setting up a new iOS device, there's a certain cadence to the apps I install before anything else. Usually, the order goes something like: 1Password, Tweetbot, iA Writer, Outlook, Facebook, Slack, Dark Sky, Deliveries, and Facebook.
From there, I will go through the Purchased tab in the App Store or install apps as I need them. But there's always one app I forget about, even as the need for it arises: PDF Expert ($10). Yet, it's one of the more valuable apps for my iPad Pro workflow.
How can that be? Well, for starters, I rarely use it for what its namesake claims it's designed for. In other words, I don't need to edit, create, or work with many PDFs. If so, it's rare and something that I use an app like SignNow for.
Instead, I keep PDF Expert installed in order to handle ZIP files. Yes, ZIP files.
Turns out, PDF Expert is one of, if not the best app, for unpacking and creating ZIP files.
You would think Dropbox or iCloud Drive would be better at handling ZIP files, right? Unfortunately, that's not the case. Half the time Dropbox makes it look like the ZIP file is seconds from finally opening, only to display an error message. iCloud Drive gives it the good ol' college try but ultimately requires too much work to interact with any files stored inside.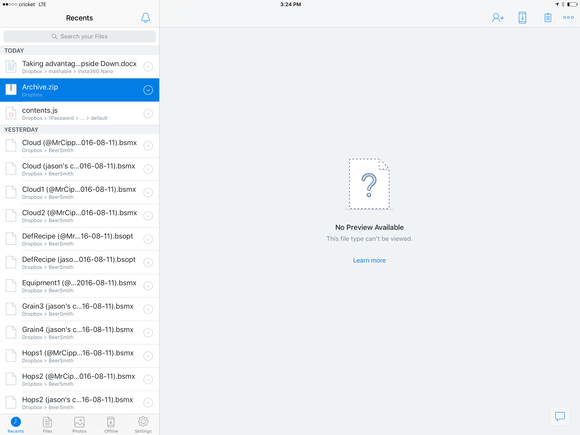 As for PDF Expert, the app replicates the process we've grown accustomed to when opening a ZIP file on a real computer. You open it, and a few seconds later a folder is created in its place.
From there, you can interact with the unzipped folder as you normally would. And because PDF Expert has Dropbox, Google Drive, and iCloud Drive support built right in, it takes just a few seconds to open a ZIP file and move the files inside to where you really need them.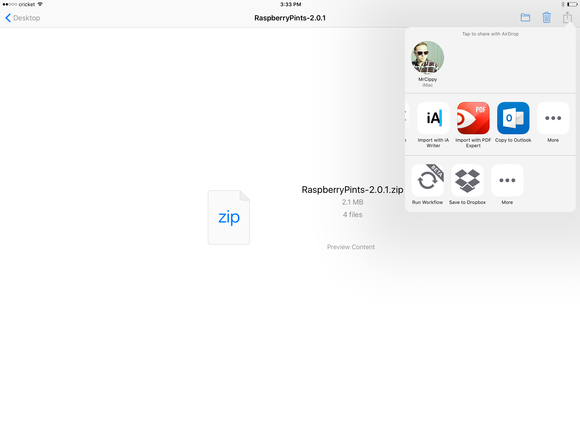 Here's my typical workflow when using PDF Expert:
Receive a ZIP file in email or via a download link.
Tap on it, and spend a good 15 seconds trying to remember the best way to open it.
Try Dropbox, just in case there was an update.
Realize there wasn't an update.
Remember PDF Expert; use share sheet to send the ZIP file to PDF Expert.
Tap on ZIP file to unpack.
????
Celebrate the joys of working on my iPad.
That list is depressingly accurate. I can't seem to remember PDF Expert after step 1 for the life of me—until I do remember, and then I shake my head.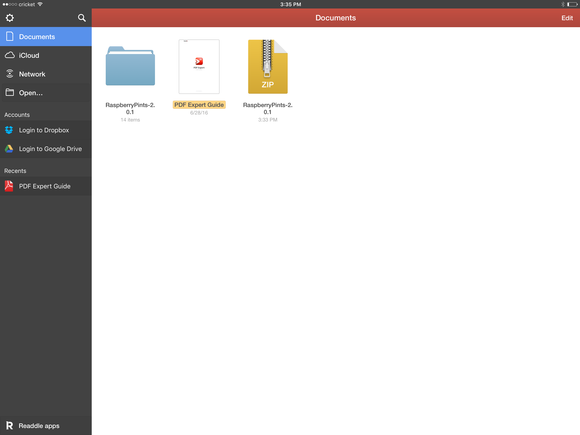 Alternatively, you can use PDF Expert to create a ZIP file of photos or files.
The more I tinker and poke round in the app, the more I realize just how much it does. There's a 57-page PDF Expert guide included in the app, after all.
Normally I would scoff at any app with more than a single page of tutorials, and mumble something to myself along the lines of "if I need to know that much to use your app it's time to start over." Now I'm starting to think maybe, just maybe, I should pay more attention to PDF Expert's guide.
Here's another feature I learned about whilst writing this very column: You can access network storage, be it another computer or a networked hard drive, from within PDF Expert. Why would I need to do that in a PDF app? No clue, but the fact that I can do that is amazing.
What about you? Is there an app you always forget about, but ultimately couldn't use your iPad Pro to get work done without it?