The other day, my wife texts me (from upstairs; I work in a home office in the basement): the printer had stopped working, and could I take a look? Our printer is connected via USB to an Apple AirPort Extreme Base Station (5th generation), which shares it over the network. The base station is an extension of a network, so it's in bridging mode.
Since the green LED was lit on the base station, I checked out the printer first; it was fine. I restarted the base station, and it came up again with a green LED, but the printer still didn't show up on the network. Only then did I use AirPort Utility to see what was up, and that app put up a yellow yield sign on top of the base station, and, when I clicked it, noted "Device Not Found."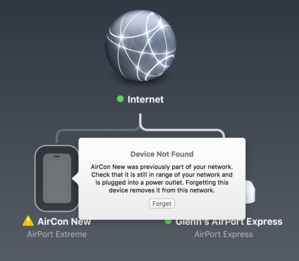 But I'm looking right at it! And its green light! I was able to confirm that the base station was routing both ethernet and Wi-Fi, and that my laptop was connected to it. (I use WiFi Explorer for OS X ($15) to look at local Wi-Fi network setups, and it provides the unique adapter interfaces, called BSSIDs, broadcast by Wi-Fi base stations.)
Power cycling didn't help me out, though several colleagues who had the same problem when I polled on Twitter said a power cycle would fix this issue for a while, as long as several months.
I tried a soft reset and then a factory reset. A soft reset should clear any transient problems with a running base station; a factory one wipes everything, but I had no custom configuration on this base station that I needed to retain. (Apple's base stations have three kinds of reset: soft, hard, and factory, which you can read about on Apple's lengthy support page.)
The factory reset put the base station back in business for about 20 to 30 minutes, during which time the printer re-appeared and I was able to print. But then it reverted to its previous "Device Not Found" status. A couple days after I witnessed this, a reader wrote in with a nearly identical experience. Querying on Twitter, half a dozen people said they'd had the same thing, but a power cycle or form of reset helped.
One colleague on Twitter suggested that removing all Apple IDs from the Back to My Mac configuration section would fix the problem. (Click a base station in AirPort Utility, click Edit, and then make changes in the Base Station tab. Click Update to apply changes.) I did another factory reset, removed the Apple ID, and the base station (and its printer) have remained working for a few days so far. This does prevent remote access to attached drives and Time Capsule volumes as well as remote configuration.
I've reached out to Apple for any insight they may have about other fixes. It may need to be replaced due to hardware failure—but it's fascinating to me that the networking part can work independently of the other subsystems.
Replace a base station under a Mac or Apple TV AppleCare warranty
Here's a bonus tip for you related to Apple Wi-Fi base stations: Apple incudes them in AppleCare extended warranties purchased for Macs and Apple TVs, even when you didn't buy the base station at the same time. This appears to be a little-known fact, but it's spelled out in details in AppleCare's terms and conditions. Every base station you purchased new as far back as two years before the purchase date of a new Mac is covered for the duration of the AppleCare warranty. ( Read Section 3.2 of the U.S. terms; warranties vary by country.)
I purchased my base station in June 2013, and bought a new USB-C MacBook in April 2015 along with AppleCare. That makes that base station eligible for service. If my fix doesn't stick, my next plan is to navigate the repair and replacement process.
Ask Mac 911
We've compiled a list of the most commonly asked questions we get, and the answers to them: read our super FAQ to see if you're covered. If not, we're always looking for new problems to solve! Email yours to mac911@macworld.com including screen captures as appropriate. Mac 911 cannot reply to email with troubleshooting advice nor can we publish answers to every question.