At a Glance
Expert's Rating
Pros
Visually beautiful (and free) step counter, pedometer app
Apple Health, Apple Watch, Today widget support
Inexpensive Pro upgrade adds daily burned calories, more precise data entry
Cons
Only displays data from last seven days
No Glances support on Apple Watch
Our Verdict
StepsApp is a visually rich pedometer and step counting app with support for Apple Health, Today widget, and Apple Watch.
Best Prices Today: StepsApp 3.6.5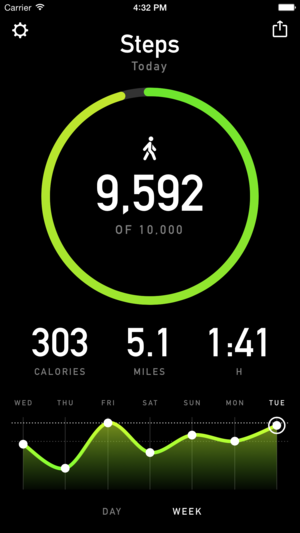 The iPhone, Apple Watch, and HealthKit have been an amazing combination over the last year or so, helping me shed nearly 40 pounds by counting calories and encouraging frequent activity. But the built-in Health app lacks Apple's usual visual flair, so I've been searching for a more attractive way to view my progress.
Get in step
StepsApp (free on the iTunes Store) not only receives high marks for elegance and beauty, it's also a great pedometer for those who don't have an Apple Watch. Whether walking, running, or hiking, StepsApp automatically tracks steps even when the app is closed, using nothing more than the iPhone 5s or newer in your pocket. (iPhone 5c and earlier models lack the required motion sensor hardware.)
Unlike Apple's generic Dashboard, StepsApp features a large circle displaying how close you are to reaching the day's goal. While you wait for data to populate, an animated stick figure walks in place, a nice visual flourish. For average users, a goal of 10,000 steps per day is recommended, but you can set it lower or higher as well as switch between miles and kilometers.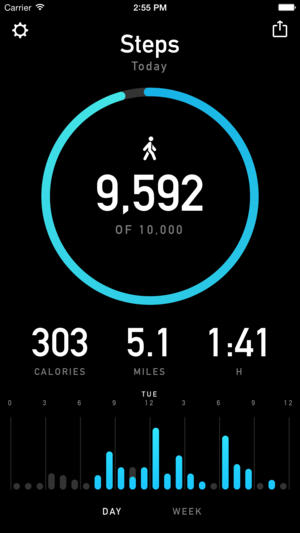 By tapping the circle on an iPhone 6 or newer, StepsApp also displays the number of floors climbed. Swiping across the screen jumps between days, but you can also slide a finger across the bottom graph to do the same in week view, or scroll through hours in day view. StepsApp only displays data for the last seven days, although to be fair that's enough for most users.
Get connected
As with most modern health-centric software, StepsApp is no island unto itself. Thanks to Apple Health support, StepsApp can send its data to other connected apps, as well as receive the same, including activity recorded on supported devices.
Naturally, there's also an Apple Watch app for displaying the current day's progress, although it doesn't currently support Glances. A Notification Center Today widget rounds out the package, which also displays the day's distance and calories burned.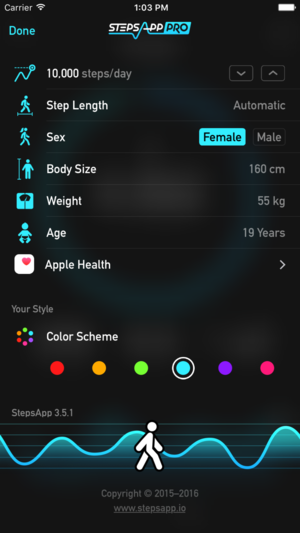 Speaking of calories, a $3 in-app purchase to StepsApp Pro keeps track of what you've burned each day, and provides more precise step counts that factor in sex, body size, weight, and age. There's also six color schemes to personalize the display, along with a setting to adjust step length; the automatic default method worked well for me, however.
Bottom line
StepsApp is a beautiful, well-crafted app that does a far better job at visualizing Health data than Apple's built-in software.
Best Prices Today: StepsApp 3.6.5