If you're one of the many Mac OS X users who received an installation dialog for Google Earth Update Helper asking you to enter your password, it wasn't malware.
Instead, it seems to be a bad update transmitted through Google's background software updater—something you probably didn't even know you had. You can delete the Google Earth plug-in that caused it or remove the software updater entirely.
The company's Mac software installs a background agent, which regularly checks for app updates and pushes them to your computer for Google Earth, Chrome, and other Google software. There's no front-end to manage software updates, nor does Google provide instructions for removing this background process.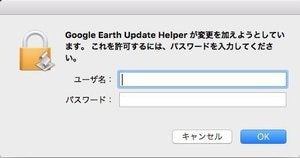 The Google Earth update was pushed out this way, but users (including this reporter) who entered their password found that the update didn't take place. (One report indicates that the update pushed to OS X may have been for Windows.) A Google Earth engineer, Viet-Tam Luu, confirmed in its support forum that there was a problem:
It appears that a while back we had disabled the auto-updater for the Mac Google Earth Plugin for Safari/Firefox, possibly because of this very issue. Today we inadvertently turned it back on. Oops!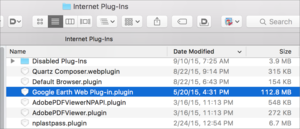 The engineer said in a later post that the update has been rolled back to prevent it happened again. Luu recommends removing the Google Earth plug-in if you don't use the software or want to receive updates:
In the Finder, select Go > Go To Folder.
Copy and paste the following path and press return: /Library/Internet Plug-ins/
Drag the file Google Earth Web Plug-in.plugin to the Trash.
Enter a password if prompted. (An account with administrator privileges is required.)
In some cases you may also find the plug-in ~/Library/Internet Plug-ins/, so follow the steps above and paste that in in the second step as well.
However, you may neither want nor need Google's automatic software updater, even if you're using Chrome. And some users report removing the plug-in and still receiving the update notifications, so removing the updater may be the only way to reset that state.
Here's how to remove the software updater entirely using a supported feature that Google doesn't document or provide a graphical interface to use:
Launch Terminal (Applications > Utilities > Terminal).
Copy the following text exactly as it appears and press return (including two hyphens before the word nuke): sudo /Library/Google/GoogleSoftwareUpdate/GoogleSoftwareUpdate.bundle/Contents/Resources/ksinstall --nuke
Enter your password at the Terminal prompt and press return. (An account with administrator privileges is required.)
Some people have found the updater in their home directory. Add ~ before /Library in the steps above to uninstall it from that location
The Google software update agent and associated files should now be removed. To confirm the files were removed, in the Finder select Go > Go To Folder and paste in /Library/Google/ and press return. There should be no GoogleSoftwareUpdate folder present.

If you're using Chrome, you may need to download updates manually from this point on. In Chrome, enter chrome://help in its Location field, and it will show you whether Chrome is up to date. It also displays a button that says Set Up Automatic Updates for All Users, which restores the update agent.