Frederick Benn wrote in suspecting that malware had infiltrated his iPhone:
While running a battery app on my iPhone 6, it showed an invisible Chinese program running!
After some back and forth and a bit of research, I found that the free app he's using, Battery Doctor, doesn't have a useful purpose and doesn't offer accurate information. The app claims that it can help with battery management and usage, including providing per-app details about power consumption, and helping—somehow magically—prevent an overcharge of an iOS device's lithium-ion battery. All nonsense. It is free, however!
As one of the many techniques it employs to reduce spying and malware, Apple doesn't expose much information to third-party apps about what's going on in iOS. I'm unclear why Battery Doctor's makers released this app and apparently continue to update it; the App Store description refers to iOS 7 and older iPhone models, even though the last update was August 10, 2016. (Macworld mentioned the app in passing in 2013, noting it had tips and other utility at the time.)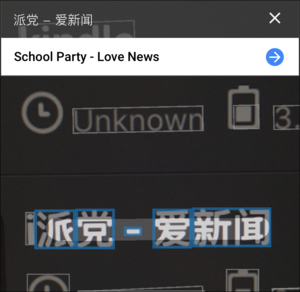 The app in the list that Frederick was worried about translates (with the help of Google) to "School Party – Love News." He doesn't have such an app installed, and it's either the battery software purely inventing it or it's showing the wrong name for an app that is running. This non-existent app appeared at least three years ago, based on forum postings.
The company has three other apps listed: one ostensibly rates GPU performance, not really an issue for iOS devices, and the other two more consumer oriented. One translates as "Daily Free Gifts application – only recommended limit free software and games gifts"; the other offers free videos, and was also updated in August.
To get useful battery information, tap Settings > Battery, where after a moment of cogitation, iOS shows you the percentage of battery consumed by apps in the last 24 hours or 7 days. Tap the clock icon to get more details about the split in time between on screen/background usage. I just discovered the Fitbit app ate 7 percent of my overall battery consumption in the last 24 hours due to 5.4 hours of background activity!
I advised Frederick to remove the battery app.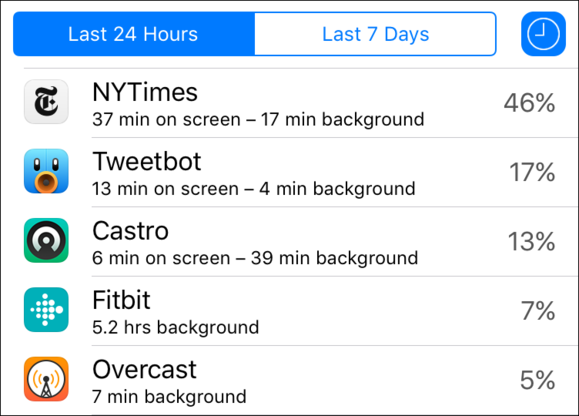 Ask Mac 911
We've compiled a list of the most commonly asked questions we get, and the answers to them: read our super FAQ to see if you're covered. If not, we're always looking for new problems to solve! Email yours to mac911@macworld.com including screen captures as appropriate. Mac 911 cannot reply to email with troubleshooting advice nor can we publish answers to every question.