At a Glance
Expert's Rating
Pros
Lightweight and versatile
Uses prompts to get you into the flow of journal writing
iCloud support
Cons
Interface quirks
No iOS companion app
Can't reposition photos or add captions
Our Verdict
Journaly isn't as robust as some other journaling apps, but it has loads of potential.
Best Prices Today: Journaly 1.5
Back in the pen-and-paper days, journaling required loads of effort. You needed to buy a dedicated notebook, keep it shielded from prying eyes, chronicle the day and date of each entry, and carve out a chunk of time to write in it.
Things are a whole lot easier now. Aside from the numerous note-takers that can double as a journal in a pinch, there are several apps dedicated to the fine art of chronological self-tracking. Led by the majestic Day One ($30 in the Mac App Store), today's digital journals are more than mere notepad imitators; with bold photos, location tracking, password encryption and powerful filters, they not only store your words, they actively encourage you to keep up the habit.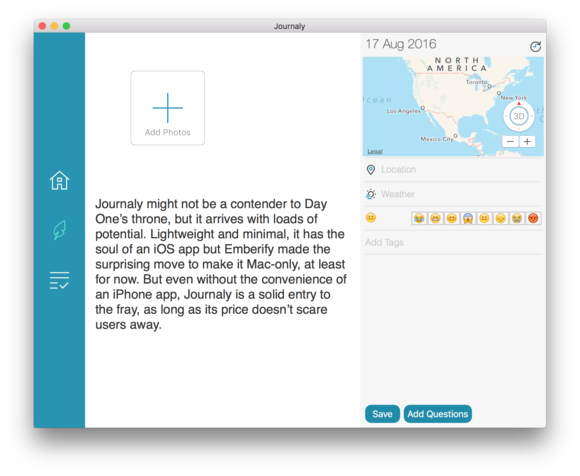 Journaly ($15 on the Mac App Store) might not yet be a contender to Day One's throne, but it arrives with loads of potential. Lightweight and versatile, it has the soul of an iOS app, but Emberify made the curious move to make it Mac-only. But even without the convenience of an iPhone app, Journaly is a decent entry to the fray that should get better with age, as long as its price doesn't scare potential users away.
Easy writer
To get your creative juices flowing, Journaly utilizes a series of prompts designed to get you in the proper journal-writing frame of mind. Location, weather and mood are included (the latter of which is designated by emoji), but you can also add your own. Answers are pinned to the right side of the page, which brings a sense of uniformity to your journal, but a way to hide the fields on a per-entry basis would be a nice addition.
Elsewhere, Journaly doesn't deploy any hidden sidebars or disappearing panes of options, and in fact, there are barely any in-app preferences to speak of at all. While the content pane strikes a nice balance between minimal and crowded, customization is almost solely dedicated to expanding your content rather than changing how it looks. If you want to adjust the font or add emphasis, you'll need to access the OS X contextual menu and utilize the standard tools.
Since Journaly doesn't really feel like a text editor, the lack of Markdown support shouldn't be a surprise, but still, the actual writing process is simple and straightforward. Inserting photos is a breeze, but unfortunately you aren't able to reposition them within the text or add captions.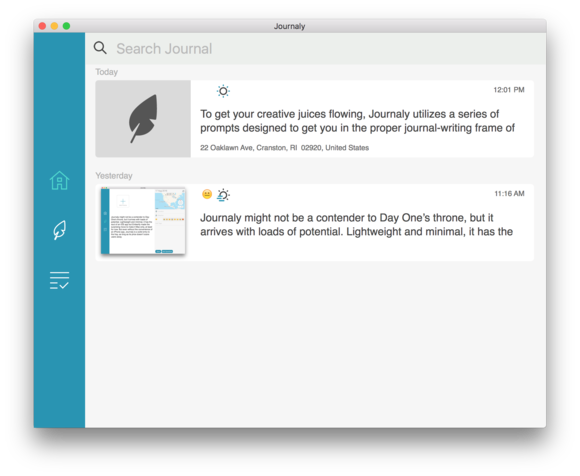 Writer's blocks
Journaly does a fine job with organizing your completed entries, which are arranged in a neat row with visible timestamps and pictures. If you can't find what you're looking for by scrolling, a live search bar will retrieve it in an instant. There's also iCloud sync support (though without an iOS companion, it's really only useful if you have two Macs), optional password protection and data exporting.
If it seems like there's an overabundance of criticism about Journaly, it's mainly because of how much better it should be for its cost. It's a fun, unique take on journaling, but a $20 price tag (at the time of this writing, there's a introductory 25 percent off deal, which makes the app $15) comes with certain expectations. While Journaly mostly meets them where it counts, there's a constant sense that it's not quite all it could be.
Take this example: Each time you write an entry you'll need to press the save button when finished, and if you don't, a dialogue box will warn you that your work will be deleted, without actually offering an option to save it. Like many of the quibbles here, it's not so much a nuisance as it is a wrinkle that diminishes the experience and distracts too much from the things it does well.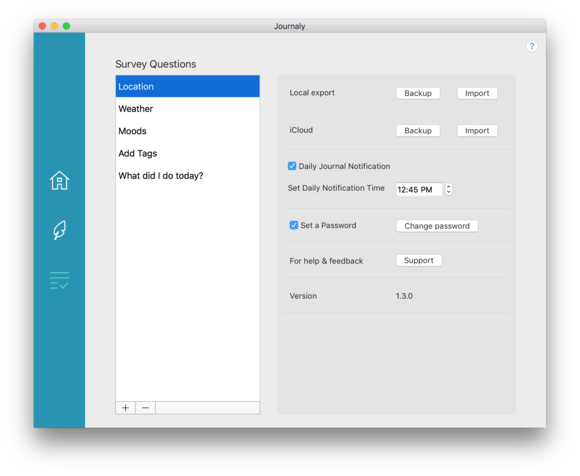 Bottom line
Journaly has a good concept and design, but its price doesn't always jibe with its performance.
Best Prices Today: Journaly 1.5