The mighty Mac OS X Dock was a thing of ridicule in its very early incarnations, when the otherwise reserved Steve Jobs seemed to have approved a thing that used lavish, unnecessary animation to show when apps were hidden or when the Dock was hovered over—perhaps this was to show up OS X's superior graphics capabilities?
It calmed down. Settings that required Terminal fiddling were replaced with selectable options. Did you know you can hover over the separator bar at a bottom-placed Dock at the right or left/right-placed Dock at the bottom, right-Click, and access those options? You can also use the Dock system preference pane.
However, the Dock remains somewhat inflexible, frustrating those of us with multiple monitors and particular ideas about how the Dock should interact with them. (In case you thought it was just you—it's not that you're missing anything.)
Recent versions of OS X added a leaping Dock—if you're one of those people who wants the Dock at the bottom of your display. With multiple monitors, you can simply move the mouse to the bottom of a given display and, whether or not you have Dock hiding enabled. It's nifty and useful.
The same isn't true for right-thinking (and left-thinking) people like yours truly who prefer a vertical Dock on one edge of their screen. No matter how you have your monitors arranged in the Displays preference pane, a left-anchored Dock always remains fixed to either the leftmost display or the topmost if displays are stacked; likewise, for the right: either rightmost or, with stacked monitors, topmost.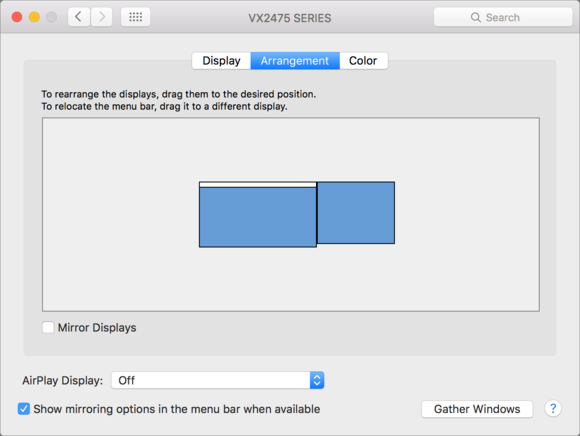 Apple demoted the notion of having a main display and secondary ones when it promoted Displays Have Separate Spaces as a default choice in the Mission Control preference pane. That option doesn't let you span a single application window across multiple displays and puts a menu bar on each display. I prefer this way of working. If you disable it (requiring a minimum of a log out and back in), you can then use Displays to set which screen has the only menu bar, and, by extension, the main screen for the Dock.
But it still doesn't affect the left/right priority, and the bottom-anchored Dock still jumps among displays when you mouse down.

Ask Mac 911
We've compiled a list of the most commonly asked questions we get, and the answers to them: read our super FAQ to see if you're covered. If not, we're always looking for new problems to solve! Email yours to mac911@macworld.com including screen captures as appropriate. Mac 911 cannot reply to email with troubleshooting advice nor can we publish answers to every question.